You might have noticed the new gold-plated ceiling lights at Sparks, but if you did not, we will introduce five of them in this article - Go for Gold: new Gold Chandeliers and Pendants at Sparks!
The Olympic Games are on next year in France, and we're looking forward to watching them. All of the competitors go for gold, and we all are cheering for the Olympic team we favour.
In light of this matter of going for gold, we would like to introduce five of the newest large ceiling suspension lamps available at Sparks with a gold-plating, that is, the gold-plated chandeliers and pendants.
You can view the newest additions to our site simply by visiting the New Products section; if you visit this link these days (July 2023), many new amazing light fittings are presented there.
Go for Gold: 5 new Gold-plated Chandeliers and Pendants at Sparks
Here are five of our most recent gold-plated chandeliers and pendants in our lighting collection.
You can simply click on the link provided on the picture or description to find out more and order them online.
1. Justy 70cm Circular Hanging Pendant Light in Satin Gold
Introducing the Justy Circular hanging pendant in a satin gold finish coming with twisted glass rods on the round pendant.
It comes complete with LED lamps, integrated into the "hoop", offering 57W with 2250lm warm white light. It truly is an impressive design combining brushed gold with clear twisted glass rods.
You can have both a modern and decorative fitting at the same time, giving the impression of a "ring of fire" in the middle of the room.
Buy the Justy Gold Pendant here.
2. Caly Polished Gold Chandelier with Clear Glass Rods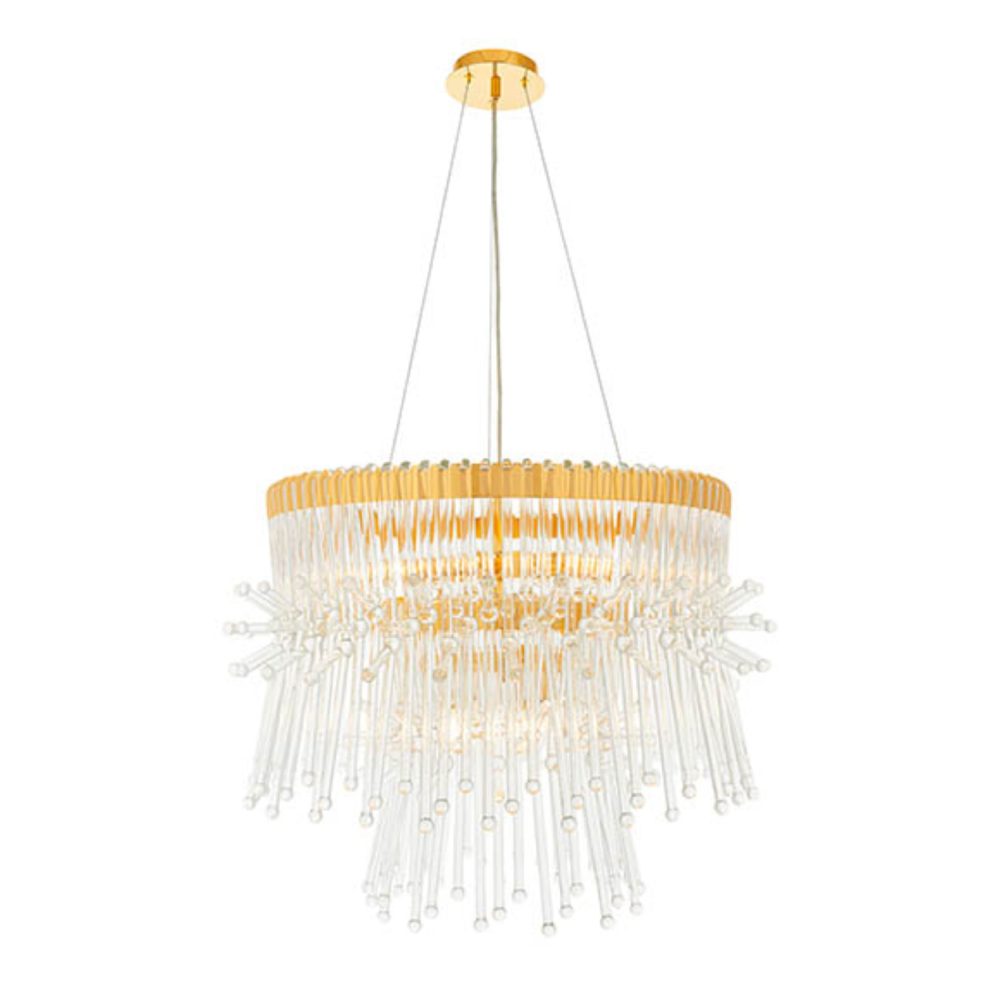 Now that is what we call a gold chandelier: Caly polished gold-plated chandelier with glass rods hanging from the ceiling!
It uses nine SES/E14 LED lamps (to be ordered separately) and has a multi-layered design, with clear glass rods on every layer.
Sparkling light is reflected and diffused with all these glass rods, creating a great atmosphere in the room it is installed.
If you want to indulge in luxury and money is not the problem, we warmly recommend this polished gold chandelier with hand-made glass rods at Sparks.
More details about Caly polished gold chandelier.
3. Pary Gold Metallic Glass Large Pendant with Chrome Trim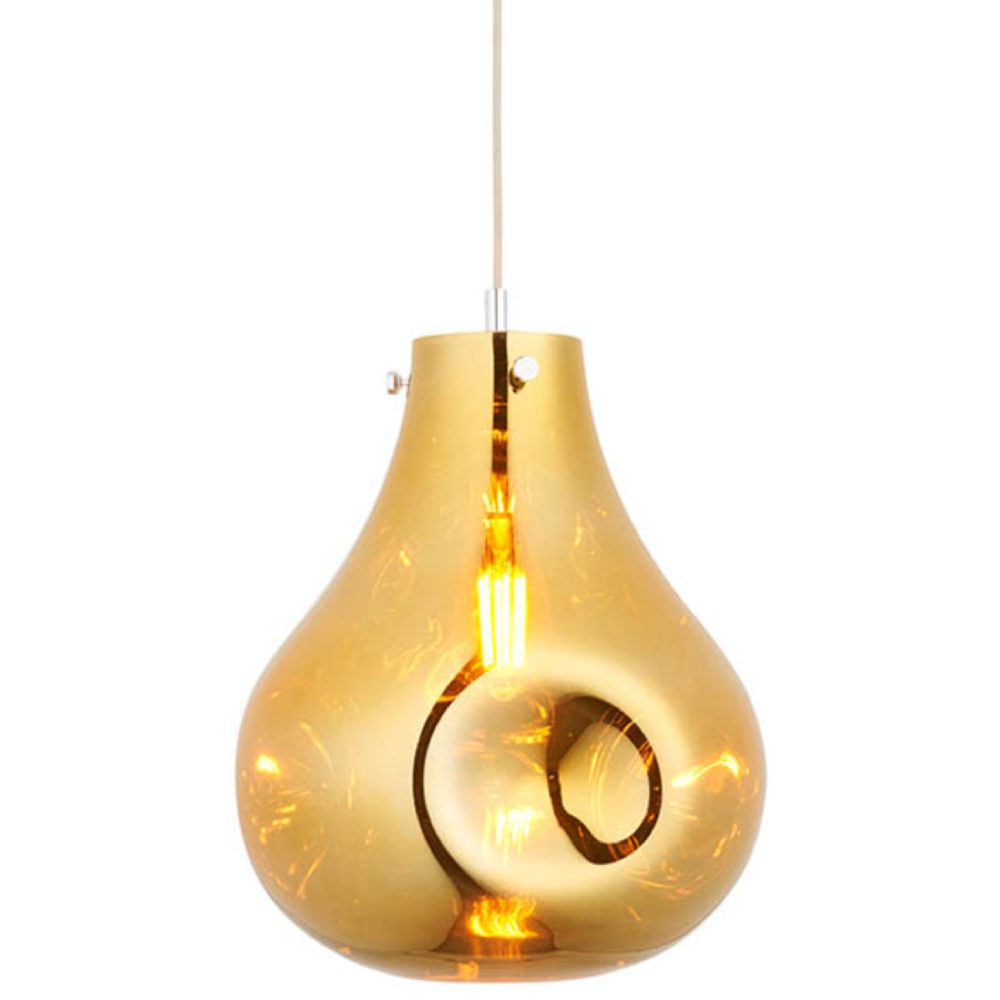 The Pary gold metallic glass pendant is a 32cm diameter pear-shaped hanging ceiling light coming sans the E27/ES filament lamp.
It creates a mesmerising light effect with a melting aesthetic.
It can be installed together with its medium version or with other finishes to make an amazing lighting collection for interior decoration.
This fitting is a part of a metallic glass shade pendant lights for interior lighting and decoration, and they can be purchased via Sparks for the best price.
Buy the Pary gold metallic large glass pendant here.
3. Molly Antique Gold Leaf Pendant with Mink Shade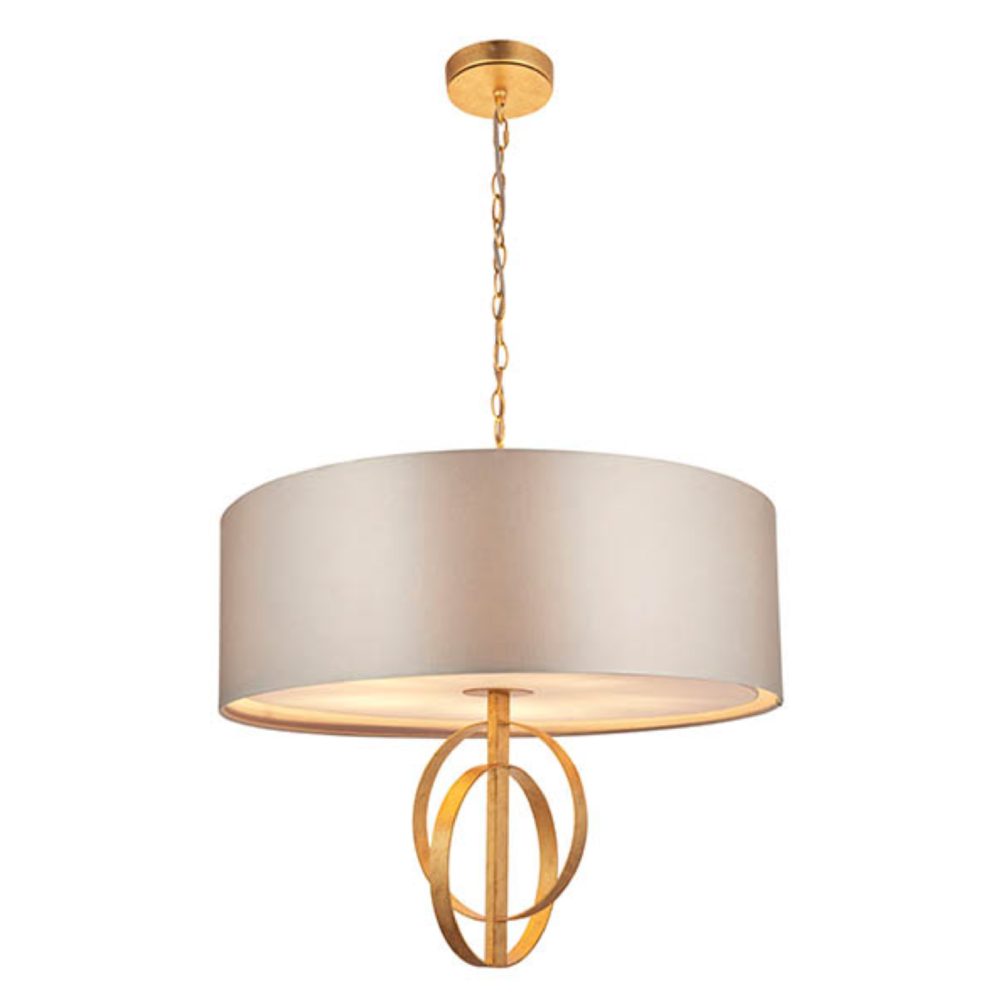 Introducing the Molly five light pendant light in antique gold leaf finish with mink fabric shade (the shade is included).
With a diameter of 70cm, this is a large pendant coming complete with the mink shade and expertly finished in antique gold.
The ceiling drop can be adjusted at installation.
It has a sculptural design with a timeless style, and it is part of a wide range of ceiling, wall, and table lights, all available at Sparks.
Check out the Molly Lighting collection on our website and purchase this pendant here.
5. Platoy Gold and Dark Bronze Large Pendant with Diffusers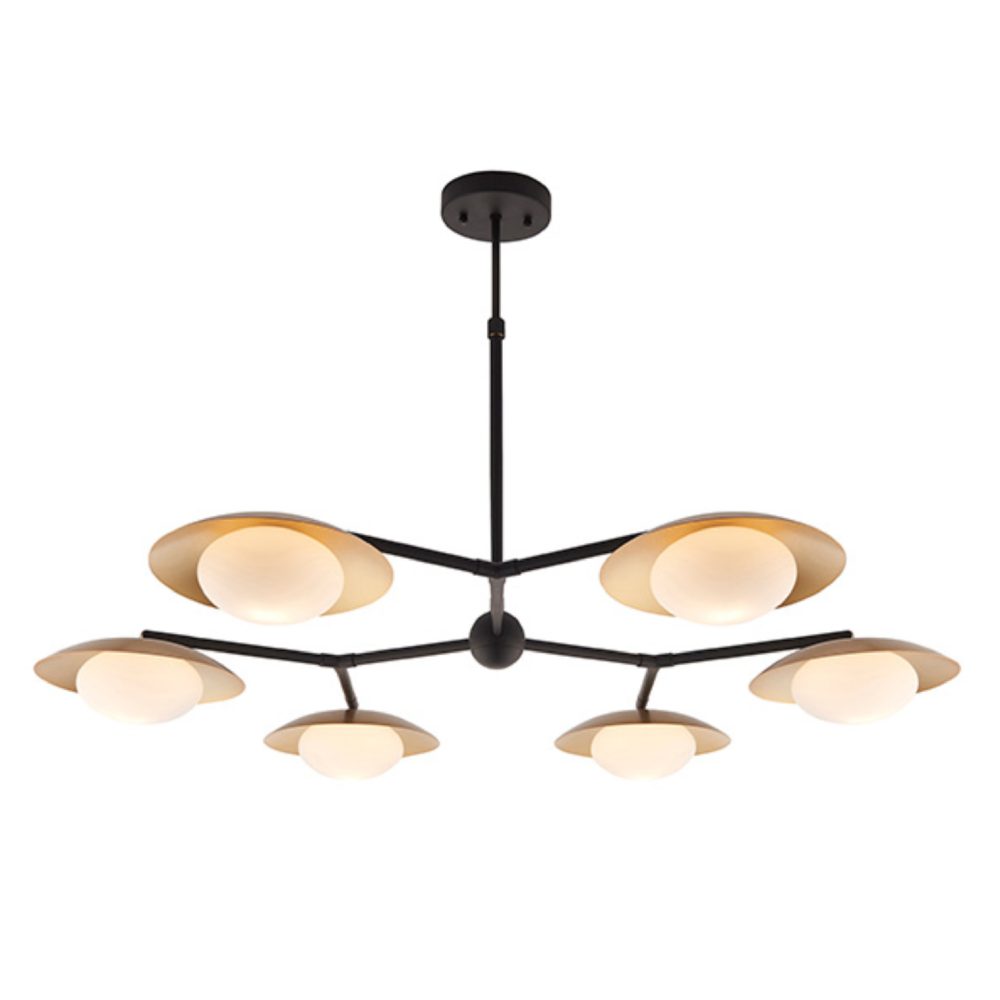 The Platoy gold and dark bronze large pendant with six dish lamps and pebble-shaped glass diffusers needs no further introduction: simply check out the picture!
It has a dark bronze ceiling rose and supporting arm and it comes with six dish-like spotlights, where the glass diffusers are in the shape of a pear.
It takes six G9 LED lamps (to be ordered separately) and it is part of a large collection of ceiling and floor lamps available at Sparks.
Order the Platoy gold and dark bronze pendant light at Sparks.
These are the most impressive gold-plated chandeliers and pendant lights at Sparks, and also the largest ones, which have been added recently.
Almost each one of the above gold ceiling lights has a medium or small version, so be sure to check out their related items.
For more information related to the gold-plated pendant lights and chandeliers at Sparks, do not hesitate to contact us.