Bathrooms are no longer purely functional washrooms but are now seen as a showcase for a home, or as a relaxing sanctuary from a hectic family life. Everyone - men and women alike - are spending an increasing amount of time in the bathroom these days.
We may not be consciously aware of this shift, but if it is true, then shouldn't we be making improvements to this room to which we dedicate so much time? For instance, the lighting of a bathroom can make or break the decor and atmosphere of the entire room. In this article we would like to offer some insight on the planning, dimming, current regulations, and the types of lights one can use for a modern bathroom lighting.
Planning your modern bathroom lighting layout
While laying out your plan for a bathroom refurbishment, first consider where the basin, toilet and bath are to be positioned.
After these locations are identified, next up is to consider is the lighting. You should start considering the running of all the cables before you begin the serious business of tiling and decorating. Next up, you should consider the space you have within the bathroom, and how many lighting 'scenes' you wish to create.
For instance, a little cloakroom may only require one lighting scene, while a room with a bath would need at least two types - a bright warm light for quick stops and 'soft and low light' for longer relaxing soaks.
When creating your lighting 'scene' ensure that you have at least two light switches. These can be legally positioned inside the bathroom, so long as they are a safe distance from wet areas.
The easiest solution is to position both switches outside, adjacent to the door.
The importance of Dimmer Switches in your modern bathroom lighting layout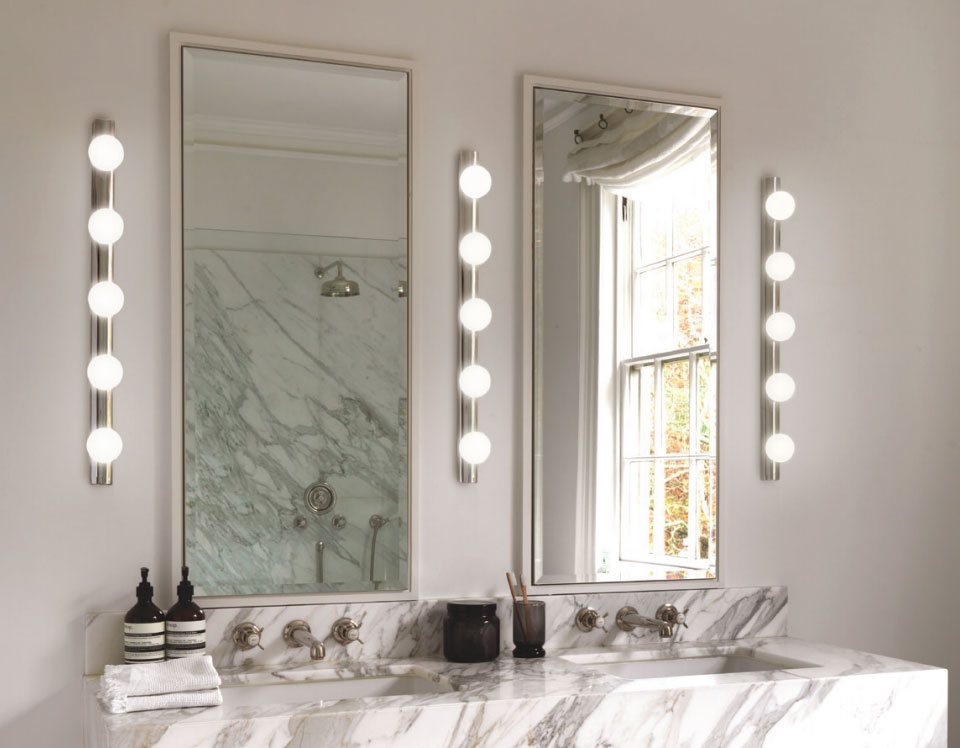 Dimmer switches are extremely in vogue at the moment, being an inexpensive means to control the brightness level of your light. This is useful, for instance, if you are popping in for a night time trip to the toilet and don't want to be rudely blasted by the full glare of your bulb.
All major lighting types can now be dimmable via a dimmer switch, depending on the specific model.
All mains, low-voltage halogen or any 'standard' filament-type bulbs are dimmer friendly, while an increasing number of LEDs, fluorescent and CFL bulbs are compatible with this technology now too.
Advise on choosing the correct dimmer switch for your light bulb type can be found here.
Regulations - which light bulbs can be fitted in your modern bathroom lighting layout
When fitting any light inside a bathroom you must confirm it is at least IP44 rated, which makes it suitable for bathroom zones 2 and 3.
With IP ratings, the first digit explains how well protected the fixture is against solids, and the second digit indicates its level of protection against liquids. The second '4' in IP44 tells you that it is rated as 'protected from water sprayed from all directions'.
This means you can use an IP44 rated light anywhere in the bathroom, excluding the inside of the bath or shower room itself.
A higher rating is offered by IP65 rated lights which are 'jet-proof' meaning they can take on the spray from a shower nozzle and are therefore suitable for any bathroom zone, particularly in the shower. Click here for a more in-depth explanation of IP ratings in the bathroom.
The General Types of Lighting which are essential for starting a complete bathroom lighting layout
Next, it is time to examine the general lighting types you will be dealing with in a bathroom setting.
First up there are Ceiling Lights, which should be placed as centrally as possible for an easy lighting solution.
The Mashiko Series is a beautiful range of ceiling lights that offer refined and contemporary lighting at an affordable price.
The one drawback of ceiling lights is that they may illuminate the room in a general way, but cannot replicate the feeling of more specific lighting, such as mood lighting or task lighting.
Downlights, meanwhile, can be considered an alternative to ceiling lights, which consume more space.
Downlights are smaller in size and a standard 2-metre by 2-metre bathroom would require three to four of them. For the most effective lighting effect, position these lights close to the edges of the bathroom.
This will achieve an attractive border of light washing down each wall, with a gentler and more nuanced ambience than the ceiling lights.
The Void Series of downlights offers a range of Fire-Rated downlights with a convenient variety of beam angles.
Many of them feature other useful capabilities, such as the dimmable function (if a dimmer switch is used), for instance, the Void 80 GU10 LED downlight. Spotlights are another general lighting type to consider.
They are surface-mounted and offer more versatility in where they may be angled.
For example, there are fitting with three spotlights available for purchase; these useful lights can be individually directed into three separate areas of the room, which creates a more interesting and less 'general' lighting scene.
Take for instance, Ascoli triple spotlights are guaranteed to class up your bathroom area.
The Ascoli Triple Ceiling Spotlight in Bronze is a prime example of a model that exudes pure class both in appearance and performance. This post was largely inspired by the Astro official guide on Bathroom Lighting.