As adults, we are used to the general advice regarding using electricity and electrical devices, but with children, it is not the same; all parents need to know the advice and rules regarding how to keep their children safe from electricity.
We were reading these simple rules and instructions via, Electrical Safety First, the other day, and we thought our customers and visitors would benefit if we would post them on our website also.
Advice for Parents: Why and How to Keep Children Safe from Electricity
Once a child arrives in a family, many preparations need to be made.
Baby-proofing the house is absolutely necessary, and in the same way, keeping our children safe from electricity is vitally necessary also.
Yes, it is a stressful time for parents in preparation for the arrival of a first child, but the matter of keeping children safe from electricity cannot be ignored.
Many parents carry out electrical DIY in the home as part of preparing for the child's arrival or in monitoring and taking care of the little ones.
However, without the necessary safety precautions, as children grow they can be exposed to all kinds of hazards.
It is good to know what constitutes a hazard and what is a risk, especially with children, and it is important to keep children safe from electricity.
You don't want your precious child to be brought in to the hospital with electrical burns or to suffer as a result of interacting with electricity.
The fact is that we as adults have a certain knowledge and awareness of the danger of electricity and our interaction with it, but the children have no idea about this; rather, they are quite curious and touch things, put things in their mouths, and need to be told what is safe and what is not safe.
And this needs to happen again and again, as all parents know.
How to Keep Children Safe around Electricity - Simple Guide
Now that we know why we need to keep children safe around electricity, let us look at some of the simple rules related to how can we keep them safe at home and in the garden when it comes to electricity and electrical devices and accessories.
Here is a simple guide on how to keep children safe around electricity.
1. Keep the electrical cords and leads for electrical appliances away from the children, out of their reach.
Especially the cords connected to hot items such as kettles, irons, hair straighteners, hairdryers, etc need to be away from their reach.
Children tend to take things and play with them, and often things end up in their mouths.
We need to keep away any cords and leads from the children.
Even the charging cable for our phone, our laptop, or our camera or tablet - has to be put safely away, not let loose and visible, and when not in use, it has to be turned off.
2. Do not leave appliances or chargers cord plugged in when not in use.
We are so used to leaving the phone charging cable lying there after we disconnect the phone, and we may leave the laptop cable also lying there.
This is a hazard not only to the children but also to us, for it is easy to tangle them, step on them, pull them accidentally, and in the case of children, put them in their mouth.
3. Do not leave appliances running during the night or when you are out.
Appliances such as washing machines, tumble dryers, and dishwashers need to be turned off and even unplugged during the night and when we are out.
If we don't have an RCD in our fusebox, it is recommended to use a plug-in RCD for these items.
When we don't use appliances, we should turn them off.
4. Water and Electricity cannot mix!
After taking a shower or a bath, children need to be thoroughly dried before they go playing, especially when they may play near electrical things such as games consoles, etc.
Parents need to be aware of this. Water and electricity can be deadly.
After the children play in the paddling pool, they need to be dried up before they go into the house where there are plugs, sockets, and switches.
5. Keep liquids away from electrical devices.
Though it is so convenient to take our tea, water, or any other beverage with us when we sit at home, we need to be aware that water and electricity can be deadly.
We need to keep away drinks from things such as TVs, DVD players, stereos, speakers, computers, laptops, tablets, games consoles, and anything else electrical.
This is a rule not just for the little ones but also for adults.
6. Use RCD protection for sockets and electrical appliances.
Do not rely on socket blanking plugs to keep your children safe. Regular socket outlets in the UK are generally safe, and socket covers will not prevent electric shock if the installation is not safe.
The only way to be safe from a fatal electric shock and reduce the risk of fire is RCD protection either in the fusebox (the consumer unit) or as a plug-in.
7. Beware of potential electrical hazards in the garden.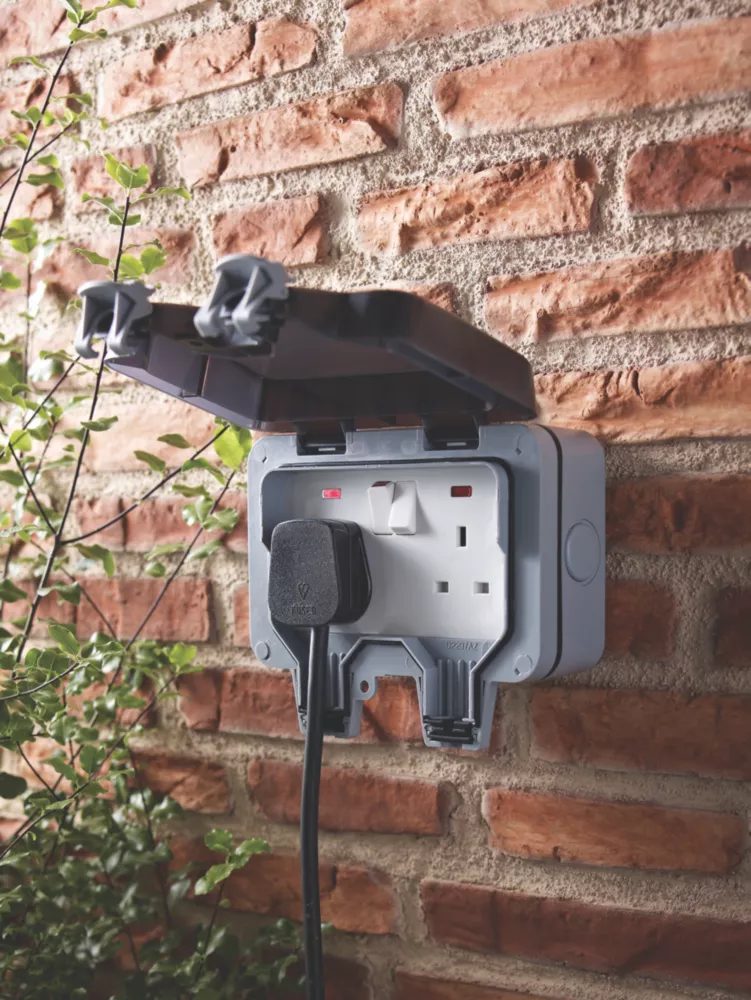 Electrical items such as lawnmowers and hedge trimmers are dangerous for us and for children, so children need to be at a safe distance.
Also, it is possible that such electrical tools would cut through their own electric cables, causing the risk of electric shock.
Parents need to be vigilant at all times, especially when young children are nearby.
When working with electrical equipment in the garden, it is recommended to use RCD protection.
What about Socket Blanking Plugs?
Many first-time parents rush to baby-proof the house by buying and installing socket blanking plugs.
However, though this is a good precaution to take, we need to realize that in the UK normal household sockets are not considered as a serious risk to children.
They have built-in safety shutters to prevent access to the live parts inside.
If you want additional peace of mind, it is understandable if you want to use such blanking plugs for the sockets - it is your choice.
Either way, whether you have such plugs or not, you need to let the children know not to touch the socket, and you need to be vigilant when they are playing around a socket, making sure the safety switches are off.
Conclusion
The full guide from Electrical Safety First regarding, Parents - keep your children safe from electricity - can be found on their website.
On our website we offer a wide range of Consumer Units (see the Hager domestic fuseboxes) and RCD protection for home and commercial use.
Furthermore, the sockets on our website are very safe and can be safely installed at home by using a registered electrician.
For any further information regarding the safety of our electrical products, do not hesitate to contact us.