With the advent of wireless technology, Aico saw a way to fundamentally change and improve the way home domestic heat alarms, fire alarms, smoke alarms, and CO alarms systems operate, especially via their RadioLINK+ and AudioLINK technologies.
How Aico sees IoT as an opportunity to improve the fire alarm systems via wireless communication
The Internet Of Things (IoT) radicalised the market, with devices transferring information over wireless networks with no need for human-to-computer interaction.
Aico saw this as a golden opportunity to bring forth advanced wireless-interconnected fire protection systems.
They are committed to the highest possible standards in terms of quality and responsiveness in their products, retaining the status as the market leader in fire and CO protection.
Revolutionary RadioLINK and RadioLINK+ allows for easy wireless communication between alarms

In the late 2000's Aico delved into the world of IoT, and this led to the interconnection of their fire alarm systems.
They first began by connecting their heat and smoke alarms via radio frequency (RF), meaning that when one alarm in the system was alerted, they all sounded off.
All this took was fitting a base or module directly onto the alarm, such as the RadioLINK base EI168RC, which complies with all alarms in the 140RC Series.
Once you have fitted all your bases and alarms you will need to connect them via 'House-Coding' upon install, to confirm they are communicating properly.
If you already have an existing hard-wired system, RadioLINK alarms can be added in via what's called 'a hybrid system'.
The advantages of a wirelessly connected network for alarms is obvious. RadioLINK integration uses a wireless connection that eliminates the need for burdensome wiring runs, salvages time at installation, reduces disruption time at installation, saves you money and makes it more straightforward to add new alarms and accessories.
Next up would be RadioLINK+ - a step up in alarm interconnection evolution.
Setting up a RadioLink+ system requires control from a desktop appliance, which is demonstrated in the video below.
Introduction to Aico RadioLink+
https://www.youtube.com/watch?v=7K-I0wqZff4&feature=youtu.be With the introduction of RadioLink+ and its module for connection, the slot for House Coding was shifted onto the actual alarm, allowing for far easier access without having to detach the alarm.
The Aico Ei100MRF module connected a comprehensive number of newer Aico alarms - any number of the alarms - in the Ei160e Series system.
The Remote Alarm Interconnection meant only a single alarm in the RadioLINK+ system would need the Remote House Code inputting.
From here, the RadioLINK+ just needed the new alarm or accessory to be added to allow for remote control, test and asset management.
The RadioLINK+ data extraction system allows for entire system reports: this can help prevent instances of alarm tampering, and give you information about all your alarms activities.
This information includes the RF signal strength between alarms, the age of alarms and CO levels (if there is a CO alarm in the system).
AudioLink: extra convenience and analytical feedback straight to your mobile device
Aico is serious about supplying the users of its alarms with up-to-date feedback, also offering AudioLINK functionality into many of its alarms, including all of their CO alarms.
AudioLINK can be added as an App on your smartphone or tablet and will offer you a wide variety of useful functions including:
Alarm activations
Sensor status
Record of testing
Battery and backup cell status
Carbon Monoxide (CO) levels recorded – in CO alarms only
Background levels of CO – in CO alarms only
Advice on dust contamination levels – Ei2110e only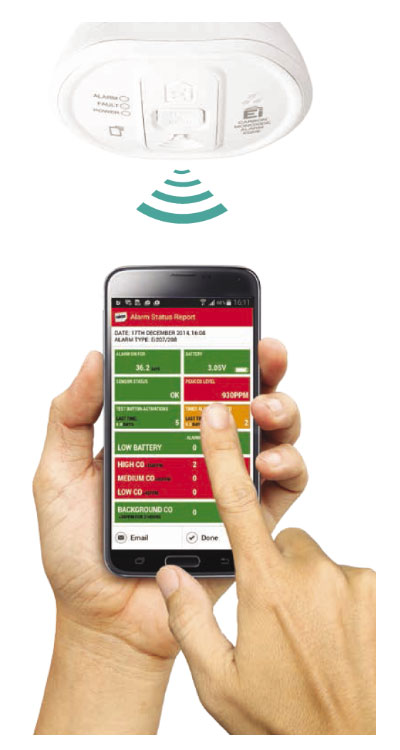 AudioLINK is available on all Aico CO alarms, including the Ei208 and Ei262, as well as other fire alarm types such as the Multi-Sensor Fire Alarm Ei2110e.
The remote nature of the data extraction technology granted by AudioLINK is that the extraction itself can be done without any need for removal of the alarm.
This ensures the alarm will continue to detect even as you analyse your report.
The report generated is easy to read and gives details of any incident immediately, meaning the feedback is instant.
Data recorded by the AudioLINK technology can be extracted an infinite number of times and is also historic, meaning that all information is stored for life.
Any information from the Alarm Status Report can be emailed directly from your device to multiple addresses, in the form of a PDF report.
It is highly useful for easy integration with a housing management or maintenance system.
For instance, Adactus Housing, who own and manage over 13,000 properties across England have fitted all their houses with Aico Ei208 due to the convenient and practical features that AudioLINK affords them.
Ivan Meredith, Group Gas Compliance Manager at Adactus Housing, explained that:
The added ability to provide us with historic data regarding the presence of CO is a fantastic benefit, helping us to take the right action when ensuring the safety of our tenants
AudioLINK is also a godsend for Landlords, as it provides all the evidence necessary for the maintenance of a complete record that private Landlords need to retain
by law
.
Aico's forward-thinking philosophy has resulted in a comprehensive fire alarm protection system that is completely wireless; RadioLINK+ and AudioLINK have both been embraced by housing management, landlords and members of the public alike.