BN Thermic has a well-established reputation for providing effective heating solutions for warehouses. They have an excellent range of industrial fan heaters, and they also provide heating solutions for other areas.
For instance, they provide self-regulating protection cables for warehouses. These use contemporary technology to ensure the cable's output is reduced when the outdoor temperature increases. This is a very eco-friendly feature for large companies.
They also prevent the costs and inconvenience of burst water pipes.
So, when asked to help replace the respected OUH2 Industrial heaters in a warehouse, BN Thermic knew they had the tools at their disposal to excel at this task.
Why Choose BN Thermic Industrial Fan Heaters in a Warehouse?
BN Thermic have long been in the game when it comes to producing quality industrial heaters for warehouses. All businesses in need of heating solutions need to do is take a look at their brilliant record in this field.
For example, they answered an urgent 'call for help' from a project at Quaife Engineering's HQ in Sevenoaks, Kent. A recent electric heating system that had been installed had failed 'catastrophically'.
The area which required heating was a production area with several workers, stock and a mezz floor to be accounted for.
The solution BN Thermic provided was perfect in its simplicity. Four industrial units would deliver 50kW of heat, and they would be suspended from the ceiling.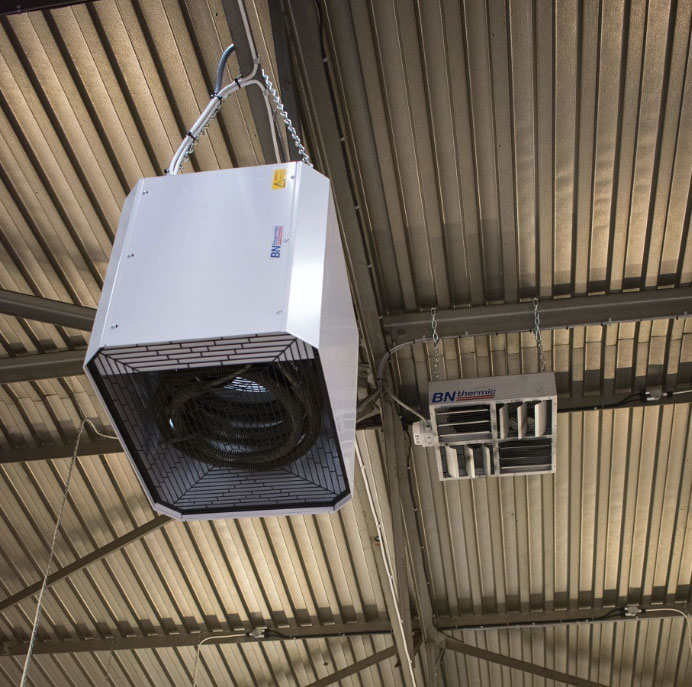 The fan heaters are controlled via a 7-day timer, and have built-in thermostats and a frost thermostat to make sure the premises doesn't drop below 5°C overnight.
This project was acclaimed as an overwhelming success and was complemented by the head R&D engineer of Quaife. This explains why BN Thermic is one of the first manufacturers companies turn to when they need heating solutions for their warehouses.
The challenge: replacing and improving an established heating system
When given this task, it was made clear to BN Thermic that they were not to completely overhaul the OUH2 heating system, but instead renovate and update it.
The reason that the OUH2 system did not need a complete redo is because it was tailor-made for warehouses to begin with. This heater comes in seven models, ranging from 3kW to 25kW output, and they all come with in-built thermostats.
They have specially designed brackets for wall or ceiling mounting and are ideal for suspension. If you have multiple heaters they can all controlled from one point, and each of them are designed to be as efficient and convenient as possible.
We here at Sparks are delighted to have in our catalogue some of these OUH2 models, with different heat outputs for your convenience.
So how could BN Thermic improve upon this system? There were some issues related to control of the heaters and their adjustability.
To answer this, we'll take a look at what they kept and what they changed.
BN Thermic: how they approached the OUH2 renovation
BN Thermic decided to keep some of the staples of the OUH2 design that made them so popular to begin with. These included:
The super tough design, suitable for the most demanding environments.
A five-year warranty.
Heat outputs from 3kW to 25kW
All the parts are individually replaceable
However, there were difficulties with the managing of the in-built thermostats. Issues were also flagged concerning the flexibility of its direction, and its overall aesthetics.
To answer these problems, BN Thermic came up with the following solutions:
A built-in control thermostat.
The control system now allows a number of heaters to be controlled from a single point.
A redesigned bracket which can discharge heat from a wider variety of angles.
A sleek new design, as appearance is important - even in a warehouse setting. The changes made proved that even a tough industrial heater can look stylish.
BN Thermic are among the most renowned manufacturers working with warehouses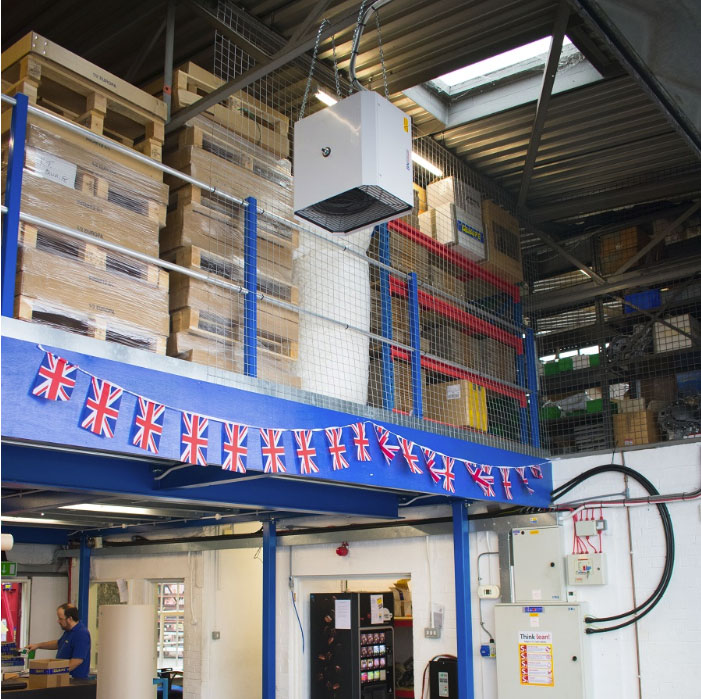 As discussed before, BN Thermic had to be called into Quaife's Engineering HQ to fix a shoddy job done by another heating manufacturer.
Contrast this with the warehouse owners who had the OUH2 system in place. They saw there were faults in the system but knew that BN Thermic could pull their weight and fix them; this is the level of respect they have in the industry.
If you are the owner of a warehouse or large industrial premises, learn from these case studies discussed here. BN Thermic is at the top of their game when it comes to large-scale heating projects of this nature.