The 18th Edition Wiring Regulations brought about a great number of rules to improve the safety of electrical installations, including the fact that cable supports have to be fire-rated.
These included an extensive segment on fire-rated cables and their importance in the collapse of buildings due to fires.
We have discussed this issue previously on Sparks in this article, where we outlined how many cable supports are not sufficient to withstand extreme heat caused by fire.
This can be disastrous as cables are crucial in supporting the integrity of buildings and should be resilient against extreme events.
The consequences of cable supports not being strong enough can be fatal. Between 2005 and 2015, 12 fire-fighters died while on the job - and two-thirds of those deaths were caused by cable entanglement.
This is why a solution to inadequate cabling is so important, and why fire-rated cables and clips are the way forward. The Safe-D clips from D-Line are a prime example of these essential products.
The overlooked problem of cable management in fire safety
The entrapment of firefighters in displaced cabling is well documented. It has been a leading factor in both firefighter injuries and fatalities.
Entanglement is often the result of securing cabling using plastic products or fastenings. The most commonly used fastenings in older buildings are plastic trunking or conduit (PVC) and cable ties (PP and Nylon).
This article goes into more detail about the science of why using these materials is so dangerous and can lead to catastrophe.
So why was cable management not taken seriously in the construction industry for so many decades? It unfortunately took a tragedy - the burning of the Grenfell tower in 2017 - for the UK government and building industry to take a hard look at the issue.
Following the Grenfell disaster, the 'Hackitt' report was published, which called for a 'risk-based approach'. This approach would highlight the importance of the transparency of information between local governments and building contractors.
This transparency did not exist in the building industry for a number of reasons, as certain liberties were taken with the 17th Edition Regulations. The 17th Edition was ambiguous and unclear on the issue of cable management, which was a massive oversight.
Cable management is evidently one of the most crucial parts of any electrical installation: it provides the physical barrier between electrical cables and building fabric.
However, prior to the 18th Edition, there were no mandatory fire-testing requirements for cabling, either within building or wiring regulations. This left those in charge of cable management networks with very little information to work with and even emboldened some to take shortcuts regarding cables and cable supports.
The 18th Edition demands Fire-rated cable supports that will protect installations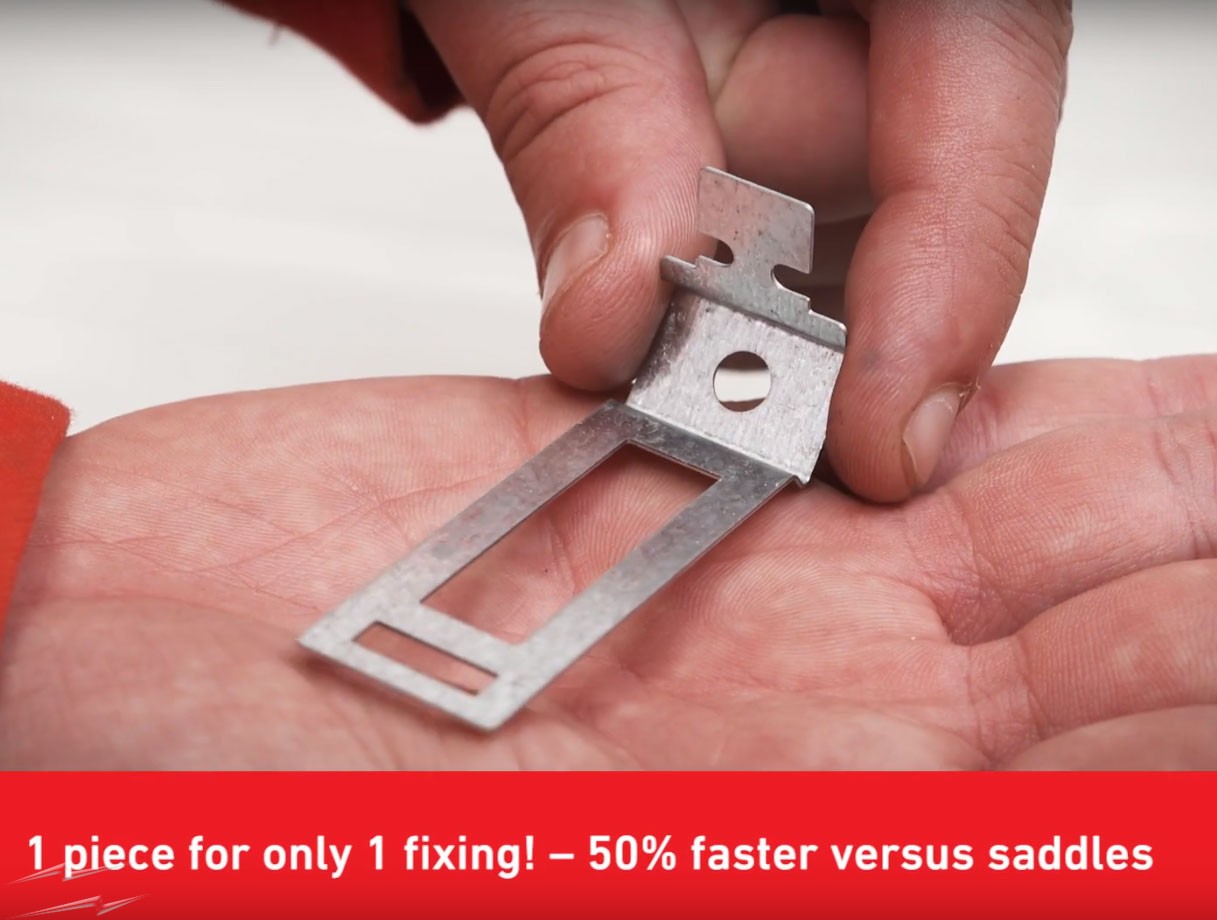 Cable installations must now be secured in a non-combustible way, according to 18th Edition guidelines. Rather than the cheaper plastic 'trunking' that was used previously, steel fixings and containment systems are now a legal requirement.
Under testing, the cable installations must be able to withstand temperatures exceeding 1,000 degrees Celsius for at least 2 hours. This amount of time should be more than enough for everyone in a building to evacuate if there is a fire outbreak.
These fire-rated cable supports are a vast improvement of course, on the plastic, PVC and nylon alternatives which would melt at temperatures as low as 150 degrees Celsius. In cases where PVC trunking and conduits are used, they must now legally be secured by non-combustible fixings which will not disintegrate.
D-Line offers an affordable and effective answer for cable management
D-Line, a company that specialises in 'innovative' cable management solutions, has brought out a line of 'Safe-D' products that meets the new regulations. They have been fully tested to ensure they are in compliance with BS5839 part 1 of the 18th Edition.
Sparks sell a range of these innovative, life-saving products which you can find here.
The installation of cables using Safe-D clips must be done in accordance with strict guidelines. For horizontal cables, there should be spacings of 300mm between clips and 400mm spaces on vertical installations.
Rigorous testing has shown the integrity and flexibility of Safe-D Cable Clips. They can be fully loaded with the cable weight and spaced at ceiling planes at 500mm centres, whilst still holding the cabling securely.
It is still recommended that the Safe-D Clips be spaced closer together. Wider spacing always runs the risk of cable sagging and short-circuiting, so it is important to measure these spacings carefully.
All D-Line products can be used in conjunction with D-Fixing screws, which have specially domed heads designed to optimise space for the Safe-D clips. They have a length of 40mm which, once embedded, offers excellent pull-load resistance and load-bearing.
All D-Line products give due diligence to the 18th Edition regulations, and recognise their importance. They offer a whole range of Fire-rated clips, including the flexible Spring Clip.
If you are looking to work on an electrical installation safely, and wish to follow the 18th Edition regulations then look no further than these D-Line clips and cable supports!
These products eliminate the risk of fires that cause fatal cable entanglements, while blending seamlessly into modern surroundings - and all at a very affordable price.