After presenting some ideas on
planning the lighting in your bathroom
and
the general lighting fittings for bathrooms
, in the full Astro Lighting guide to Bathroom Lights there are a series of
Task Lights
being introduced. The first one of them is
the Illuminated Mirrors / Bathroom Mirror lights
. This kind of fittings are more and more common nowadays for several reasons, from their energy saving options to the fact that you don't see a "light fitting" there but you have light and a mirror!
Bathroom Task Lights - the Bathroom Illuminated Mirrors
The mirror above the basin
in the bathroom is the equivalent of the desk in the office. It's the hub of operations, where most of the 'work' takes place. You need not only the ceiling light but a more specific and localized light, which helps you see yourself in the mirror and "take care of the situation" accordingly.
There are several options, but the most effective is a solution that illuminates both sides of the face to ensure an even, flattering glow with no shadows. You can achieve this with either an illuminated mirror or wall lights positioned either side of the mirror.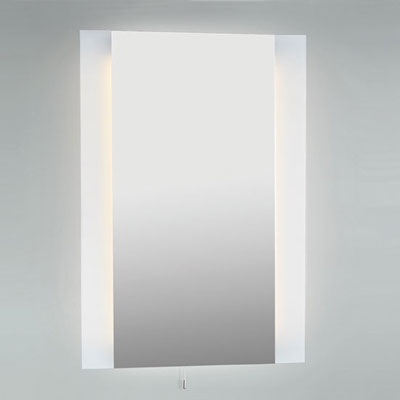 The illuminated mirrors are sometimes called "back-lit bathroom mirrors". Every basin needs a mirror, so illuminated mirrors provide a simple two-in-one solution. Some also incorporate shaver sockets.  You can also choose from the mirrors with integrated horizontal or vertical lighting (see the AX0548 Fuji Mirror Light and Shaver Mirror for Bathrooms).
Some clever products also provide ambient lighting by giving a gentle wash of light behind the mirror which illuminates the wall and makes it appear to float(see the MIR1 Eclipse mirror - large circular mirror illuminated by 24 volt X-Flex Xenon lighting)
Top Tip for

Bathroom Illuminated Mirrors

: If you want to keep your mirror mist-free, a simple and inexpensive solution is to stick an electric demister pad onto the back. If you have an illuminated mirror, these will already have some slight residual warmth that will normally discourage condensation, but a demister pad can easily be added if your bathroom is particularly steamy.
Read + download this full guide from
Astro Lighting - Bathroom Lighting guide
- or continue reading it here(keep an eye on our blog). To purchase these task lights for bathroom wall mounting, visit the supplied links above.