The new Aurora Luna AU-GUF4011 lamps are super-energy saving solutions - great alternatives to the halogen lighting. The entire range of Aurora Luna Lights provides compact, energy saving alternatives to halogen lighting!
Please note: these light bulbs are no longer available; see the SGU10 LED lamps on our website here.
The special SGU10 lampholder prevents the insertion of halogen lamps in compatible luminaires, and the 40 lumens per Watt output allows this range to be compliant with the Building Regs Approved Doc. L1A/B.
Fully compliant with the Part L1 and 40Lm/W! These new energy saving Luna Lamps from Aurora Lighting can be used with the Fire Rated Downlights (see the Aurora Part L1 AU-DLM841 and Aurora Part L1 AU-DLM843), and offer the following light colours: Cool White, daylight white, and warm white.
The great Aurora Luna Energy Saving Lamps AU-GUF4011 are powering the Aurora Sola Fire Rated Downlighting!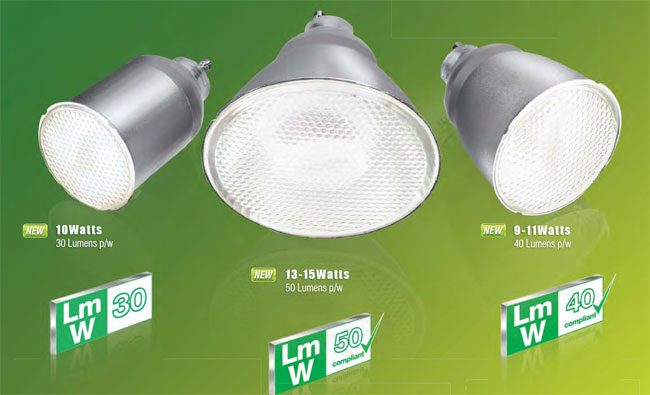 The Part L1 Aurora Luna Energy Saving Lamps AU-GUF4011 - Main Features
11W SGU10 compact fluorescent reflector lamp;
Registered Community Design - 000973912-0003;
Patent pending (AU-DGUF4013 dimmable version);
40 Lumens per Watt output allows compliance with the Building Regulations Approved document L1A/B;
Special SGU10 lampholder prevents insertion of halogen lamps in compatible luminaires;
Lasts 10 times longer than an equivalent incandescent lamp (10,000 hrs);
Suitable for dimming with resistive and inductive dimmers;
The Aurora Luna AU-GUF4011 power the Sola fire rated downlights;

Model number: the Aurora AU-GUF4011 lamps;
40 Lumens per watt; Wattage: 11W;
Lamp base: SGU10; Diameter: 64mm;
Part L1 compliant light bulb.