This is the last part of the Astro Lighting full guide to Bathroom Lighting, starting from the tips for planning your bathroom lights and going through the general lighting, the bathroom illuminated mirrors, and the bathroom wall lights.
Below you can find some more tips + some amazing pictures of the magnifying mirror lights (task lights) and the LED bathroom lights (mood light fittings).
These are only some of the many tips for improving the bathroom lighting.
Bathroom Task Lighting - close-up, Magnifying Mirror Lamps
A magnifying mirror is an invaluable aid for shaving, applying make-up and other personal grooming.
You can choose from a separate illuminated mirror which can be freely positioned as it incorporates all-round lighting (see the AX0760 Niimi Square Wall Lamp with an extended arm) or a non-lit model that can be attached to the main bathroom mirror for a two-in-one solution.
Either way, it happens just like the air conditioning in the car, once you have it, you'll never go back.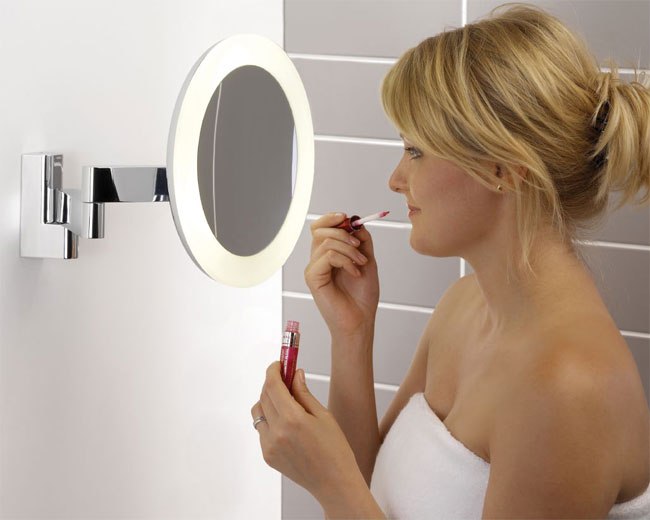 Task Lighting in the Bathroom: the Magnifying mirror AX0815 Niimi Round / Square
Bathroom Mood Lighting - Creative Lighting in the Bathroom
This is where you can have fun and be creative. In the very least you can dim the lights to provide a softer atmosphere, but you can enhance the night time lighting scene significantly with a few extrastrategically positioned lights.
Using LED Lights in the Bathroom
Recessed LEDs at skirting height are great for providing a wash of light across the floor. One bright idea is to continue the bath panel down to just above the floor and position a strip of LEDs behind it to cast a gentle glow out from behind the panel and make the bath appear to float. If you are building-in niches for display or storage, fit LED downlights to really bring it to life.
Small wall-mounted LED lights can be used to illuminate designated spots in the bathroom and provide light up and down the wall.
These can offer good alternative general illumination at night time, when more powerful lamps would be too strong. You can read the previous parts of the guide at:
(1) Plan your bathroom lights!
(2) the fittings for General Lighting;
(3) Task Lights - Bathroom Illuminated Mirrors;
(4) Bathroom Wall Lights (IP rated task lights).
To purchase the fittings in this guide or other bathroom fittings, visit the links provided above.