The ever-helpful Apartment Therapy recently published a short, slightly intimate treatise on practical lighting. Highlighted are four common household areas that often need more light - and which are often overlooked in the overall renovation of a house's design or renovation.
But these are the spots which, if properly lit, enhance the experience of daily life immeasurably.
The one thing the post lacks is recommendations for good lights and links to, say, an independent British retailer - which we are glad to provide for our UK readers today.
We've pulled quotes from Apartment Therapy, but the whole thing is worth a read, especially the comments thread, which as usual contains more than a few nuggets of wisdom.

THE ENTRY (OR "LANDING STRIP")
It's the first place your guests see when they enter your home, and the spot where you probably need the best organization as you dart out the door (hopefully with your easily accessible keys and phone). A warm light here sets a welcoming tone and makes your daily exit all the easier.
The first room in the house - usually a hallway, but we remember a time we lived in a small flat with a room almost as big as the living room - is particularly tricky to light.
You need to toe the line between functionality (being able to find everything on the way out) and atmosphere (welcoming you, your family, and/or your guests).
Although your interior design tastes might differ, we think wall lights to complement the general light coming from the ceiling are a good all-round solution.
You can go the recessed route or the surface route - both will look and feel great.
The header image of this post comes from Apartment Therapy and features a pair of Parma 210 Uplight/Downlights, which are plaster and can thus be painted to match the hallway!
Closets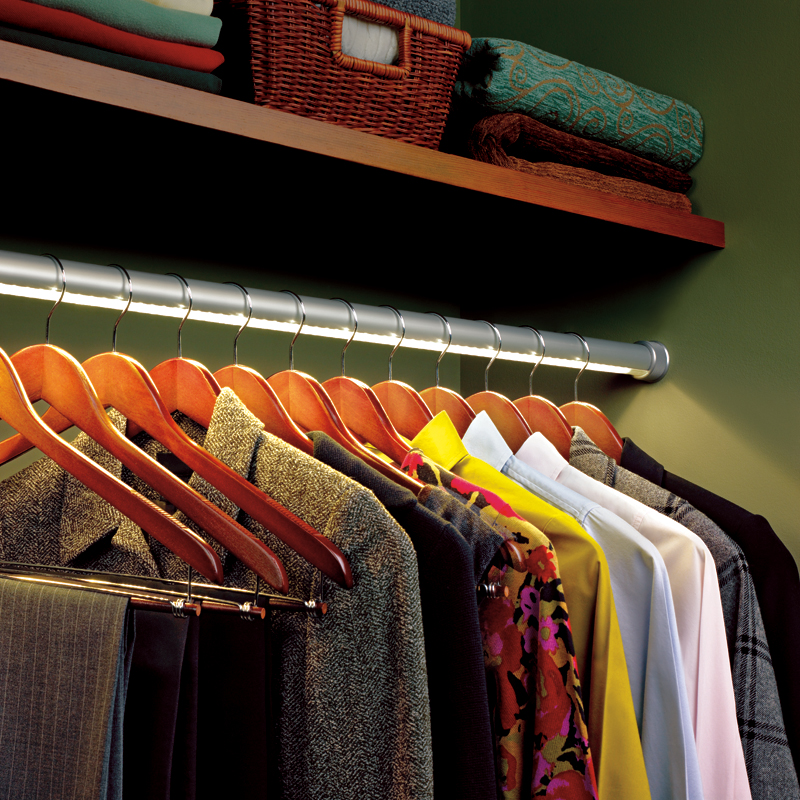 Sometimes it's the smallest spaces that need the best lighting. A good light in the closet will make even an undersized one more efficient.
If you've ever rummaged around a closet or a wardrobe for an hour looking for that one mobile phone charger or that lucky sock, you'll understand this grievance.
Luckily, we have a range of small, but powerful, wardrobe lights that transform a storage space.
Better yet, we can make that closet lighting efficient: instead of a manual switch, why not install a "push-to-break" surface contact that will turn out the light when the door is closed?
Or if the closet door might be blown open by a draught, a discreet motion sensor will activate the lights when someone enters the closet.
Under-Kitchen Shelving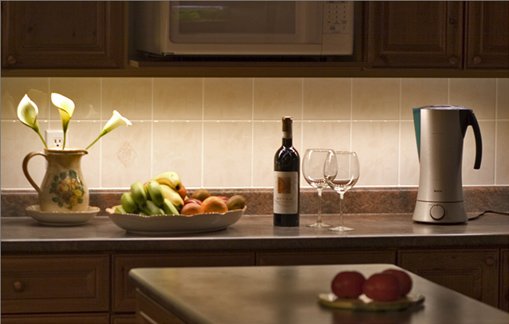 Save yourself the squint wrinkles and install a few under shelf/cabinet lights. When I remember to turn mine on, I slice like a pro. Plus, turning these on and turning off the overhead lights creates a nice ambiance.
Task lights in the kitchen are some of our favourite things. Not just atmospheric but also incredibly useful - not to mention very helpful when slicing vegetables! This pyramid cupboard light is stylish in silver and fufils whatever task light needs you have. Cooking in a tiny kitchen? That's no problem - we have one for corners, too.
Bathrooms
Ideally, you should use a mix of diffused lights. I like halogen for vanity lights and incandescent for overhead. The light should be soft enough to be flattering, but not so dim that you can't apply makeup easily.
We should mention that bathroom lights need to be considered carefully: electrical items for use in wet rooms are
IP-rated
against water ingress, and there are 3 different zones in the bathroom depending on how much water they will come in contact with.
Our bathroom lighting section has a great deal of information, coupled with some very attractive and stylish lights. Do you think Apartment Therapy missed anything? Are there other areas at home in which darkness can drive you mad?