We have recently updated this item on our website -
the Radio Frequency Programmable Room ThermoStat RSRF
, manufactured by
Grasslin
(their code is
STTR/F Towerstat RF
). This thermostat can
replace most common residential thermostats
and is designed to be
used with electric, gas or oil heating control systems or cooling systems
. Unlike conventional thermostat devices, this control is a new type of thermostat which
separates the functions into two units
:
The Receiver serves for wiring connections and heat/cool on/off control
The Transmitter serves as the user interface and for temperature sensing / control.
The two units are linked by radio frequency (RF). The advantage is that the user can
keep the Transmitter nearby
and can read / control the temperature of the living area in immediate use. The Towerstat RF operates on 434 MHz. This is a common frequency used for various household products and as such may on occasion experience crosstalk from other RF operated devices. Read more below about
the features
of this RF thermostat,
the receiver
and
the transmitter
, and
where to find out more details about this fitting
.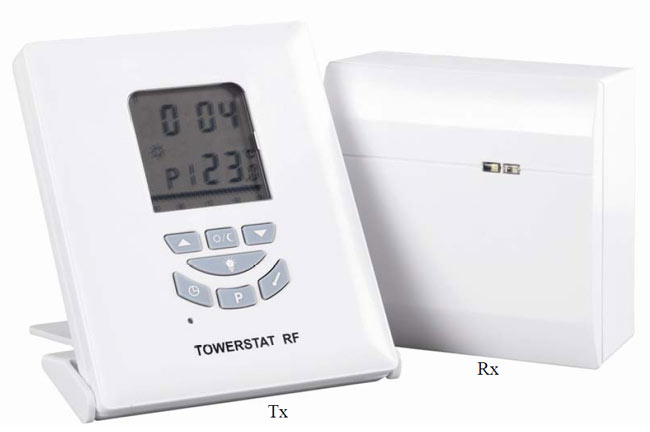 The Radio Frequency Programmable Room Thermostat - Features
Transmitter dimensions: 116 x 100 x 23.5mm, weight 126g;
Receiver dimensions: 91.5 x 91.5 x 42mm, weight 176g;
Power supply: Transmitter 2 x AA(LR6) batteries;
Receiver: 230VAC 50Hz;
Accuracy: + / - 60 seconds / month;
Temp. measurement: 0degC to 40degC in 0.5degC resolution;
Temp. accuracy: + / - 10 at 20degC;
Temperature Control: 7degC to 30degC in 0.5degC increments;
Span: 1, 2, 3, or 40C;
Air conditioner cycle time: 3 minutes;
Operation temperature: 0degC to 40degC;
Storage temperature: -10degC to 60degC;
Operating frequency: 434 MHz.
RF Programmable Thermostat - The Transmitter
Can be placed anywhere in the home to detect and control the temperature of an area of the user's choice. Not limited by power control wiring locations;
Linked with the Receiver via RF. Control distance 100m in free space;
LCD shows the 'need to know' information only, which is easier to understand;
Real time clock with day of the week display;
Room temperature display;
Control profile display;
Simplified temperature adjustment – Simplified programming procedure;
6 pre-defined control profiles, 3 user programmable control profiles;
Protection against frost damage within the heating system;
Temporary override set temperature;
User selectable temperature span;
User selectable heater/cooler operation mode;
Battery level detection;
2 AA size alkaline batteries;
Slim housing design and backlit display.
RF Programmable Thermostat - The Receiver
Linked with Transmitter via RF;
Power rating up to 230VAC 16A resistive;
Powered by line voltage only. No battery required;
Two LED indicators for power and output status.
Do you want to find more about this
Radio Frequency Programmable Thermostat RSRF
from Grasslin? Read more about: The installation of the receiver(RF address code setting, removing your old thermostat; mounting the Receiver onto the wall / junction box; mounting the Receiver onto the optional wall box; wiring for 230v or volt-free applications); Setting of Transmitter Heating / Cooling Selection; Temperature span selection; Battery installation; Setting the clock; Setting control temperature; Testing the RF transmission range; Temporary overrides; The Frost-Protection mode; Battery replacement, the receiver power switch - all in the following files:
Buy online the Grasslin
STTR/F Thermostat
- the
RF Programmable Room Thermostat
- via SparksDirect.co.uk, at the
Energy Management
category,
Timers and Thermostats
.