Born in London, England, Jasper Morrison would go on to become an internationally renowned product and furniture designer, collaborating with some of the world's most prestigious retailers of home ornaments.
His work with Cappellini in the 90's in particular grew his enduring legacy and led him to huge companies, including the distinguished Italian lighting company Flos.
Morrison inspires Flos with his Glo-Balls
Morrison was always a great admirer of Flos, stating that they were 'always the company I wanted to design for'.
He was a great follower of Italian designers such as Castiglioni and Piero Gandini and he was delighted to join their ranks in the 90's to delve into the world of lighting design.
With Flos, he would make an indelible mark on modern lighting that would resound across the interior design scene of Europe.
One his range of designs include the iconic 'Glo-Ball' Flos family of light fittings, notable for their moon-like orb lights, made of the finest opaline glass.

Glo-Balls were immediately distinguished for being furnished in a rather quirky and chic manner, offering humour and elegance all in the same package.
The Glo-Ball family range of lights became a modern home lighting phenomenon, and Morrison would go on to design a great variety of them.
These included wall light fixtures, huge ceiling features, mini-glow pendants, floor lamps and table lamps.
The Glo-Balls really do cut a magnificent figure in any room, with the moon-shaped orb spreading an even, warm light whilst providing a decorative ornament themselves.
The most affordable is the mini Glo-Ball, 112mm in diameter, which can be affixed to your wall, mirror or ceiling.

Morrison Designs the Smithfield for Flos
In a similar vein to the Glo-Ball range, Morrison later designed the Smithfield Pendant Lamp in 2009, another example of his pioneering vision.
He took inspiration from the Smithfield Market in London, as he was famously fond of these types of metal shades that used to dangle across the market.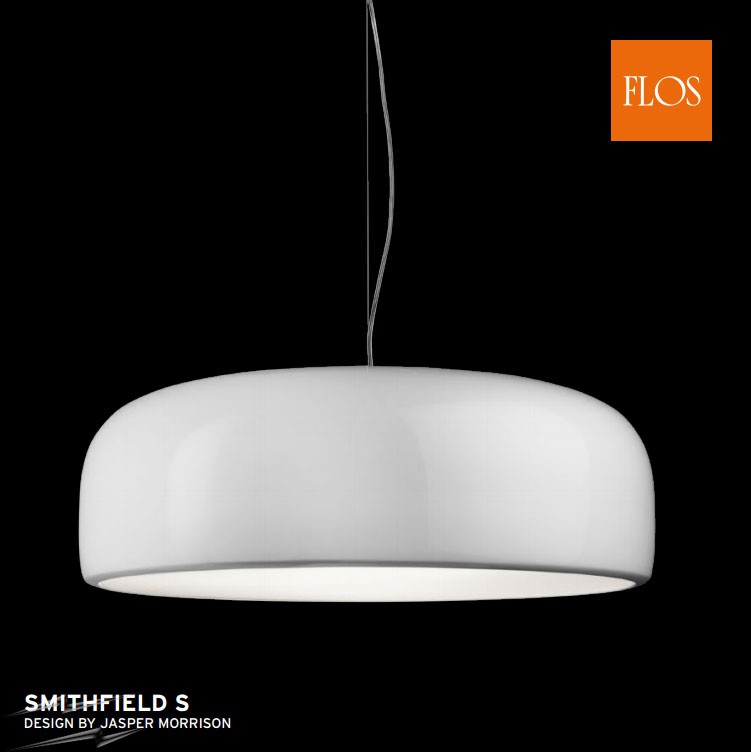 Morrison successfully re-invented the Smithfield for the home interior, crafting a bold, aluminium-bodied lamp with a high gloss finish that exudes class and luxury.
With integrated LED compatibility and a sleek, modern finish, Morrison created a Pendant lamp perfect to overhang the dining or meeting table of a contemporary home.
Morrison's legacy in home lighting
Morrison's
philosophy
has always been to marry style and substance. As he asserted 'simplicity is a state of mind... I like ideas like normal, soft, comfortable, easy to use'.
One thing is for sure when it comes to Jasper Morrison: his designs have proven to have a timeless and beautiful quality to them that will appeal to all future generations.
As recently as 2016, The Tate Modern opened an exhibition dedicated solely for Morrison. James Morrison is to this day one of today's most influential British industrial designers.
Among all his designs, including the ground-breaking 'Thinking Man's Chair', the Glo-Ball collection for Flos rates as one of his most iconic designs.