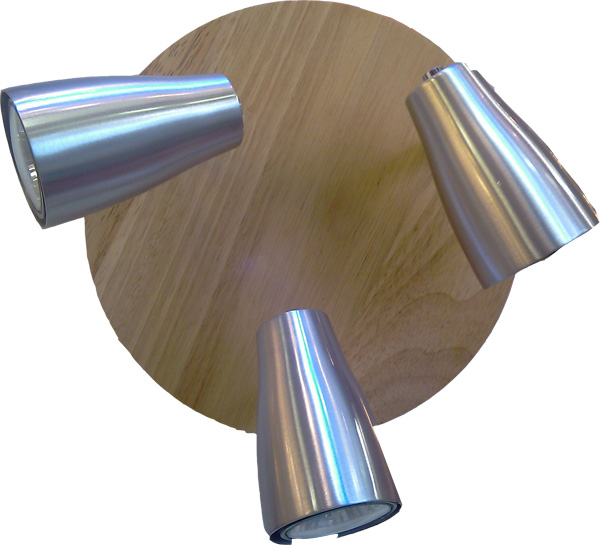 This fitting was recently brought to our our attention -
a cheaper Ceiling Spotlights fitting for as low as £15
! Why pay £50 or more for a stylish wooden base 3 spotlights fitting when you can purchase
the 6046 Triple Spots for ceiling mounting
- for as low as £15 + VAT! This stylish fitting is composed of a round light oak base with three spots mounted on it. The spotlights are, of course, rotating and can be re-directed towards where you want the light to shine.
Since it is only IP20 rated, you can use the 6046 Triple Ceiling Spotlights on a round Oak Base everywhere in the house except the bathroom(or in areas with vapors of air, splashing water, etc) - ideal ceiling fitting for the bedroom, the living room, the corridor, the kitchen, the dining room, or anywhere else in the house.
Grab this hot deal - triple spotlights for ceiling mounting on a stylish light brown oak round base for as low as £15 + VAT! Note: Available as the stock lasts.
6046 Triple Spotlight Ceiling Light Features
Three stylish spotlights on a round base;
Finish: chrome finish / Brushed aluminium spots;
Base: oak style round base, light brown colour;
Lamp used: 3 x 50W GU10 light bulbs;
Ceiling Light for indoor use only;
Part of the Cheaper Lights - Clearance Lines;
IP rating: IP20 rated(not for bathrooms);
Medium sized round ceiling fitting with stylish spots;
Easy to install; modern style ceiling lights;
Triple Ceiling Spotlights - excellent quality;
Now with a reduced price - as stock lasts.
Remember: the 6046 Triple Spotlights Fitting is available at SparksDirect.co.uk for as low as £15 + VAT, as stock lasts. Hot Ceiling Lights Deal at Sparks & Lights!