Are you considering upgrading or replacing the consumer unit in your home or your business? The consumer unit, also known as a fuse box or distribution board, is a critical component of your electrical system. It's responsible for safely distributing electricity to various circuits and protecting your home from electrical hazards like overloads and short circuits.
Whether you're new to this type of equipment and looking to understand this essential device or a seasoned veteran considering an upgrade, this ultimate consumer unit guide will walk you through everything you need to know about consumer units (and what you should consider before buying one).
Continue reading to find out concerning:
What are consumer units?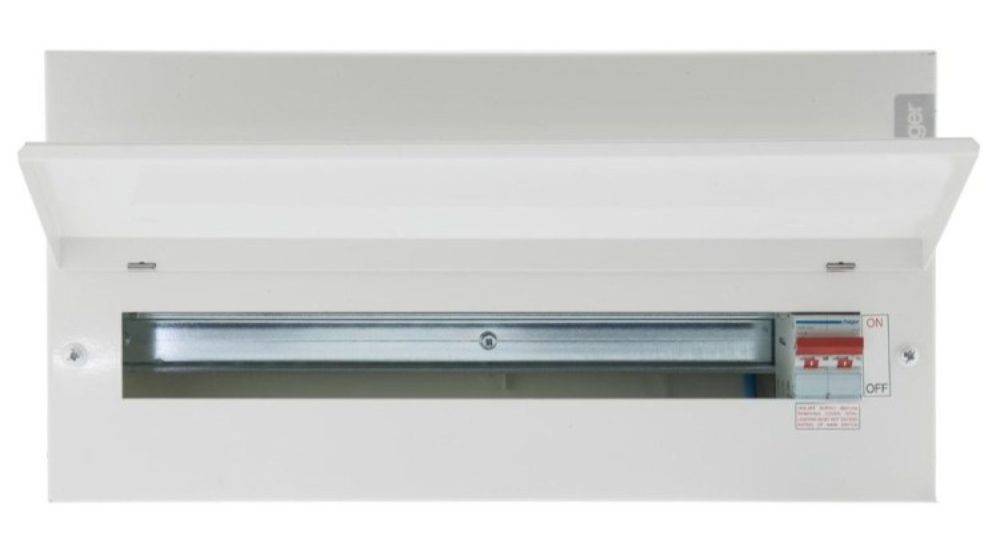 Consumer units, also known as fuse boards, fuse boxes or consumer control units, are essential components of residential and commercial electrical systems. They serve as the central point for controlling and distributing electricity throughout a building. Their primary purpose is to protect the electrical circuits from overloading and short circuits, ensuring the safety of both the occupants and the property.
Consumer units can be segregated into 2 main types. The domestic consumer units, which are usually smaller fuse boxes suitable for residential properties, and the industrial consumer units, are suitable for large-scale commercial applications.
Inside a consumer unit, there are multiple parts from the main switch to your circuit breakers. In the event of an electrical fault or overload, the circuit breaker or fuse automatically trips, cutting off the electricity supply to that circuit, thereby preventing any potential hazards like electrical fires or damage to appliances.
Key consumer unit definitions
RCDs? RCBOs? MCBs? What is all this? Luckily, we've put together an easily digestible glossary so you can understand the key acronyms you'll need to understand when buying a consumer unit.
A main switch is the primary switch controlling the electrical supply of your building. Your consumer unit is controlled by the main switch.
A residual current device (RCD) is a feature inside a consumer unit that switches off the power immediately when noticing a defect or fault.
A mini circuit breaker (MCB), also known as a fuse, protects individual circuits in your building from overloads and faults. The average house has about 6 circuits, each controlled by a circuit breaker.
A residual current circuit breaker with overload (RCBO) combines the best of RCD and MCB protection into one device in order to safeguard individual circuits from overload.
A surge protection device (SPD) is a feature in some consumer units that protects against power surges, especially useful in areas where there are frequent lightning strikes.
A bus bar is a feature inside consumer units you'll rarely see. It is a long copper strip that looks like a set of teeth, which are used to lock into place the main switch, RCDs and circuit breakers.
Main types of consumer units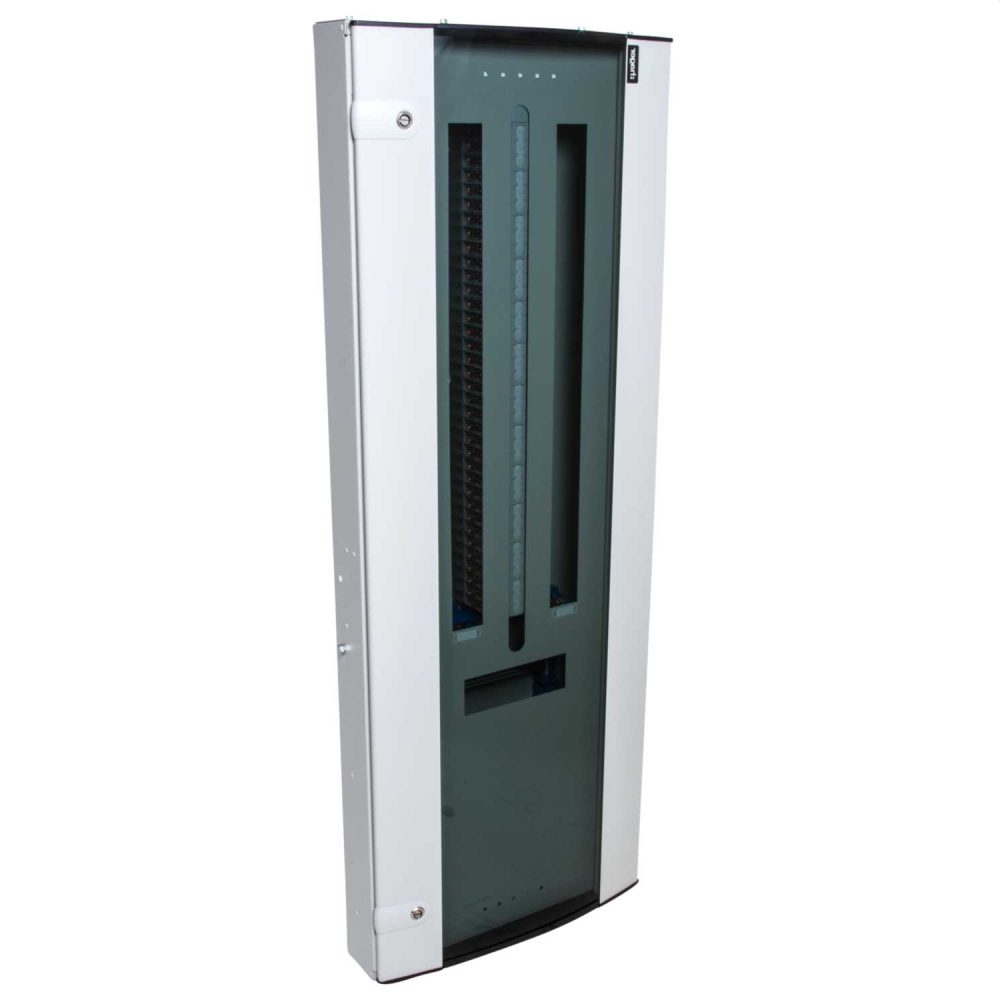 There are four primary types of consumer units available on the market. These include:
1. Main switch consumer units
The main switch consumer unit, sometimes called the main switch fuse box, serves as the primary control point for your entire electrical system, allowing you to turn off the electricity supply to the entire premises quickly and safely. It features the well-known mains on/off switch.
This main switch is designed to handle the total electrical load of the building and is capable of shutting off all the electrical circuits at once. In case of emergencies, maintenance work, or any other situations that require a complete power shutdown, the main switch can be easily turned off, cutting off the electricity supply to all the individual circuits connected to the consumer unit.
2. Dual RCD consumer units
Your dual RCD consumer unit features a main switch and two RCDs. It allows for the creation of two banks of circuits, rather than just one. Each of the circuits is protected by its own RCD, which trips if it detects any leakage (thereby preventing any damage done to your system).
The benefit of having a dual RCD unit is that if one circuit overloads and trips, only half of your devices will be affected.
It is a more cost-effective consumer unit option than some of the other options.
3. High-Integrity consumer units
A high-integrity consumer unit provides you with not two, but three, banks of circuits, providing your system with the protection of two banks of RCBs and also RCBOs.
This unit is popular for homeowners and businesses because it is cost-effective and also provides for a complete separation of your most critical circuits.
4. RCD incomer consumer units
An RCD incomer consumer unit is best when you only have a small amount of circuits. They are useful for places like sheds, small offices, workshops and garages.
Unlike the other consumer units, it does not have a main switch. The board is instead controlled by a single RCD. There is no circuit separation with this unit, which means any residual current fault will cut the power to each and every other circuit.
It is not recommended to rely on an RCD incomer consumer unit in your main dwelling or office building.
18th Edition Consumer Unit Regulations
From 28 March 2022, the 18th edition Consumer Unit Regulations apply to the design, erection and verification of electrical installation. They must comply with British Standard (BS) 7671:2018+A2:2022 (also known as the IET Wiring Regulations).
Broadly, these regulations require that your electrical circuits are protected from:
Overload
Residual current leakage
This is because overload can cause fires, and residual current leakage can lead to nasty electric shocks.
If you are purchasing a consumer unit for your home, you'll need to make sure it is made from a non-combustible material, and this means having a robust enclosure in place. This is obviously so any fires that occur within the unit are contained.
The main changes in the 18th edition that differ from the 17th edition include:
The requirement for a risk assessment to be carried out in order to assess if your property is at risk of transient overvoltage from things like switching loads and lightning strikes. If so, then surge protection will need to be installed.
The installation of Arc Fault Detection Devices (AFDDs) in consumer units in certain circumstances in order to protect your property from fire, burns and overheating as a result of 'arc faults' (which basically refers to the situation where your connections are loose or your wiring is faulty, leading to 'arcing' or sparking).
The requirement for cable support systems (including your building's cable and cable management) to be built from materials to protect against premature collapse in the event of a fire.
The requirement for RCD protection in socket outlets with a rated current not exceeding 32A and lighting circuits within homes.
Can I still use 17th edition consumer units?
Yes, but only in non-domestic environments such as offices.
Any new consumer unit that you install in a domestic setting such as your home will need to comply with the 18th edition consumer unit regulations.
Also note, that there is technically no such thing as a "17th edition" or "18th edition" consumer unit.
4 key consumer unit buying tips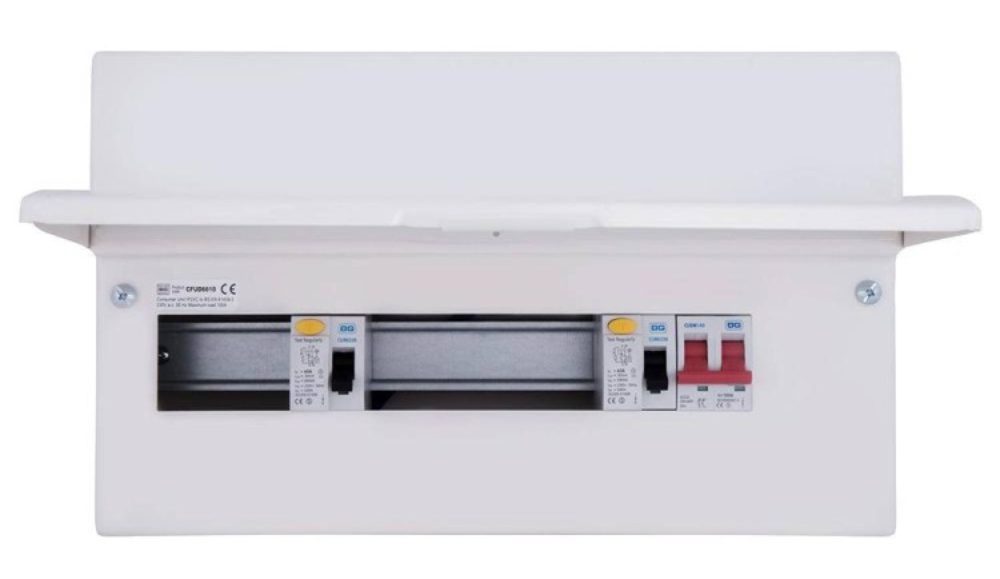 Before purchasing and installing a consumer unit, careful planning and consideration are essential to ensure a safe and efficient electrical system for your property.
Here are key buying tips to keep in mind prior to your purchase:
1. Consider the number of consumer units you'll need
In most residential settings, a single consumer unit is sufficient to cater to the electrical needs of the entire home. However, in larger or more complex properties, or in cases where separate electrical supplies are required for specific areas, you might need more than one consumer unit.
For example, if your property has multiple outbuildings or an annex with its own electrical requirements, a separate consumer unit for those areas may be necessary.
2. Decide on the location of your consumer units
The location of your consumer unit is crucial for both accessibility and safety. Consumer units are often installed in easily accessible areas, like utility rooms, garages or ground-floor storage cupboards. The chosen location should allow sufficient space for working around the unit during installation, maintenance, or emergencies.
If you plan to install a consumer unit in a shed or a more remote area to the main dwelling, it is essential to choose a unit specifically designed for such environments (such as an RCD incomer consumer unit).
3. Determine the number of banks of circuits you'll need
Consumer units are divided into banks of circuits, each controlled by a separate circuit breaker or fuse. It is often worth having more banks than you originally consider necessary just in case your circuit layout changes or expands sometime in the future.
4. Determine your circuit priorities
When configuring your consumer unit, it's essential to prioritize critical circuits for safety and convenience. Circuits supplying essential services like security alarms, smoke detectors, emergency lighting or medical equipment may need to be given higher priority.
These priority circuits should be separately protected and easily identifiable within the consumer unit. In the event of a fault or overload, this prioritization ensures that crucial services remain operational while non-essential circuits may be isolated.
What to look for in a consumer unit
Ultimately, when buying a consumer unit, you'll need to look at whether:
The consumer units comply with the 18th edition consumer unit regulations (as explained above)
The units can suitably manage the electrical demands of your residential, commercial or industrial property
The units are able to protect your property and its occupants from dangerous hazards such as fire and electric shocks.
It may also be worth factoring in where the units are being manufactured and how long the company has been around as this will impact your ability to easily source replacement parts
What is the best consumer unit to buy?
The best consumer unit to buy for your property hinges on several critical factors, and each installation may have unique considerations. The size of your property, the number of electrical circuits required and the specific electrical demands play a pivotal role in determining the ideal consumer unit. We hope this consumer unit guide has given you some guidance so you can choose which unit is right for you.
Here at Sparks Direct, we offer a comprehensive range of consumer units on our online store, catering to various installation needs and preferences.
Some of the terrific brands we offer include consumer units made by Hager, MK, Schneider, Wylex, and BG Electrical.
We are also committed to helping you find the perfect consumer unit to meet your needs.
Should you have any questions or need expert guidance during the selection process, our team of knowledgeable professionals is readily available to assist you, ensuring that your consumer unit installation is a seamless and efficient process.