The 18th Edition Wiring Regulations have brought in a whole new set of guidelines for staying safe when using electrics at home or at work, from RCD protection to fire rated cable supports.
This includes an important section on fire-rated cable clips and how they may prove to be lifesavers in events of fire outbreaks, if certain standards are met.
We have discussed aspects of the 18th Edition previously, advising contractors to keep on top of their surge protection knowledge. We here at Sparks firmly believe in the importance of these regulations, as the building of electrical installations is always potentially dangerous.
In this article, we will go in-depth on a pioneering invention from the company D-Line, which may prove to save many lives.
The dangers of insubstantial support cables
It is now a widely appreciated fact that electrical installations must not rely only on plastic clips or saddles, or PVC trunking and conduits, to support cables.
These kind of plastics typically melt at only 150°C. When considering that a typical fire can become as hot as 525 - 1000 degrees, this is obviously not sufficient.
Copper wires can survive temperatures of up to 1085 degrees. However, it is unlikely that all your electrical installations use copper wiring, and it is not safe to presume that they do.
There is unfortunately a legacy of lives lost due to cable entanglement and collapse during fires. Of the twelve firefighters killed on the job in between 2005 and 2016 in the UK, two thirds died due to cable entanglement.
The unfortunate reasons for these fatalities is that these cable supports were simply not designed with fire safety in mind - they are not fire rated cable supports. This is simply unacceptable, and the 18th Edition is looking to remedy this fatal problem.
Thankfully, D-Line has stepped up to help ensure that our electrical wiring and support cables are safer.
Spring Clip with D-Line: the solution to cable entanglement and collapse
The terrible legacy of deaths caused by cable entanglement and collapse created a solid response. The idea was that, moving forward, fixings must always be able to withstand the stresses of fires and extreme heat.
D-Line were one of the first companies to offer fire-rated solutions for use in either direct-to-surface or PVC trunkings.
They proved to be massively popular among contractors and installers, even well before the 18th Edition regulations came out. Since 2009, over ten million of D-Line's U-Clips have been installed - which is an attestment to their efficiency and cost-effectiveness.
D-Line's U-Clips are extremely affordable. We here at Sparks sell them for prices as low as £8.98 for a pack of 20 - surely worth the price for a product that could save lives.
The engineering of the U-Clips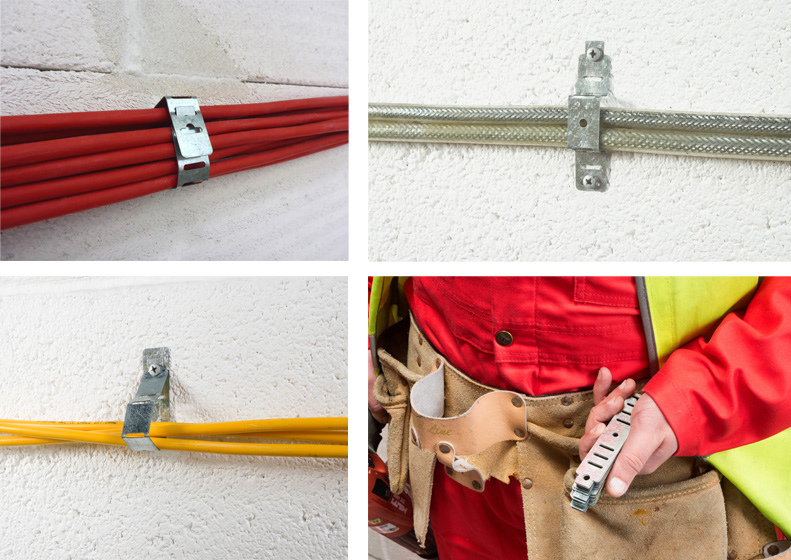 The U-Clips are manufactured in the UK from specified high-temperature and pliable steel. They have a base hole for screw-fixing and comfortable sides that can be simply folded over to secure cables.
If you are looking for more space, they also come in a flat-form options called F-Clips. These have notches that enable forming in seconds to a variety of shapes, while larger versions have tabs that can be return-folded and are lockable.
Installers now fully appreciate how supplying cables flat is very user-friendly and space-efficient. This is demonstrated perfectly with the popularity of D-Line's F-Clips.
The usefulness of D-Lines Spring Clips
A key reason for the existence of this kind of clips is compliance with the 18th Edition Regulations. However, regulatory compliance is not the only benefit to be reaped from these kind of clips - as shown with the Spring Clip.
https://youtu.be/5VuHCa6qkAs
The steel that they are produced from is sprung-tensioned and specified in a way that means it can withstand heat of up to 1200 degrees Celsius.
The design itself is remarkable in its simplicity. It is a 50mm long arm that stems from an eyelet that can easily hold a screw-fixing. The Spring Clip is also blessed with versatility which means it can be positioned either in trunking or direct-to-surface instances at a variety of angles.
This versatility means it can be swivelled in whichever way you require, to make for a more effective clamp that is able to hold down cables onto surfaces; these are fire rated cable supports.
The practical design of the Spring Clips
The
Spring Clips
come with all types of handy features that lend them many practical uses. The angle-of-fixing is adjustable, yet it is only 8mm tall, so these patent-pending Spring Clips are the perfect choice for Size 1 micro-trunkings.
The aesthetics and feel of the clips are pleasing. Users admire the lack of sharp features and the heightened kink along the arm that minimises the risk of damage to soft-skin cables.
https://youtu.be/TL0Mk0yIs7k
D-Line Clips are effective and safe to use in any area of your home. For instance, the D-Line Safe-D products include a D-Fixing screw that saves the need for wall-plugs.
The Spring Clip has been proven to hold cables effectively for two hours in temperatures reaching up to 970 degrees Celsius. This means that if you were to experience a house fire, there would be no immediate fear of support cable collapse.
So do not live in fear that your cables are not strong enough and may be susceptible to entanglement or collapse. Purchase the trusted Spring Clips and U-clips from D-Line today - or another clip from their excellent range to make sure you have fire rated cable supports for your wiring.