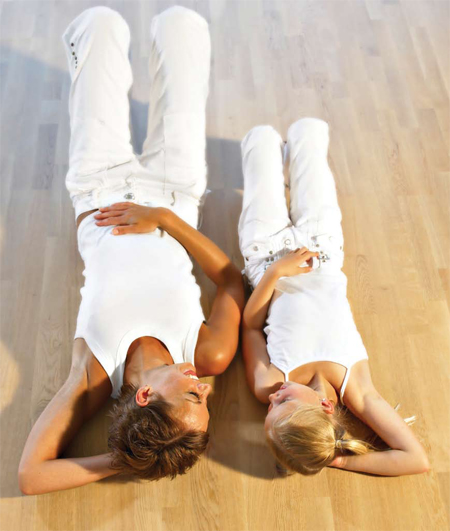 DEVI
is of the Europe's leading
electric underfloor heating manufacturer
s and also one of the preferred partner of many of the UK's leading housebuilders and developers, with sales companies in thirty countries worldwide.
Having been established for over forty years, the people at Devi have designed and installed underfloor heating in the UK, in projects ranging from large apartment developments, to single house applications.  The way they do things is like this: they work closely with developers and architects, as well as with builders and electricians, and they show commitment to providing unrivalled project support from design through to installation and after-sales care.
Devi Electric underfloor heating - Your benefits
Invisible comfort
The electric underfloor heating provides a comfortable, efficient and economical alternative to conventional heating.
The DEVI systems
are also invisible, providing total freedom when decorating and furnishing.
The Heat Rises The underfloor heating system installed under the floor radiates heat evenly across the whole floor area, providing maximum comfort levels; warm feet and cooler at head height, whereas traditional systems provide heat by convection; the hot air rises and leaves a mass of warm air at ceiling level, where it cools and returns as a draught.
An Economical Solution Typically, electric underfloor heating makes it possible to lower the average room temperature by 2ºC without affecting the level of comfort. This means that heating can be reduced by around 20%, which is both an economic and an environmental advantage.
Capital cost savings Once installed, there are no future maintenance costs or contracts to consider. There is also no need to channel emissions out of the building, which greatly simplifies the design process.
Health benefits With electric underfloor heating, there are no travelling dust particles and no moisture content to support dust mites, which greatly benefits those who suffer from dust allergies and asthma.
Total floor solutions DEVI strives to ensure that the installation process is as efficient as possible. In their own words,
Working closely with other organisations, we are able to offer a total solution for your project, encompassing the work of three trades; insulation, heating installation and screed. As well as providing one point of responsibility, this also means that the build programme can be streamlined in order to achieve the highest levels of efficiency.
Soon: coming out with NEW DEVI electric underfloor heating items, more flexible and less expensive than before! Keep an eye on our blog - the Devilink system (central controller, floor thermostat, and room sensor) is on its way!