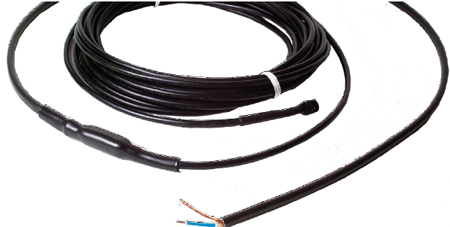 This winter make sure you protect against boiler condensate and exposed pipework frost and freeze damage by using the DEVI range of outdoor heating cables!
Available in constant wattage variants (DTCE) and self regulating variants (DPH-10) the DEVI range of heating cables can be used to suit most pipe heating applications.
The cables can be controlled using a permanent mains supply, or alternatively, using the Danfoss RET230LSA frost protection thermostat with IP67 external sensor.
Using the RET230LSA provides an energy efficient way to manage the operation of the DEVI heating cables and provides potential energy savings as the heating cable is only active when the ambient outdoor temperature is low enough for there to be a risk of pipes freezing.
Check out the new DEVI Frost Protection DPH-10 and DTCE heating cables for the protection of boiler condensate pipes!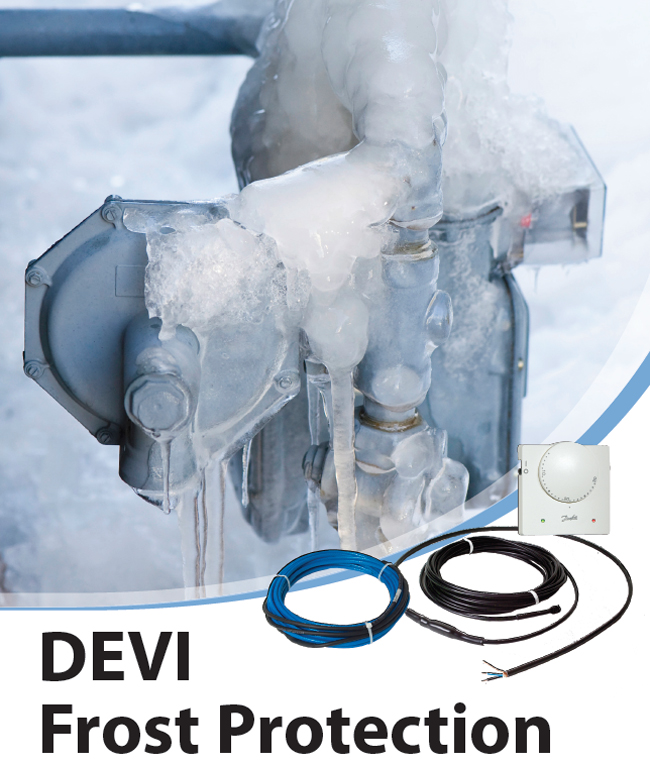 The DTCE Boiler Condensate Protection Cable is a high grade constant wattage cable, unique to the UK frost protection market. The DTCE can be installed inside the boiler condensate pipe.
The DTCE cable is easy to install with a minimum bending radius of 25mm. When installing the cable, to prevent damage and early failure, be aware that the cable must not cross over itself.
We recommend you use the Danfoss RET 230LSA + IP67 Sensor thermostat for energy efficient and hassle free operation of your installation. The DTCE cable comes with a 10 Year Warranty.
DEVI self regulating cables are the perfect solution for preventing condensate boiler and water pipes from freezing over in winter. Using a special polymer composite core the cables automatically adjust the heat provided based on the ambient temperatures around them. The cable is available in ready made lengths, or for more flexibility, on large capacity drums which can be cut to length and assembled using the DEVIcrimp connection kit.
The cable can be controlled by our unique RET 230LSA + IP67 Sensor thermostat, with outdoor temperature sensor, creating an energy efficient solution for frost protection. The DPH-10 cable comes with a 5 Year Warranty.
DTCE and DPH-10 Boiler Condensate Protection - internal and external boiler condensate and exposed pipework frost protection, soon coming at SparksDirect.co.uk. For enquiries concerning this range, leave us a comment below.