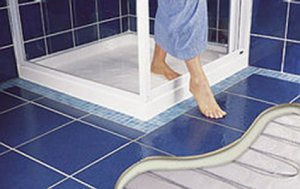 This set of
electric under-tile heater from Dimplex
-
the Dimplex RTS2M
- is now available(as stock lasts) via sparksdirect.co.uk at
a cheaper price
than when you put together any other 2metres Underfloor Heating Mat + a Floor Thermostat!
Warm up the floor in your house
: whether in the living room, in the bathroom, in the kitchen, in the bedroom, etc - make sure
the floor is warm all year round
.
The Dimplex RTS2M
is a complete kit with
the Mat and the Floor Thermostat
- all you need to do is just install it!
Make your life comfortable and make it possible for you to walk on a warm floor in your conservatory, in your bathroom, or in your kitchen. The area covered by this specific set is 2 square metres(ex. 4.0m x 0.5m). The kit contains the heating mat with self-adhesive tapes and the thermostat with floor sensor wire and additional surface mounting frame.
Dimplex Electric Under-Tile Heating System - Features
Mat system for quick and easy installation;
No complicated wiring - only one heater connection to be made;
Suitable for wooden or concrete subfloors;
Suitable for all tiled floor surfaces;
Maintenance free underfloor heating system;
Simple steps of installing the Dimplex RTS2M
Step 1: Prepare the floor surface with a plywood or insulation board;
Step 2: Lay the mats over the area to be heated;
Step 3: Install the floor temperature sensor;
Step 4: Install the thermostat(see the instructions);
Step 5: Make the electrical connections;
Step 6: Lay your tiles.
Note: What you will also need for this is an RCD Fused Spur outlet, and an insulated tile backer board 10mm minimum.
Dimplex RTS2M Electric Under-Tile Heater Technical Specs
Mat Dimensions: 2 square metres;
Area covered: 4.0m x 0.5m (total of 2 sq m);
Wattage: 320W;
Amps at 230Vac: 1/39A;
The Dimplex RTS2M Kit includes: - one heating mat with self-adhesive tapes; - one thermostat with floor sensor wire and additional surface mounting frame;
This
cheaper Dimplex Electric under-tile heater
is available as stock lasts - and it is
less expensive than any other system
out there(even less expensive than any
DEVI underfloor heating solution
)! Buy online the
Dimplex RTS2M
underfloor heating system via SparksDirect today!