Founded in 1997, Astro Lighting is a British company that produces modern lighting for international audiences. Their designs are renowned for their clean lines, quality materials and precise manufacturing.
From the discreet Borgo wall Light to the minimalist Enna LED Floor Lamp, their creations are always practical yet visually engaging. Astro's creative beliefs have remained consistent throughout the decades – good design demands clarity. Nowhere is this better seen perhaps, than in the Eclipse range of LED wall lights: lights whose beauty stem from their clean, understated simplicity.
The Eclipse wall light appears to float on the surface, producing a soft glow that blends into its surroundings. They come available as either a smooth disc or square and will bring an elegant atmosphere to any interior.
Adding to the appeal of the decorative Eclipse range is their eco-friendliness; they all include integral LED drivers that use low voltage levels, for lower costs to you, the customer.
The Eclipse Square 300 LED Wall Lamps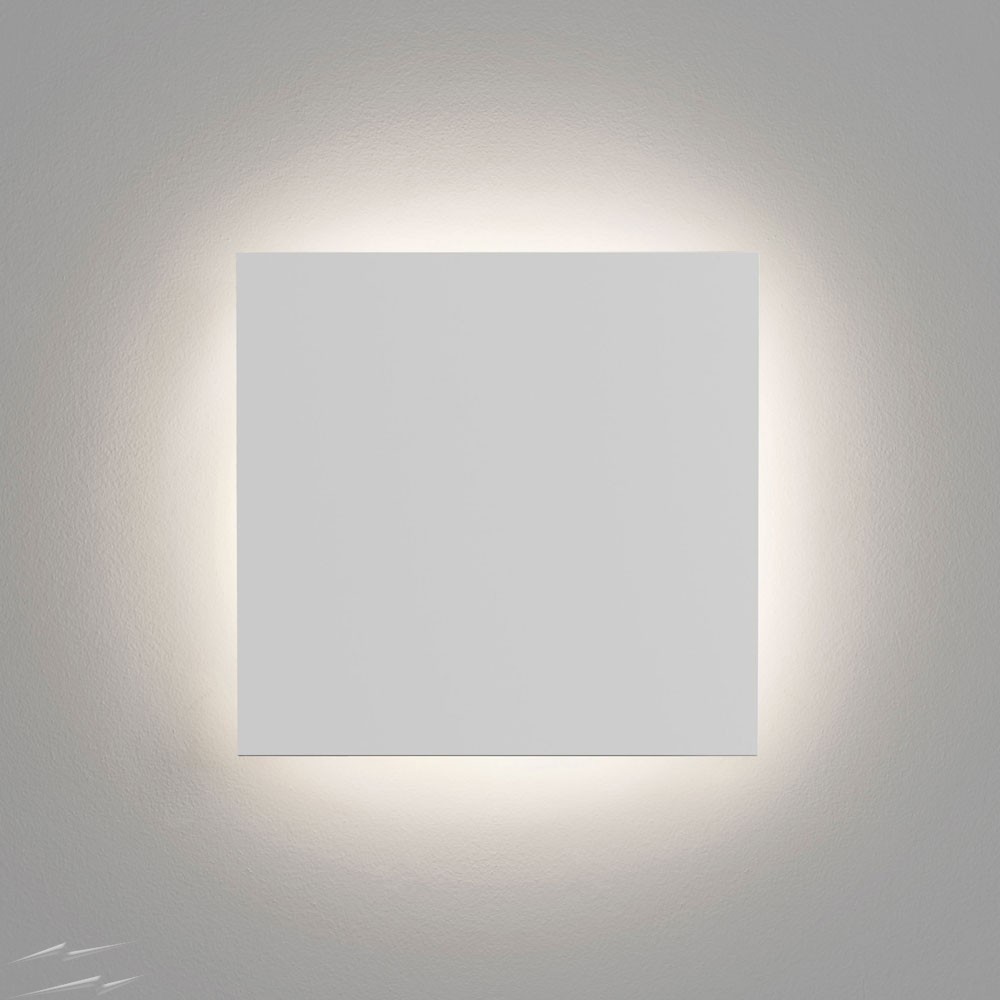 The Eclipse Square 300 LED wall lamp is a wall light that boasts a multi-directional glow. It has an integral LED lamp (included), and an even warm white light distribution of 3000K or 2700K warm white light.
This makes for a mesmerising piece when lit in any dim environments. It earns its name the 'Eclipse', appearing to all but block a light that radiates from all sides of its square surface. This IP20 rated lamp is also paintable - either by spray-painting or with a good quality emulsion finish.
With dimensions of 300mm (height) x 300mm (width), this model will fit in effortlessly wherever you choose to place it. The Eclipse Square 300 is one of the larger fittings from Astro's Eclipse Square range and looks magnificent when arranged with other Eclipse lights.
This fitting looks elegant whether turned on or off, and comes in a stylish matt white finish.
The Eclipse Round 250 LED Wall Lights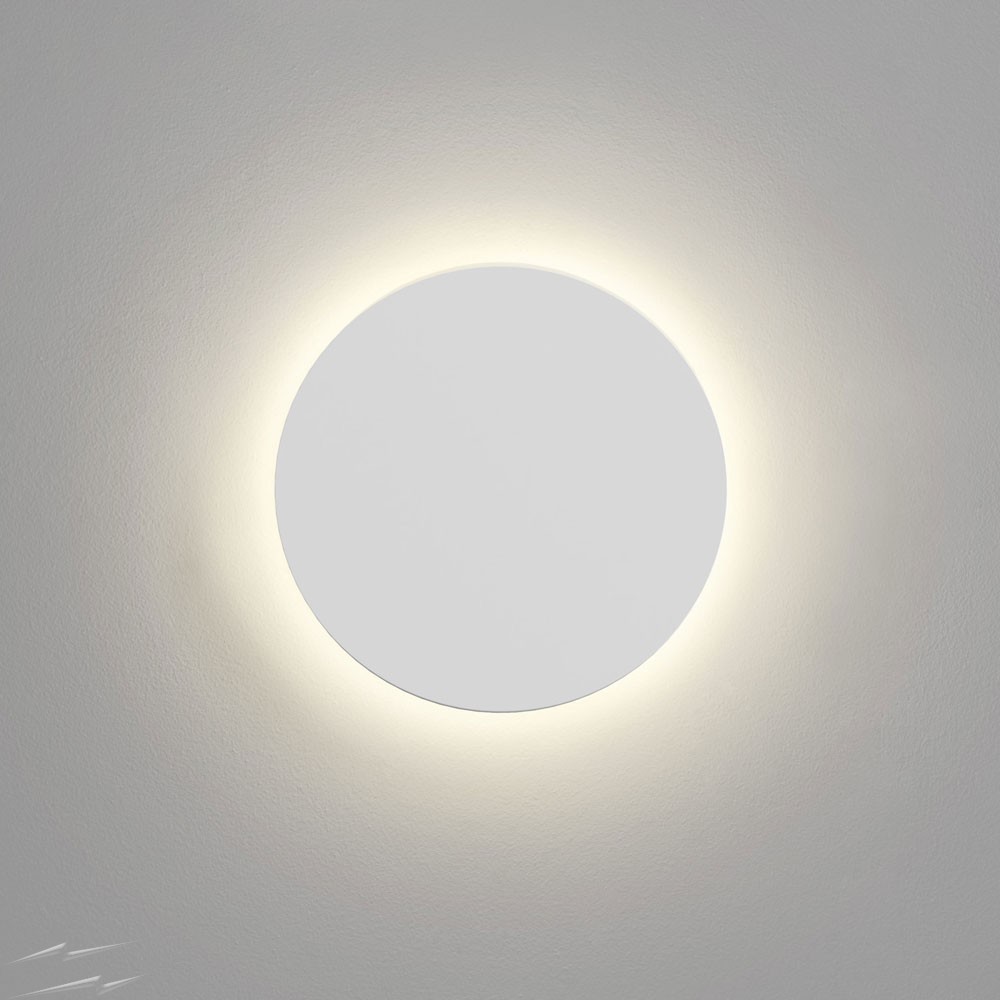 The white plaster Eclipse Round 250 LED wall lamp boasts a circular glow emitted from an integrated LED, which has an even light spread of 3000K or 2700K warm white light. This makes for a mesmerising piece in dark environments as it resembles an eclipse of the moon.
The IP20 rated Eclipse Round 250 can be painted any colour you choose (with high-quality emulsion paint), and it looks great in concrete - if the background is right for this colour. With this seminal range of lights from Astro, the choice is placed into your hands
With its small diameter of 250mm, this circular light will fit in easily wherever you choose to mount it. It can be painted with spray-paint or a good quality emulsion finish. An LED driver with a life-span of 30,000 hours and a voltage of 220-240V is included, making it a highly cost-effective lamp.
The Eclipse Round 250 is a great example of beautiful design combined with smart energy-saving technology.
The Eclipse Round 350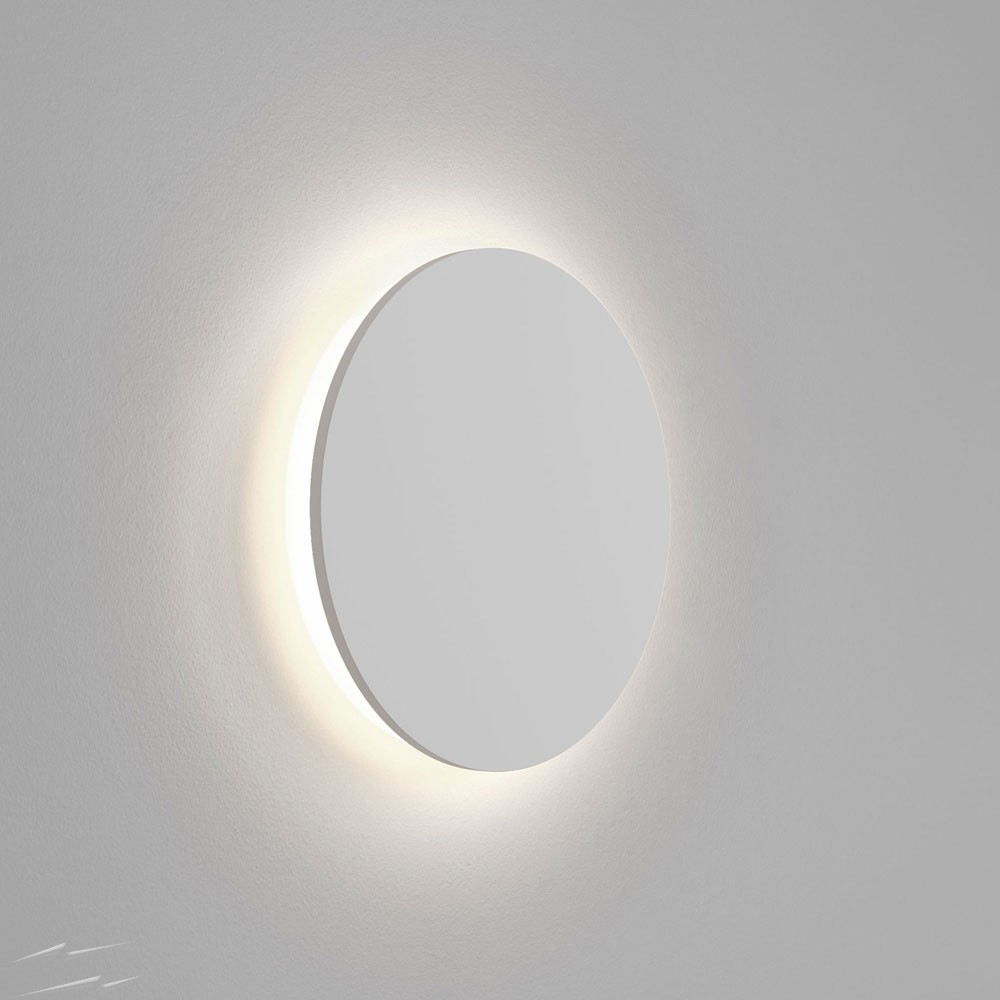 The Eclipse Round 350 meanwhile, offers a more substantial LED lamp which is included - it is integral - and has a higher driver life-span of 35,000 hours! It has a diameter of 350mm and it offers warm white light (either 3000K or 2700K), making it perfect decorative lighting for your kitchen, hallways, bedrooms and reading areas.
The integral driver is crucial to the performance of this fitting and has an output voltage of 12V with a supply frequency of 50/60Hz. This is a low amount of voltage when you take into consideration the strong light output of the device.
This energy efficacy applies to all lights in the Eclipse range, and gives even more evidence on how environmentally friendly they are.
This light is IP20 rated and is suitable for any interior space outside the bathroom. With a projection from the wall of only 32mm, this larger option will fit in discreetly wherever you choose to place it.
The Eclipse Range: bring a natural phenomenon to the inside of your home!
By replicating the wondrous natural phenomenon of a solar eclipse, the Astro Lighting Eclipse range makes for a visually stunning light scheme, despite their minimalist form.
The clean shape and smooth white finish of these fixtures create a low-key yet elegant design that befits a modern home setting. Meanwhile, the integrated LED light produces a gentle and glowing illumination all around them; whether they are in the living room, the bedroom, or hallway.
The small projection from the wall and the "eclipse illusion" of these fittings gives the impression that these lights do appear to 'float' across your home's walls. So why not bring the night sky into your house and buy an Eclipse light today?