It is well known that combining water and electricity is a recipe for disaster, as water is highly conductive. This means the bathroom - where water is in excess use - is possibly the most dangerous room in the house in terms of electrical safety.
It is not only the chance of receiving an electric shock that is higher in the bathroom. The consequences are also far more severe in a bathroom or shower room, as wet skin reduces the body's resistance to shocks.
In this article (inspired from the article on Bathroom Safety, via ESF website), we will advise you on how to stay safe using electrical appliances and devices in your bathroom.
Electrical safety in the bathroom: electrical installations and sockets
Electrical installations in bathrooms must comply with special requirements that are explained in
Part P
of the UK Building Regulations.
We highly recommend that you use an electrician registered with one of the government-approved schemes to carry out electrical installations. You can find out more about these schemes by visiting the Electrical Safety First (ESF) Find an Electrician page.
The next thing to think about is sockets and their placement.
Socket outlets should not be permitted in bathrooms or shower rooms (apart from shaver-supply units). This is unless they can be fitted a minimum distance of three metres from the bath or shower.
Shaver sockets without transformers should not be used in a wet area such as a shower room or bathroom. When choosing a shaver socket for a bathroom, look at the British Standard BS3535 to see if it is compliant.
Any shaver points must be a safe distance from the bath or shower to avoid splashes, which could damage the socket.
Electrical safety in the bathroom: Lights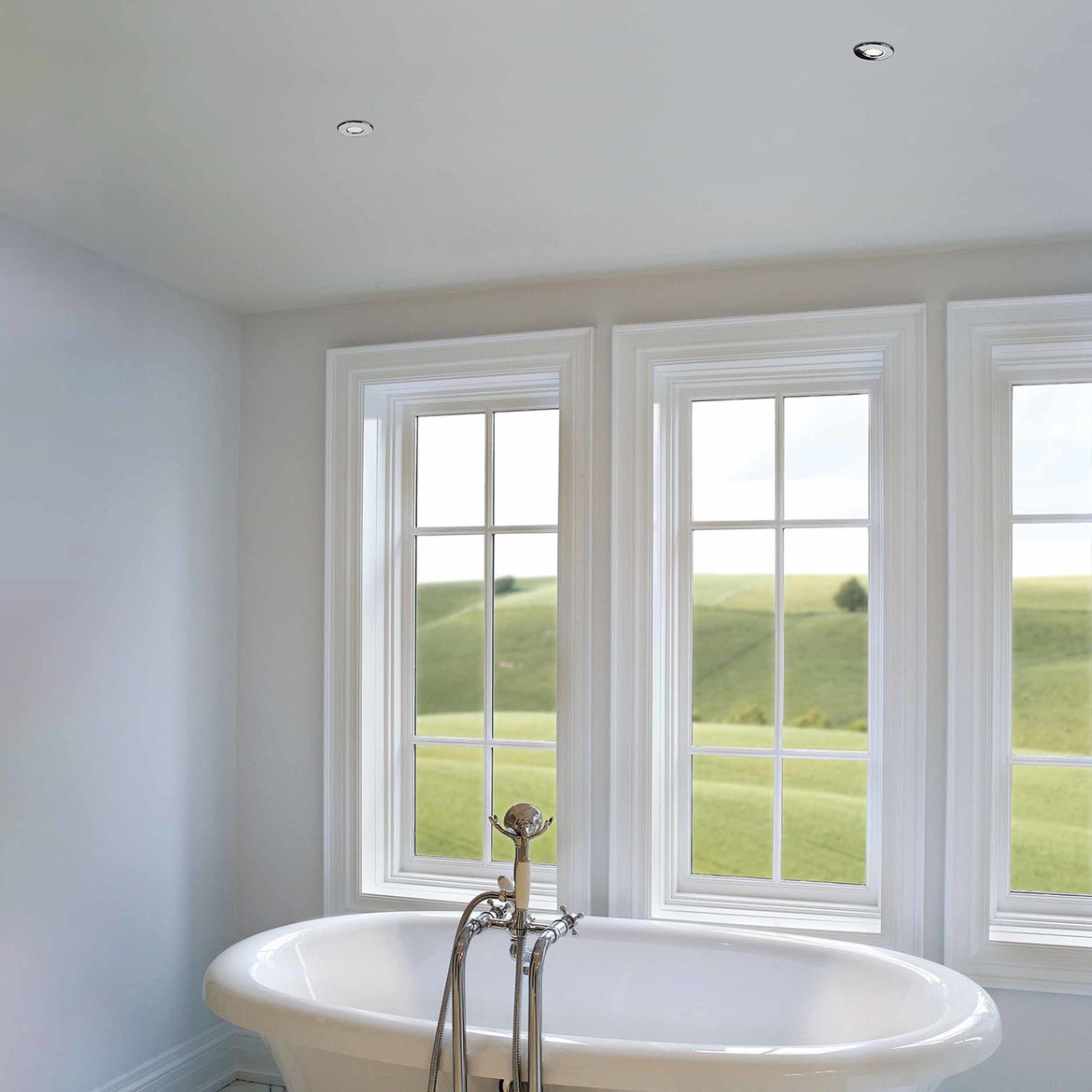 When it comes to lights and light fittings in the bathroom, first of all, you should look at their IP rating and ensure they are at least IP44 rated or above. Any light within Zone 1 (the area above the bath or shower to a height of 2.25m from the floor) should be IP65+ rated.
We sell a variety of bathroom downlights that are suitable for bathroom use at Sparks. For instance, the Kamo Brushed Nickel downlight has an impressive IP65 rating, protecting it from strong shower spray. It can also hold an energy-saving 6W LED, to save you on running costs.
Enclosed or recessed ceiling lights are preferable to suspended lights. This is because they are less likely to experience water splashes.
All light fittings which are not enclosed should be placed out of reach of someone using the bathroom, that is, someone who is wet. This is especially important if you are just coming out of the bath or shower.
Light switches could be a problem because of the hazard posed by dampness and wet hands. An electrical fault with the light switch could well result in an electrical shock in these cases. It is not recommended to have any wall-mounted switch in the bathroom.
This means that a ceiling-mounted pull-cord switch is the safest option, as your wet hands will not be touching a conductive material.
Electrical Safety in the bathroom: Electric showers
Electric showers require their own electrical circuit, which in general will have the highest electrical demand out of your household appliances. All circuits in the bathroom must be protected by an
RCD
(Residual Current Device).
Electric showers will also need to be connected to a consumer unit, which is a distribution board for electricity. The cost of fitting an electric shower will depend on whether the consumer unit is up to date and follows current safety standards.
Building regulations require adequate ventilation, meaning that extractor fans are essential for helping you to cut down the amount of steam you produce by showering.
Electrical Safety in the bathroom: Heaters and towel rails
Central heating is the safest way to keep the bathroom warm, and it will also supply heaters and towel rails with electricity. This is a great way to start your day off - by drying yourself down with a warm towel.
However, there are some safety precautions you should take before using heaters in the bathroom.
Electric and gas water heaters in a bathroom should be fixed and permanently wired. The only exception is if they are powered by a socket fitted three metres from a bath or shower.
If you have an electric heater, it must also be fixed at a safe distance from the bath or shower.
A pull-cord or a switch outside the bathroom is the ideal way to control electric heaters. Once again, this lessens the chance of your wet hand coming into contact with electricity.
Electrical appliances really can make your life easier in the bathroom, as you set about grooming for the day ahead or preparing for bed. Electric showers, heated towel rails, and bright lights all make washing a more pleasant experience.
However, it is important to follow the above minimal electrical safety tips in the bathroom to ensure you are using electrics inside your bathroom in a safe manner.