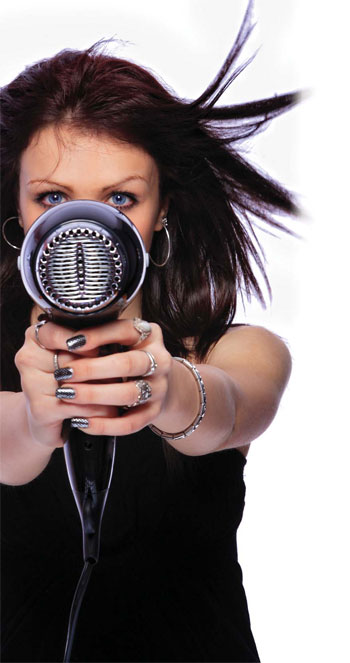 Have you ever wondered, how safe are the health and beauty products so largely available in the stores or online? Well, it turns out that many of the most popular ones are NOT THAT SAFE -
the Electrical Safety Council
put to test some of the most used / popular health and beauty electrical devices, and the conclusions are not that positive. Read below some of their findings [article taken with permission from
the SwitchedON issue 21 for summer 2011
].
The ESC Council's recent analysis of the EU Injury Database revealed the need to evaluate the safety and compliance of hair care and other health and beauty products. Also, the Council's research into electrical risk categorisation indicated that electrical appliances for health and beauty care are a high priority for further investigation regarding safety and compliance with product standards.
This product category regularly appears on the European Commission's RAPEX scheme for consumer products being notified as unsafe. There is also a recent trend in the marketing of hair care products having features that might appeal to children.
As part of the Council's ongoing electrical product safety screening programme, it commissioned an independent laboratory to carry out safety inspection and testing of 17 products. All products were bought from the high street or online, given the rapid growth in the purchase of electrical products over the internet. They were a selection of hair clippers, curling tongs, hair dryers, massage devices and hair straighteners. The products and number of samples selected are: Hair clippers: 2 samples, Curling tongs: 3 samples, Hair dryers: 4 samples, Massage devices: 3 samples, Hair straighteners: 5 samples.
The ESC's investigation revealed that only one of the 17 products tested passed the test programme with no departures or observations being noted. Eight samples failed to meet the requirements of the relevant product standard. Problems found included:
absence of information in the manufacturer's instructions concerning vulnerable users;
incorrect or missing markings such as vendor's name or trademark and crossed wheeled bin symbol;
loose live pin in the fitted plug;
accessible hazardous parts after a drop test;
features that appeal to children, which are likely to present a hazard if played with like a toy;
poor internal construction leading to a reduction in creepage and clearance distances;
insufficient electrical insulation for protection against access to live parts.
The remaining eight samples passed the standard requirements in general but observations were made as follows:
Omission from the manufacturer's instructions of information concerning vulnerable users and the need to supervise children to ensure that they do not play with the product;
Mains on-off switches missing markings indicating third-party testing;
Possibility of inadvertent contact with hot surfaces above 200°C;
Product markings in same colour as enclosure.
This article was taken with permission, as part of the full article and test that ESC recently published in their
Switched On Issue 21 for summer 2011
. You can read the full article with the details of the tests and the problems encountered via
www.esc.org.uk
. Also, read the conclusions of this test via,
ESC reports: conclusions and findings after the Health and Beauty Products test
[read the next article].