There are a great many table lights in our showroom, and we don't like to play favourites, but today we'd like to highlight just one item that caught our eye.
Note: the Kelvin LED table light is no longer available at Sparks; here is the full list of the LED table lamps available.
The Kelvin LED table light was conceived for the legendary Flos design house (home of the Arco floor lamp) by designers Antonio Citterio and Toan Nguyen, and it takes a little bit of intellectual DNA from both.
While Citterio considers himself an architect, not a designer, Nguyen's furniture is broad, almost populist, but unique.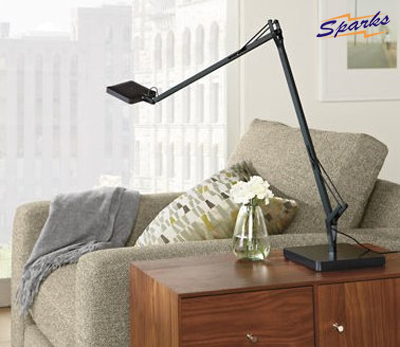 Despite their different approaches to aesthetics, these two long-term collaborators agree that the philosophy behind an object precedes the style, even the basic form, of that object, and the Kelvin table light captures their desire to make the living space a little better.
That desire was clear from the moment we placed the lamp in our showroom: the base rotates 360°; the head rotates 355°. It's incredibly flexible; it could go almost anywhere in the house.
LED table lamp with a Warm White Light
Using a set of integral
LED lights
over traditional, energy-intensive halogen bulbs follows on from this philosophy: design-wise, the fittings are shallower, which makes the head a very unobtrusive object.
But they're also functional: the Kelvin table lamp doesn't generate as much heat as its halogen counterparts and it uses a fraction of their power.
Even better, the LEDs are set to a colour temperature of 2,700K - a warm light that doesn't strain the eye. It gives roughly the same colour as a traditional halogen lamp would without the energy wastage or the heat.
And they are instant-on from the moment you touch a lit panel at the back of the head.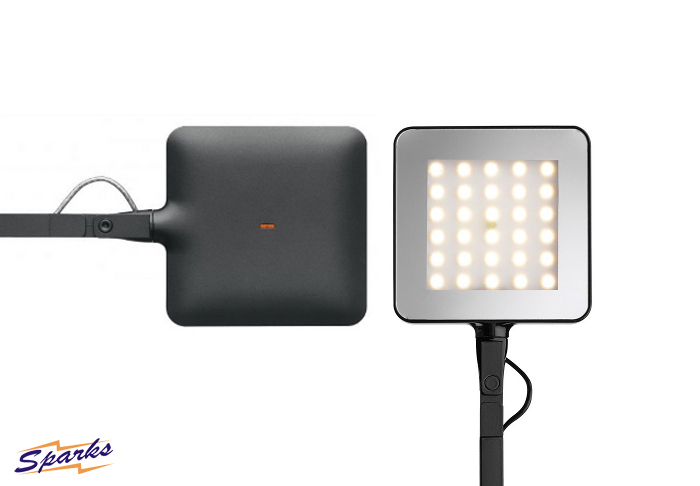 The Flos Kelvin LED table lamp is a subtle, beautiful light suited to almost any purpose from the workstation to the bedside table. More than anything, it's functional, and that's what we like about it.
Come down to our showroom to give it a try or if we've convinced you already, you can order one from our online store.