As of September 2023, the fluorescent lamps and tubes will be phased out in the UK, under the updated RoHS Directives, in order to reduce mercury-containing lamps.
When some hear about fluorescent lamps they may wonder who would even use such things today since LED lamps are a much better alternative, but many offices, schools and both residential and commercial applications still use the popular fluorescent lamps, fluorescent tubes, and fluorescent light bulbs.
Halogen lamps and fluorescent lamps used to be energy-saving and very sought after a while ago, but now they are the least energy efficient on the market.
Halogen lamps were banned in September 2021, and it is now time for fluorescent lamps to be phased out and banned.
Read more to find out all information you need concerning,
RoHS Directive - the Phasing out of Fluorescent Lamps

The RoHS Directive stipulates that potentially hazardous substances - such as Mercury - in electrical and electronic equipment should be restricted and eliminated. Discharge lamps include mercury, which is a hazardous substance.
RoHS stands for Restriction of Hazardous Substances, and the RoHS directive related to fluorescent lamps is part of the goal to phase out toxic chemicals that are harmful both to the environment and to people's health.
In the spring of 2022, the EU Commission revised the RoHS directive to phase out and ban the use of mercury; there were some exemptions until 2023, but it is now time to get rid of the fluorescent lamps. Lamps such as compact fluorescent, T5 fluorescent lamps, T8 fluorescent lamps, and halogen pin lamps are affected.
They are non-sustainable light sources, and the goal is to adopt long-term energy-efficient solutions by helping households and offices to reduce energy costs and be energy efficient.
From the first of September 2023, T5 and T8 fluorescent tubes will be phased out altogether; this doesn't mean you can't find them in the shops but that they are no longer being made.
Business owners must sell energy-saving alternatives and discard fluorescent lamps as hazardous waste, or they can recycle them.
Why are fluorescent lamps and fluorescent tubes banned?
The Ecodesign and RoHS directives work to achieve the Global Goals and the EU's 2030 climate goals so that the lighting products' performance would be environmentally friendly in the EU and the UK.
The minimum requirements for products' environmental performance are not met by fluorescent lamps and fluorescent tubes, which have significantly higher energy consumption and a shorter lifespan than LED lamps.
Furthermore, the RoHS directive wants to get rid of hazardous chemical substances in all electrical and electronic equipment, including the lighting equipment.
What is the Schedule for Phasing Out Fluorescent Lamps in the UK?
Here are the dates in the schedule for banning fluorescent lamps in the UK:
25 February 2023 - prohibition of the placing on the market of all fluorescent lamps in ring form (T5, T9) and Compact fluorescent tubes, < 20 000 h lifetime. 24 February 2023 is the RoHS expiry date.
25 February 2023 - Prohibition of the placing on the market of all compact fluorescent lamps with plug-in base (CFLni). 24 February 2023 is the RoHS expiry date.
25 August 2023 - Prohibition of the placing on the market of all T5 and T8 fluorescent lamps and Compact fluorescent tubes, > 20 000 h lifetime. This includes T8 18-58W, T8 70W and special lengths. 24 August 2023 is the RoHS expiry date.
1 September 2023 - Prohibition of the placing on the market of all Halogen Pins (Low voltage halogen lamps G4 and GY6.35 and mains voltage G9 230V). All halogen capsules are also phased out.
24 February 2025 - Circline T9 lamps.
24 February 2024/2027 - Special fluorescent lamp products.
24 February 2027 - High-Pressure Sodium (SHP) lamps.
In other words, from September 2023 the T5 fluorescent lamps and the T8 fluorescent lamps are banned.
The availability of these popular fluorescent tubes and lamps will be uncertain after the phase-out, so we recommend switching to LED lamps - LED battens, LED light bulbs, and LED panels, which are energy efficient.
Exceptions to the RoHS Fluorescent Lamps Ban
Most fluorescent lamps are phased out and banned, but there are some that can still be used.
These are special lamps made for special purposes in the industrial sector or the medical sector.
In these sectors, sufficiently reliable mercury-free substitutes are not yet available, so these fluorescent lamps have been given a time-limited exemption under the RoHS directives.
However, when it comes to residential, domestic, or commercial fluorescent lamps, most of them are being phased out and replaced by energy-efficient LED lamps.
What are the Alternatives to the Fluorescent Lamps?
If you have not yet switched from fluorescent lamps to LED lamps, now is the time to.
There are many alternatives available to the T5 and T8 fluorescent lamps, the compact fluorescent lamps, and any other fluorescent light bulbs.
LED lamps, LED battens, and LED panels are now available to replace existing fluorescent lamps; they are more eco-friendly than any other light source.
On our website, you can still find some fluorescent lamps, but most of them are for in-store pick-up, and soon they will no longer be available.
Just imagine, a 6W fluorescent bulb is now replaced by a 2W LED lamp, and a 25W fluorescent lamp is replaced by a 12W LED lamp! Cut the energy costs in half with the LED lamps.
What are the Advantages of Switching from Fluorescent to LED Lamps?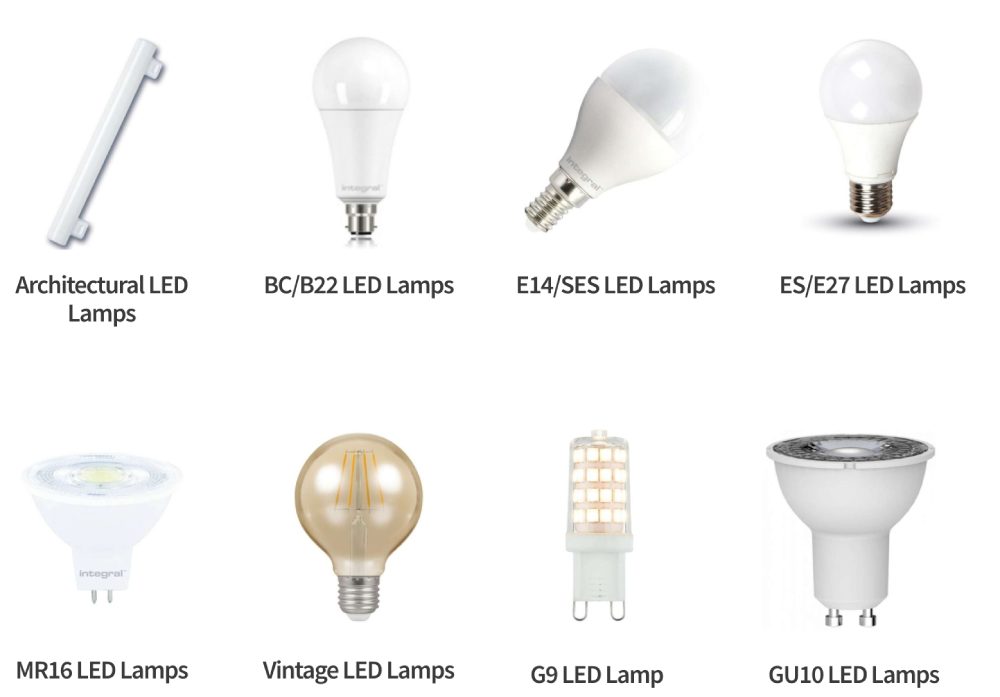 In case you are not convinced concerning the benefits of switching from fluorescent lamps to LED lamps, here are some of the main advantages:
Many of the LED lamps match the shape and size of a fluorescent so that you can retrofit the luminaires.
You can safely and easily replace the fluorescent tubes and fluorescent lamps, even if sometimes rewiring is required.
Long lamp life: up to 50.000h average rated lifetime for LED battens, lasting up to three times more than the standard fluorescent lamps.
Colour temperature can be selected either via CCT or from the beginning.
Even though the LED lamps may have C to F energy class, they offer up to 90% energy savings.
Most LED lamps come with a 5-year manufacturer warranty for complete peace of mind.
The LED Lamps and Battens are more cost-effective: they may cost more upfront, but you will make it up in energy savings, long lamp lfe, and lower maintenance costs.
Better for the environment: the LED lamps and battens don't contain hazardous substances such as mercury and can be safely recycled.
Instant ON light: no need to wait for flickering light as with the fluorescent lamps. And the number of ON/OFF switches will not reduce the lifespan of the LED lamp.
What to do if you still have fluorescent lamps
There is no need to panic at the moment if you still have and use fluorescent lamps, fluorescent battens, and fluorescent light products.
However, it is good to plan to switch; instead of replacing the T5 or T8 batten, why not invest in eco-friendly LED battens?
It is good to plan to switch from anything fluorescent to LED, which are future-proof and also becoming cheaper and more effective as the technology develops.
As for the fluorescent lamps that you want to get rid of, we at Sparks can take them to safely recycle them; visit our lighting showroom in N19 5SE and bring in your fluorescent lamp for free recycling.
It is easy to retrofit the existing lamp with LED Lamps, and where this is not possible, it is probably time to change the entire light fitting to something that is energy-saving and compliant with the current RoHS directives.
If you are unsure what to do and need advice, do not hesitate to visit us in Holloway Road, N19 5SE, or call us at 020 7263 8007 to speak with our LED professional advisers.
At Sparks, we can offer the best advice on how to switch to energy-efficient lighting and get rid of the existing fluorescent lamps.
Further reading on the Phasing out of Fluorescent Lamps and Tubes
Here are some links to both official websites and suppliers that have put out more information regarding the phasing out and the ban of the fluorescent lamps and fluorescent tubes, in no particular order.