We don't often think of light switches as aspirational design items, but the Forbes & Lomax devices are incredibly beautiful, contemporary things.
The Famous Invisible Light Switch
Forbes and Lomax are probably best known as the pioneers of the "
Invisible Lightswitch
". Inspired by the glass switches which were all the rage in the 1930s, the Invisible Lightswitch makes use of more contemporary technology.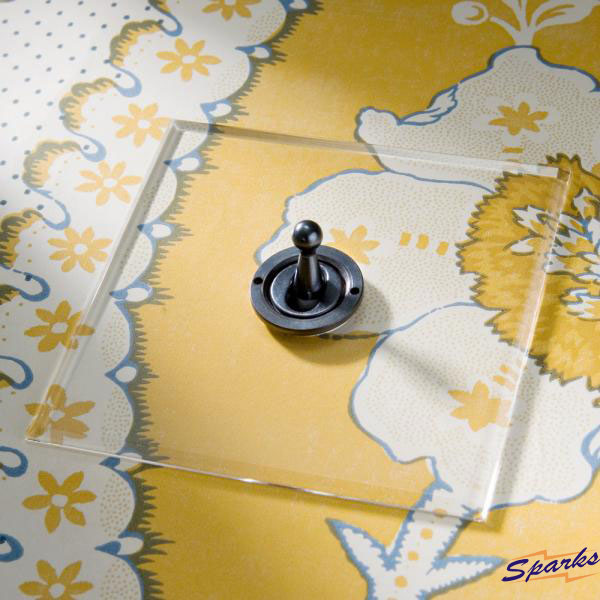 The unique look comes from the dual-plate design. The Invisible Lightswitch consists of a 0.5mm backplate which can be mounted and then decorated with wallpaper or paint, like the rest of the wall on which it is mounted.
The 2mm transparent front plate (complete with rocker, dimmer, dolly switch, etc.) is then placed on top of that, which protrude only slightly from the wall.
The dolly switch or rotary dimmer switch can be in different finishes like, brass, antique bronze, stainless steel, nickel, etc
But That's Not All!
But there are many more designs and finishes from Forbes & Lomax in our
online store
.
We particularly like the metallic black finish of this flat-plate switch, or this stainless steel dimmer switch. We can't decide.
There are also 2 and 3 gang switches in our store, including rocker switches, rotary dimmers, antique dolly switches.
Many of them are available in different finishes from the invisible finish we talked about a moment ago to the polished antique bronze.
There's a designer switch for every home at Sparks Direct, and at competitive prices, too! Why not browse our Forbes and Lomax products and see if you can find a fitting that fits your own home?