If you come and visit our showroom in Archway, North London, you will know which fittings are the Twista range from Franklite.
They are those light fittings installed on the fake ceiling that have many arms and have many lamps!
Very stylish fittings - in their own way and in the eyes of the knowing-beholder - the ceiling lights in the Twista range come either in bronze or in polished chrome finish and have 5 or 8 lamps.
Below we are introducing one of each style - in a different finish.
Please note: these light fittings may no longer be available via our website; see all the Franklite range of light fittings.
Franklite Twista FL2163/5 5 Lamps Ceiling Fitting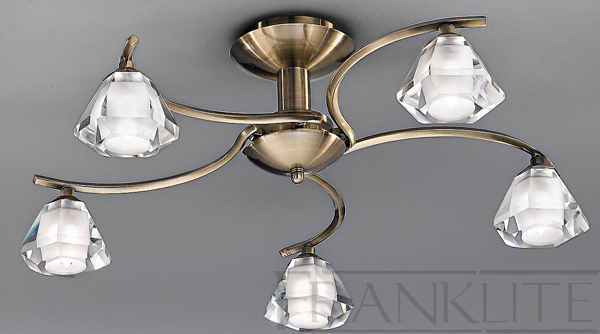 Coming in a bronze finish and with 5 small clear glasses with frosted inner as lamps, this lovely fitting is for ceiling mounting only.
The Franklite Twista FL2163/5 is semi-flush - not fully flush, and not too far from the ceiling either.
The contemporary design of the arched arms make this fitting ideal for more contemporary rooms both in domestic and commercial environments.
Franklite Twista FL2162/8 8 Lamps in Polished Chrome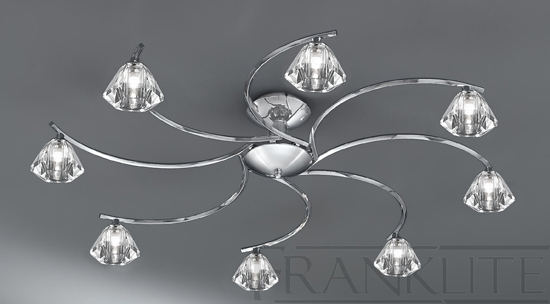 This fitting comes with eight lamps - multi-arm and small clear glasses as lamps. Looking stylish in any room of the house, the Franklite Twista FL2162/8 comes with the eight 40W G9 capsule lamps included and is max. 17cm projection from the ceiling.
You can use this particular fitting with its 82 cm diameter not only at home but in larger venues like conference rooms, meeting rooms, etc.
Would You Get One of These?
Good question. You don't have to answer this question now, or make a decision right this moment. But you can consider this. Take a look at the design.
What room would this fit? Would my wife / husband like it in our living room?
Would our guests be delighted to be enlightened by such a contemporary fitting? Or, would my company be interested in switching to this arched semi-flush fittings?
Would any of my customers or friends or relatives be interested in this? If yes, you know where to find us :) and what address online we are at.