Over the few decades, hoses, lawnmowers, extension plugs and the like have made gardening tasks a much easier prospect, but gardening safety rules are a must-know for everyone.
As with all electrical appliances, there can be safety hazards when using any electrical tool in the garden.
When dealing with exterior garden electrics you must consider the weather, and how temperamental it can be in the UK. We at Sparks can assist you the best we can in staying safe when using electronic equipment outdoors in this article.
Top tips for garden safety
RCDs
It is imperative that you have a Residual Current Device (RCD). These are potentially life-saving devices which prevent against electrical shocks and reduce the risk of electrical fires. Electrical Safety First explain the importance of installing RCDs in this article.
We at Sparks sell a range of RCDs, such as the Masterplug from BG Electrical, which is IP65 rated for outdoor use: perfect for gardening appliances.
Without an RCD, if you were to accidentally cut an electrical lead, a simple task such as mowing the lawn may kill you.
It is essential that sockets plugged in to lawnmowers, hedge trimmers or other power tools should have RCD protection.
When mowing - cut the grass not the lead!
When using a heavy duty appliance such as a lawnmower or hedge trimmer it is of paramount importance that you keep the cables and plugs free from any damage.
To stay safe while mowing the lawn follow these suggestions:
Purchase a good quality lawn mower or hedge trimmer from a respected manufacturer.
Follow the manufacturer's instructions to the letter.
When using a hedge-trimmer wear gloves and goggles, in case of falling debris.
Check to see the socket outlet is RCD-protected.
Regularly test the RCD using its test button, until you are assured the RCD has been tested within the last three months.
Never cut grass in wet conditions.
Wear appropriate footwear that will protect your feet.
If you are mowing, unplug the appliance and wait until its blades have stopped turning. Then you can move onto other tasks such as cleaning grass blockages.
Similarly, when using a hedge-trimmer, unplug the device and wait for it to turn off - before you start removing jammed hedge trimmings.
Take care when digging in the garden. There may be electric, gas and water services buried below the ground.
Ensure that electric water pumps do not electrify the water
Water and electricity are not friends so be very careful when using electric water pumps. Here are some steps to follow in this respect:
Ensure the electric water pump is high-quality and bought from a reputable retailer.
Make sure the pump is RCD-protected, and checked at least every 3 months.
Establish that the pump is installed in accordance with the manufacturer's instructions.
Check to see that they have provided cables that are protected from accidental damage.
Test to see that the pump is in good working order, and that all cables and connections are stable. If there is a problem during this test, then switch off the electrical supply immediately and have the pump examined by a registered electrician.
Maintain flexible cables and connectors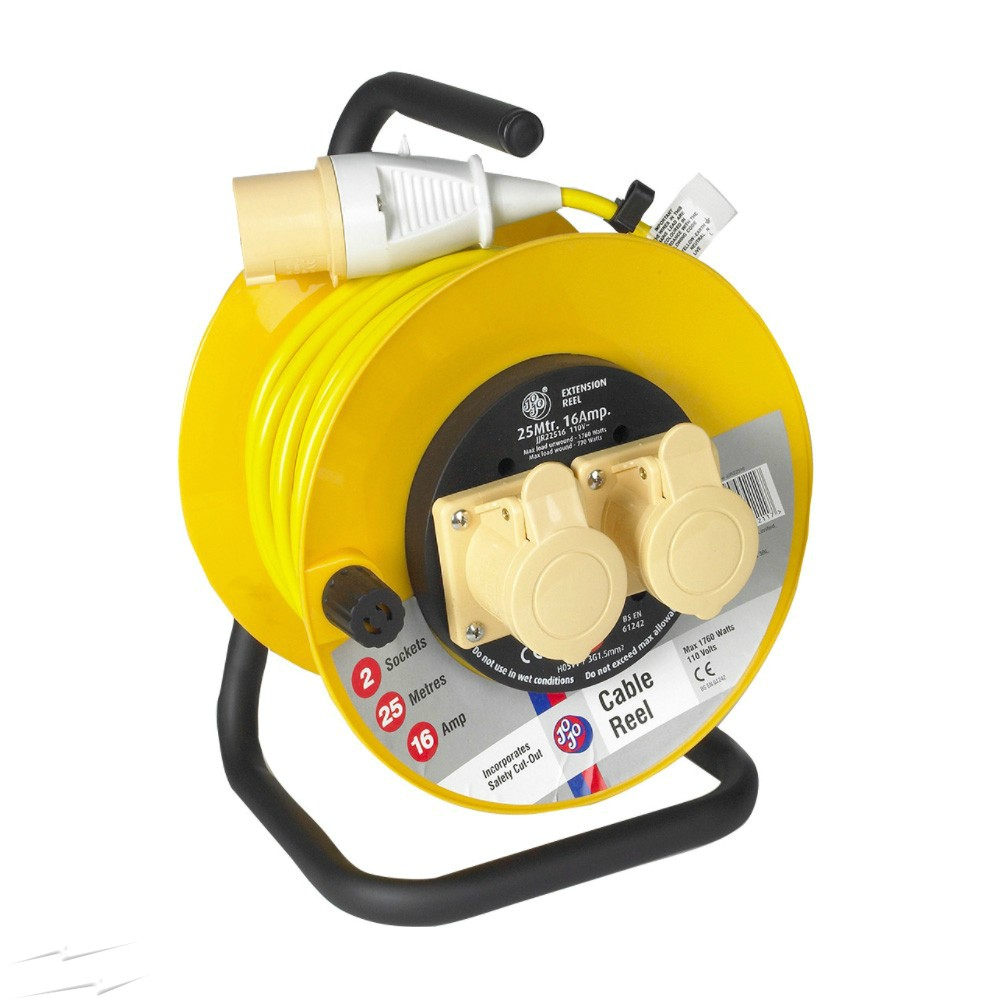 For your safety and the safety of your family, it is of extreme importance that you check the extension leads, cables and connections used in the garden.
Failing to do this could lead to serious and even fatal electrical shocks. In order to maintain garden security, make sure of the following:
All exterior leads are suitable for outdoor use. They should be weather resistant with moulded connections that stop moisture from entering.
They should be rated appropriately for the equipment you wish to connect them to.
They must be uncoiled, to prevent them from overheating.
Leads should be replaced if any damage is found.
They must be used in compliance with the manufacturers instructions.
They have to be positioned in an appropriate manner that avoids damage.
They must be kept dry.
For multiple cables in the garden, we would recommend the
Wiska Junction Box
, which is IP66 rated, and has eight cable entries. This should help keep your outdoor cables in order.
Garden Lighting Safety
Garden lights are popular, but careful attention should be placed on their installation and maintenance. Remember that any light placed outdoors must be IP44+ rated or above. For mains-supplied lighting in the garden, here are some tips:
Buy high-quality outdoor lighting from a reputable supplier (such as Astro Lighting, LEDS-C4, Flos, etc)
Ensure your outdoor lights are waterproof. Also check that any light fitting used in water features, such as fountains, are waterproof.
Have the lighting installed by a registered electrician and following the
manufacturers guidelines, as well as BS 7671 – Requirements for Electrical Installations (IET Wiring Regulations).
Frequently check for damaged lights, cables and connections in your garden.
Before changing over any lamps, turn off the mains power supply.
You can find a
registered electrician
who is capable of exterior lighting work here.
Power tools and other garden equipment
Take care of your power tools – check before and after every use and look out for broken parts or fraying leads.
Never clean, check or adjust any tools while they are still connected to an electrical supply. Be sure that you always unplug first.
Working with electrics in the garden can be tricky and dangerous. Don't do DIY repairs. If you notice a problem with your power tool, hire a professional repair person instead.
Wear protective clothing and footwear when using power tools. The protective shoes help keep you 'earthed' in the event of a shock.
Before you start drilling, check to see there are no buried cables present.
Many pets will track a trailing lead, and follow it to pounce or bite on it. Ensure your pets are not around when operating a power tool outdoors.
It is important too, to check the assembly of any
power tools
you are utilising. The first thing you should do is make sure your tools are correctly assembled by carefully following the manufacturer's instructions.
The safety guards should be in place and all switches must be in working order. Hold on to the instructions so you can refer back to them if an issue arises.
It is also a clever idea to keep any labels (or nameplates) on the tool so that you can refer back to this information.
Smaller power tools such as strimmers require minimal maintenance. All you have to do is clean them after each use and store them in a dry place.
Furthermore, tighten any movable components and check regularly for signs of wear and tear, replacing parts when necessary.
When looking at larger tools, like the ones discussed above - lawn mowers and hedge-trimmers - it can get more complicated.
They may use oil and will need oil filter changing. How often depends on the make, but always check with the manufacturer.
Keep on top of your home garden safety
Electric gardening tools are a blessing - but they can also be a curse. They make the process of gardening so much easier and quicker.
However, the flipside comes with potential risk from electrical shocks caused by the climate, not following the manufacturer's instructions and other forms of damage that occurs only outside.
Keep this safety guide in mind next time you bring out the power tool (or any electrical appliance) for a bit of spring maintenance in your garden.