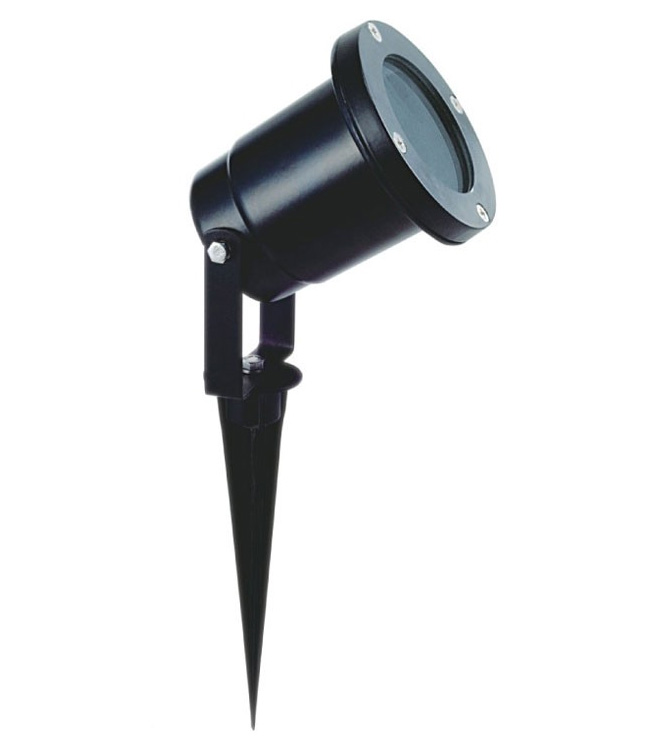 The
ALGSTGU range
of outdoor spotlights come in a silver or black finish (only the black is available ATM), and you can use them either as spike lights or as wall lights.
With a simple yet robust construction, the ALGSTGU range of outdoor spotlights come with a spike (which can be taken off in the scenario of a wall lamp) which allows this fitting to be used as a spike light.
Fully IP65 rated and in a die cast aluminium, these wall lamps / spike lights come with a toughened glass lamp cover, mounting stirrup, and ground spike.
The ALGSTGU range of Spike Lights and Wall Lamps
Simple construction, can be used both as

a spike light

(when the spike is used) and as

a wall spotlight

(when the spike is dis-mounted);
Materials: the body is in die-cast aluminium, the cover is toughened glass;
Includes a cable, the mounting stirrup, the spike, and the spot;
The Cable: Use rubber insulated cables with min 3 x 0.75mm2 conductors;
IP rating: IP65 rated fitting, dust tight, water proof, exterior lamp;
Class 1 electrical rated: needs to be earthed; weight: 0.5kg max;
Dimensions: body diameter 98mm, depth 135mm; Spike 17cm long;
Lamp used: 1 x 50W max. GU10 / GZ10 light bulb; mains voltage;
Finishes available: Black spike lamp / wall light, the ALGSTGU garden fitting.