If you have been following our blog for a while now you may have heard and seen many pictures with
the CP Electronics Green-I switches
. This range incorporates an advanced switch technology for controlling the lighting, the heating, and the ventilation. Many times the children leave their room or the living room and forget to turn off the light.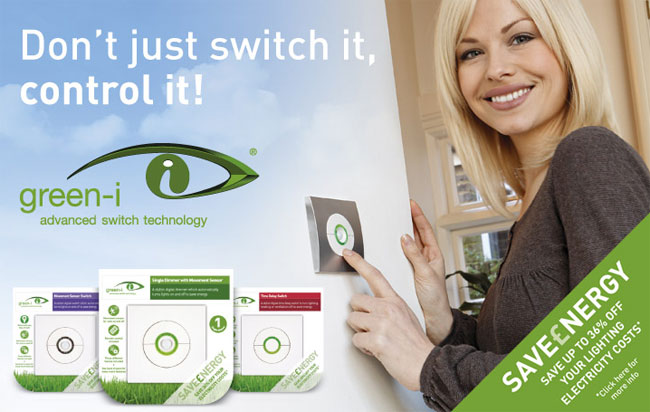 To purchase programmable switches and other devices costs a lot of money - why not invest in this range of
Green-I presence/absence detection switches
? They come with all the installation instructions needed, and the full range from CP Electronics is available in different fascias to meet your needs! You can choose between the switches or the dimmers with presence detection, the time delay switches, etc.
The CP Electronics Green-I switches are smart, advanced, and easy to use at the same time! With the green LED circle around the switch you can't miss the switch at night! What's even better, there's no extra wiring required - the Green-I switches can quickly replace the regular wall mounted switches since they don't need a neutral connection.
Green-I switches - advanced switch technology for controlling the lights, the heating, and the ventilation!
Across the range, green-i has the following benefits:
Movement sensor – on when you're in, off when you're out;
Can be used to control lighting, heating and ventilation loads;
Scene setting and scene recall;
Remote control operation – handset available separately;
Security mode to turn on and off automatically while you are out;
Choice of three fascias to match your decor – available separately;
Read more about
the CP Electronics Green-i range
of advanced energy saving switches via:
and buy online the green-i range of switches and dimmers via
the Time Lag Switches
-
Green-I dimmers and switches
.