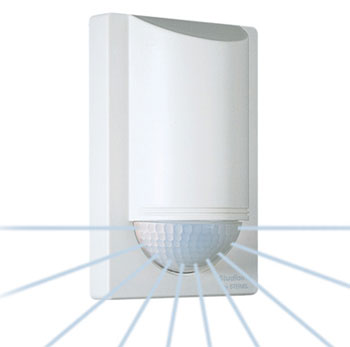 You may not remember the name -
Steinel
- but you have surely seen these
Outdoor Motion Detectors(PIRs) from Steinel
,
the High performance Wall mounted Motion Detector for the Outdoors Steinel IS 2180-2
. Whether Infrared or High-frequency – with STEINEL Professional, intelligence is built in as standard. The
Steinel motion detectors
cover the entire spectrum of demand in professional applications: versatile and system-based – cleverly designed and practical to use.
Compromising on nothing, Steinel has developed their motion detectors for professional needs. Innovative technologies, such as the multi-lens and multi-sensor technology as well as the astonishingly high number of switching zones and detection levels provide maximum accuracy to ensure precision coverage. Using infrared or high-frequency sensors, the Steinel highly advanced sensor technology reliably detects movements anywhere in the detection zone. When we come to the item in question, it it we see top performance in perfection: the Steinel IS 2180-2, the IS 2180-5's smaller brother. Other features:
Professionality is a matter of detail;
Highly advanced evaluation software;
Optical systems computed, designed and produced in-house;
High-quality, long-life electronics;
High-quality components for professional applications;
This PIR is made by STEINEL Professional;
100% German Quality – made in Europe.

Do you wish to keep watch over medium-sized building fronts and premises?
The
Steinel IS 2180-2 outdoor PIR
provides the perfect technical line-up for
reliably watching
over areas as large as 200 m2 with exceptional precision:
A multi-lens that divides the detection zone into 504 switching zones and 10 levels, a coverage angle of 180° with an angle of aperture of 90° and maximum reach of 12 metres
. This wall sensor has an overall switching capacity of 1,000 watts. What's more,
the Steinel IS 2190-2
also impresses with its
perfected, clear-cut design
combining top performance with attractive looks. Exactly the right choice for medium-sized premises, factory sites and outdoor facilities or the fronts of buildings.

The Steinel IS2180 PIR
is an Infrared wall sensor - Guarding premises, factory sites and outdoor facilities, fronts of medium-sized buildings. The reach can be 12 m max or 5 m max. (it is adjustable in next to no time). The angle of coverage: 180°, the angle of aperture: 90°.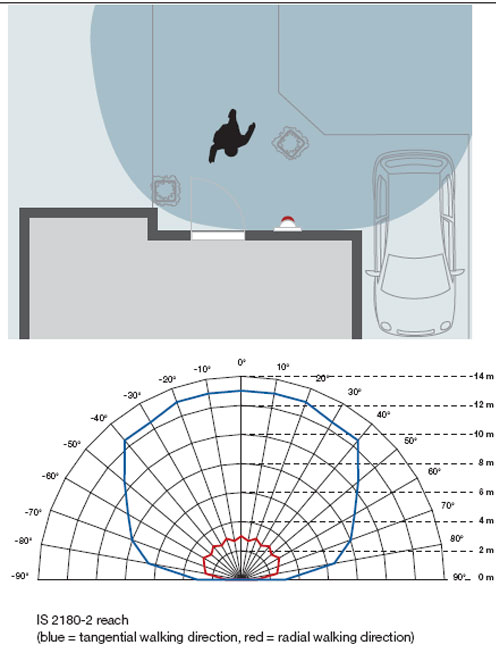 Full technical details, including the technical manual, can be found on
the Steinel website
; to purchase this PIR for outdoors, visit
the Steinel IS2180-2 PIR
on our website.