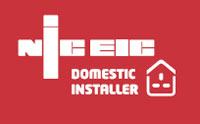 As time goes by - even sooner than you think - the electrics in your home can become damaged or worn out through general wear and tear. It happens even without us knowing it. In their booklet entitled "
How safe is the wiring in your home?
",
NICEIC
has some excellent advice and analysis on:
In less time than you may think,
the electrics in your home can become damaged
or worn through general wear and tear. It is very important to get them
inspected and tested
to check they're still safe to use.  You should get checks done at least
once every ten years
. If the electrics in your property have been checked before, a notice will usually be fixed on or near the fuse board recommending the next inspection date. This might all sound dull but government statistics show that
unsafe electrical installations cause more than 750 serious accidents and 12,500 fires in homes each year
.
If you are moving home, you need to know about the electrics in your new property. Be extra cautious if the property is old as it runs a higher risk of having faulty wiring. Don't put your life or your investment at risk; get an electrical survey on your new home before you sign on the dotted line. According to the Royal Institution of Chartered Surveyors (RICS), property surveys that do look at electrics only include a visual inspection of the electrics that are on show. RICS advise clients to be very cautious if the electrics look suspicious because of the potentially high costs of putting things right. You can't see what is behind the walls so it is best to get a trained electrical engineer to inspect and test it.
An electrical survey, also known as a Periodic Inspection, looks for possible electric shock risks and fire hazards. The electrician will carry out tests on wiring and fixed electrical equipment, identify any faulty electrical work and highlight if safety measures (such as bonding) are present in the bathroom. After the inspection, you will be given an electrical survey report (Periodic Inspection Report). The report identifies the overall condition of all the electrics, stating whether it is satisfactory for continued use and any work which might need to be done.
If your electrical survey has thrown up an unsatisfactory result, or the wiring in your home is very old and you need a rewire, follow these simple guidelines.
Start by preparing a brief of what you need and what you expect from the electrician. Contact at least three registered electricians (it's advisable to use an electrician registered with a government authorised scheme such as the NICEIC, as rewiring must comply with Building Regulations) so that you can compare quotes.
Discuss the quotation with each contractor; the lowest price may not necessarily be the best. Don't forget to ask if there is a charge for the quotation, and discuss payment terms such as the deposit and/or stage payments before work begins. Agree on a timescale of the installation with a definite start and finish date. Don't be afraid to ask questions – no reputable electrician will have a problem with that.
Make a list of the number of sockets and lighting points you would like in each room;
If you want wires concealed and accessories flushed in, make sure the electrician clearly understands this. Write it all down so it's clear - it is suggested that you ask that all cables are installed in oval plastic conduit;
If you plan to buy your own light fittings or accessories for the electrician to fit, check with the contractor that they are suitable.
Read the continuation of this article - about:
Make sure you rewire first and then decorate
,
About Part P of the Building Regulations
;
About the Portable Equipment Outdoors
; and
Which electrician should I choose for the re-wiring
? Remember, you can download this guide in a PDF form from
the NICEIC website
-
How Safe is the Wiring in Your Home
?