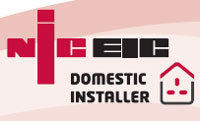 This article is the second part of the "
How Safe is the Wiring in Your Home?
" advice from NICEIC - found online as a
PDF file here
. After dealing with:
How safe is the wiring in your home?
,
Does your property need a complete rewire?
, and
The job of wiring consists of...
, this article will continue to speak about:
Rewiring your home can be a messy job
– it's best to forget about decorating until it is finished. It can also cause major disruptions to the household as carpets and floorboards are up. You could also be without cooking facilities and hot water for some time so you should try to keep young children and pets out of the way. Or if you have confidence in
your chosen electrician
, you could take a holiday whilst the work is carried out (this may also result in a lower price as the contractor does not have to put the boards back, carpets down and get the circuits back on each night).
To minimise disruption set some ground rules with your electrician before work begins:
Get agreement that they will clear up after each day's work;
Get agreement that they will screw down all floorboards raised after completion;
Get agreement that upon completion they will re-lay all carpets.
When your rewire and other installations are completed the electrician will give you
an electrical installation certificate
which confirms the work has been carried out, inspected and tested in accordance with
BS 7671
, the national safety standard for electrical installations. Do not give the final payment until you are
completely satisfied with the work and have got your certificate
.
Within 30 days of the work being completed, you will also receive a certificate that confirms that the work complies with Part P of the Building Regulations. If you used a NICEIC electrician, the certificate will carry the NICEIC logo and the name of the firm you used. It is a legal requirement to comply with Building Regulations, so you should ensure that your electrician is registered with a government-authorised Part P scheme. If, during the course of the work, you require alterations or additions to the installation, request a fixed price. Finally, check with your electrician if the local Public Supply Authority will be required to disconnect and re-connect the electrical supply to which there may be additional charges.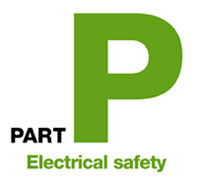 Part P of the Building Regulations for England and Wales
was introduced by the government in January 2005, with an aim of reducing the number of accidents in the home related to faulty electrical installations. Similar laws apply in Scotland. It is now a legal requirement for electricians, kitchen, bathroom and gas installers, and all other trades or individuals involved in carrying out domestic electrician work to comply with Building Regulations.
Most electrical installations carried out in a property are now notifiable - the local authority building control must be notified prior to the work being carried out. The exception is if it is carried out, and certified by a person registered with a government-authorised competent scheme such as NICEIC. Failure to comply with Part P is a criminal offense and local authorities have the power to require the removal or alteration of work that does not comply with regulations.
In domestic premises,
all sockets outlets
, which may be used for portable equipment outdoors, should be
protected by an RCD
(a safety device that switches off the electricity automatically when it detects an earth fault) to
provide protection against electric shock
.
The socket outlet
installed below kitchen worktops may usually be considered to be unavailable for connection of outdoor portable equipment, and would therefore not be required to be RCD protected. It is wise to exclude socket outlets intended for refrigerators and freezers from circuits which require
sensitive RCD protection
.
The NICEIC registered contractors
are assessed against the national standard for the safety of electrical installations,
British Standard BS 7671
:
Requirements for electrical installations
(also known as the IEE Wiring Regulations). They must also comply with the electrical safety requirements of any other applicable Codes of Practice, such as those for fire alarms, emergency lighting.  In England and Wales,
it is a legal requirement for electrical work carried out in and outside the home to comply with Part P of the Building Regulations
. The easiest way to be sure that your electrician complies with the law is to employ one registered with a government authorised scheme, such as
the NICEIC Domestic Installer scheme
. Registration with NICEIC is voluntary - however, electrical contractors that are competent and conscientious about the service they offer customers consider registration a priority.