When choosing step lighting, safety must be at the top of your list of considerations: every step should be clear to the naked eye.
It is a little known fact that our bodies have become well accustomed to the space in between our steps, and we gain a regular 'rhythm' for climbing our staircases. It has been shown that changing the space in between steps without warning can cause people to trip.
However, there will be many cases when a 'regular walking rhythm' is not enough to ensure the safety of the person climbing the stairs. F
or instance, those who are in an unfamiliar home and those with poor vision who may not notice obstructions on the stairs.
In this article (inspired from Lux Review's article), we will examine the importance of step lighting: not only for safety but also for aesthetic appeal and decor.
The main guidelines governing step lighting
One of the most comprehensive guides written regarding step lighting is the Society Of Light and Lighting
Guide LG16
.
This guide includes interior and exterior applications of step lighting, as well as emergency lighting. If you are a contractor or builder, this Guide gives a whole host of useful information. It covers where on a stair to calculate and measure values and distances.
It shows safe places to position luminaires so that they do not present an impact risk for those passing up or down the stairs.
Furthermore, it identifies lamp positions that may cause risk due to using access equipment that blocks exit routes.
The most crucial aspect addressed in the Guide is safe control of stair lighting.
There are specific guidelines for public spaces too, with the implementation of the Equalities Act 2010 and Health and Safety Executive.
This Act means that public buildings such as airports and railways have their own specific requirements.
Many of these requirements look to the needs of disabled people and their handlers in times of crisis.
Recommended illumination levels for step lighting
Looking at the Lighting Guide LG16, the recommended illumination levels for step lighting may seem rather high, which could be a concern to the energy savers among us.
High illumination levels may seem unnecessary in outdoor environments where there is low surrounding ambient illumination.
For outdoor environments, the Tango 1W LED recessed light is a fantastic solution for all around the house illumination, wall-mounting, and much more. It has an IP65 rating, making it robust and weather-resistant, with a small circular lamp emanating warm light from its centre.
The Tango range of recessed wall LEDs looks sublime lined up in a low row, radiating light across your patio and walkways. They offer safety and a certain decorative flair.
One lighting expert, Robert Lancaster, said that pathway steps should be illuminated by at least 10 lux, as should car parks.
When it comes to care homes he recommends at least 20-30 lux be used in the transition zones between interior and exterior environments.
You must take certain factors into consideration when deciding on illumination levels, whether they are in a private or public setting.
Are visually impaired or disabled people likely to be using your stairs often? How about elderly people - if you have older relatives visiting this is all the more reason for higher illumination.
What's more, when it comes to visually impaired people it should not only be levels of lux on your step lighting to consider.
Contrasting textures and 'reflectance' are crucial in discerning the treads for people with poor vision.

Visually appealing step lighting Sparks would recommend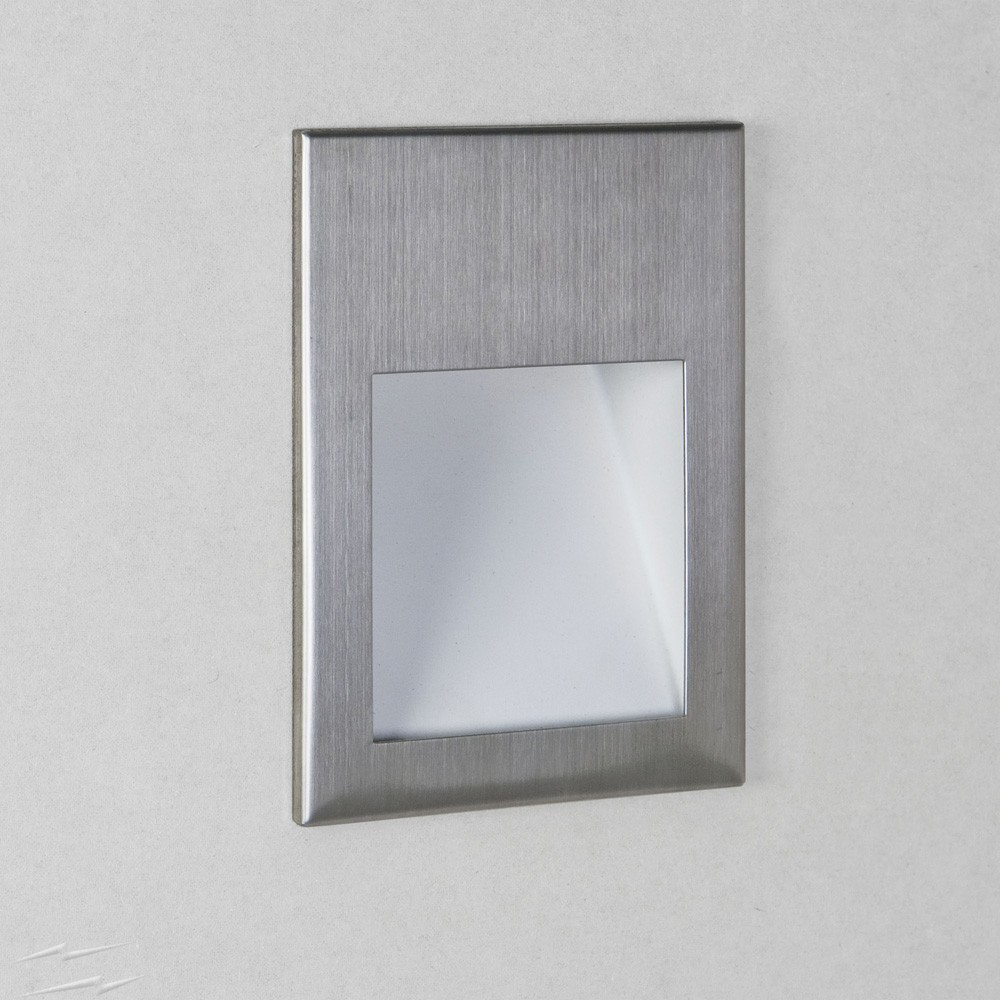 The most common form of lighting, specifically for steps, is where the luminaire is mounted on the side and light shines down and across the treads.
These luminaires are typically recessed but when this is not possible, you should use a shallow surface mounted lamp. Sparks recommends that they be no more than 50 - 70mm deep.
You don't want any guests tripping over the fittings!
Astro Lighting offers a range of wonderfully sleek recessed wall lights, perfect for step lighting.
This excellent Borgo 54 Recessed Wall LED has an IP65 rating, which makes it suitable for bathroom lighting and even outdoor lighting.
What's more, it is textured white so will fit discreetly wherever you place it. It also has a dimmable function and a warm white light colour of 2700K which will pleasantly illuminate your staircase.
Other classy wall lamps are the likes of Tivola, Leros and Olympus, and are all available on the Sparks website.
What we can gather from stringent guidelines is that step lighting safety is of the utmost importance.
But thanks to recessed LED lights such as Tivola and Borgo (among others), we can combine security with beautiful elegance.
Look into Sparks' range of step lighting and walk with the confidence that is given by strong lighting.