When installing or revamping your bathroom's lighting, there are some important issues to consider which you can read about here.
Once you have decided upon the general layout of the lighting you will be installing, there is more specific lighting to focus on.
Nowadays, grooming has become a more time-consuming activity for men and women alike, and appropriate lighting should be afforded for the exact needs.
In this article we will discuss task lighting, wall lights, magnifying mirrors and mood lighting - all the specific lighting trends that are increasing in popularity.
Your Basin Mirror as a work desktop - the origins of Task Lighting
Think of your bathroom's basin mirror as the equivalent of a desk in an office; it is where most of your 'work' will be taking place in the bathroom.
People now want full lighting coverage - but not to be startled with an uncomplimentary view of their unkempt face first thing in the morning.
With inconsiderately placed bathroom lighting there is always the problem of unflattering lighting.
Overhead lights beaming down onto your mirror tend to cast deep shadows below your eyes, nose and chin, ageing you about 10 years.
The optimum solution for this is a light that illuminates both sides of the face, ensuring an even and flattering glow without any shadows.
This can be achieved via the use of an illuminated mirror or wall lighting on either side of the mirror.
Effectively placed task lighting will prevent aggravating eye strain in the morning and improve precision when you are applying makeup or having a close shave.
Illuminated Mirrors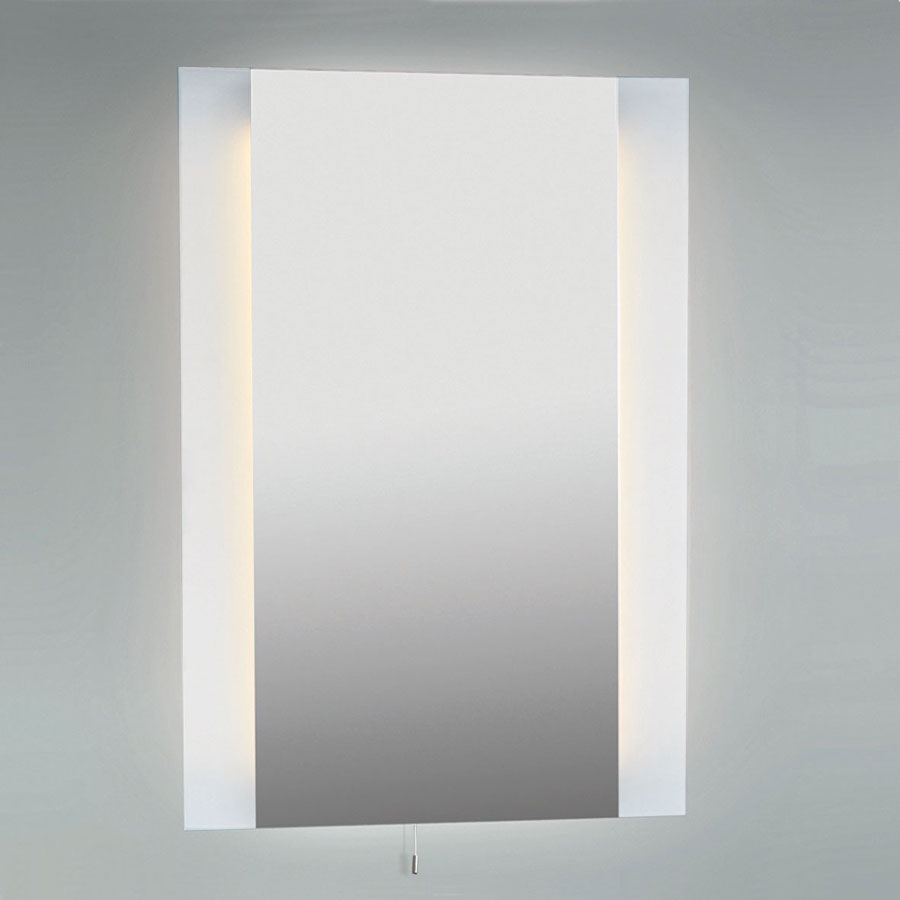 Every basin needs a mirror, so to a large extent illuminated mirrors kill two birds with one stone.
The mirrors may have integrated horizontal or vertical lighting depending on your preference, and many incorporate a shaver socket.
With some innovative illuminated mirrors, ambient light is provided by a gentle spread of light shining from behind the mirror, making it appear to float.
The Fuji Illuminated Bathroom Mirror is an excellent example of these top-of-the-line illuminated mirrors, as it also incorporates a shaver socket and a pull-cord switch into its innovative design.
Wall Lights - introducing a '5-star' touch of class to your bathroom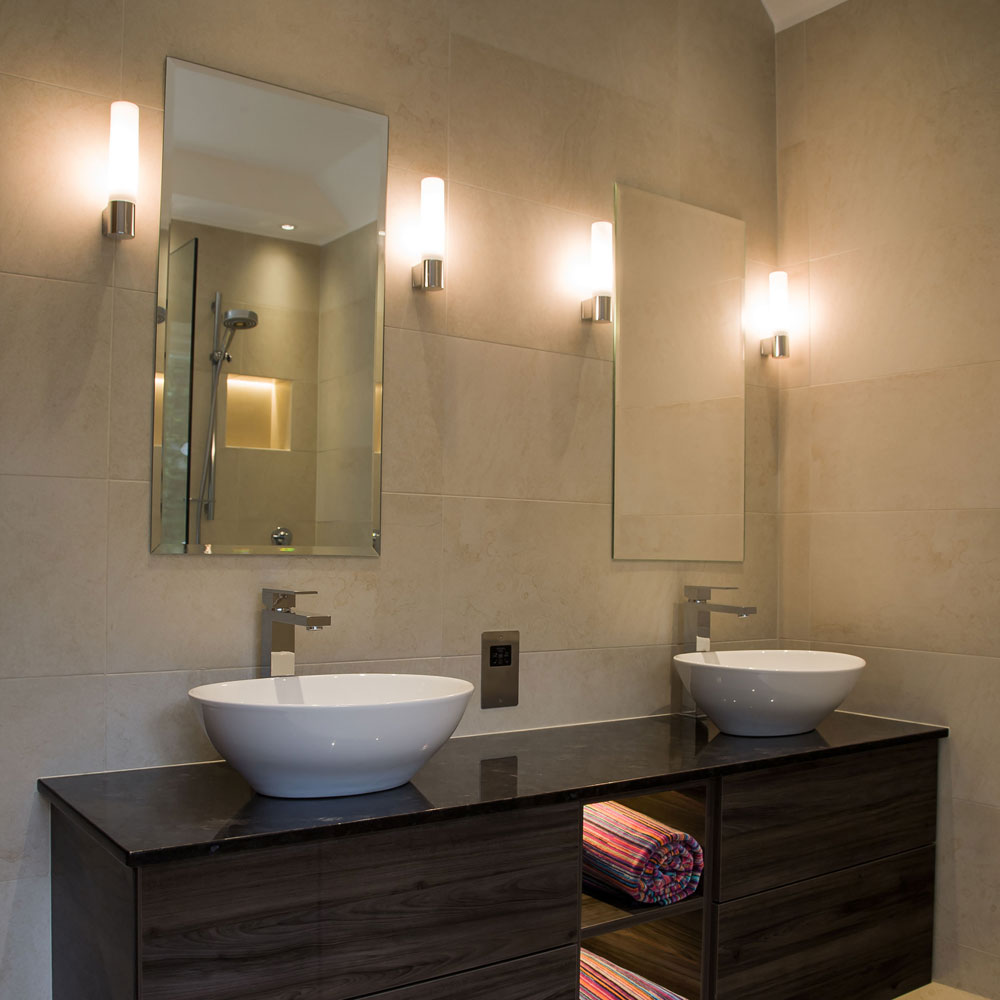 The trend that started in hotels has now well and truly spread into people's homes: wall lights fitted onto either side of a mirror or mounted directly above the mirror.
This gives your basin mirror a luxurious '5 star' feel to it as it is so reminiscent of lights previously found only in premier locations. Practically speaking, they provide the even spread of light that is requisite for a proper bathroom session. We here at Sparks offer a wonderful range of bathroom wall lights, including the Belgravia 600 LED.
This exquisite wall light uses an extremely powerful 19W LED and includes an integral LED driver that will save you bundles on running costs, over the long run.
More budget options with bathroom lights at Sparks, which still offer a great deal of class. For instance, the beautiful Bari Polished Chrome bathroom light.
Mood lighting - for when you want to create a peaceful Zen-like feeling in your bathroom
Many people now envisage the bathroom as the ideal place to unwind, reflect and re-energise. Bright white light may be great for ensuring a neat shave but is not the most relaxing colour light available.
Mood lighting gives you leeway to have a relaxing time in your bathroom, as you may use dimmable lights to provide softer ambient lighting.
This is perfectly suited for when you have plenty of time to spare and fancy a relaxing soak in the tub. Recessed LEDs are also ideal for providing a splendid wash of light across your bathroom floor.
A bright idea is to fit a strip of LEDs along your bathroom panel to cast mellow lighting; your bath will appear to float. We offer an ideal LED mood lighting solution with the Self-Adhesive LED Strip Light.
This 5-metre long strip of IP65 rated LEDs provides 5000K of white light. It has a spread of 60 LEDs per metre and is effortless to install.
Magnifying mirrors - an overlooked lighting appliance for your bathroom?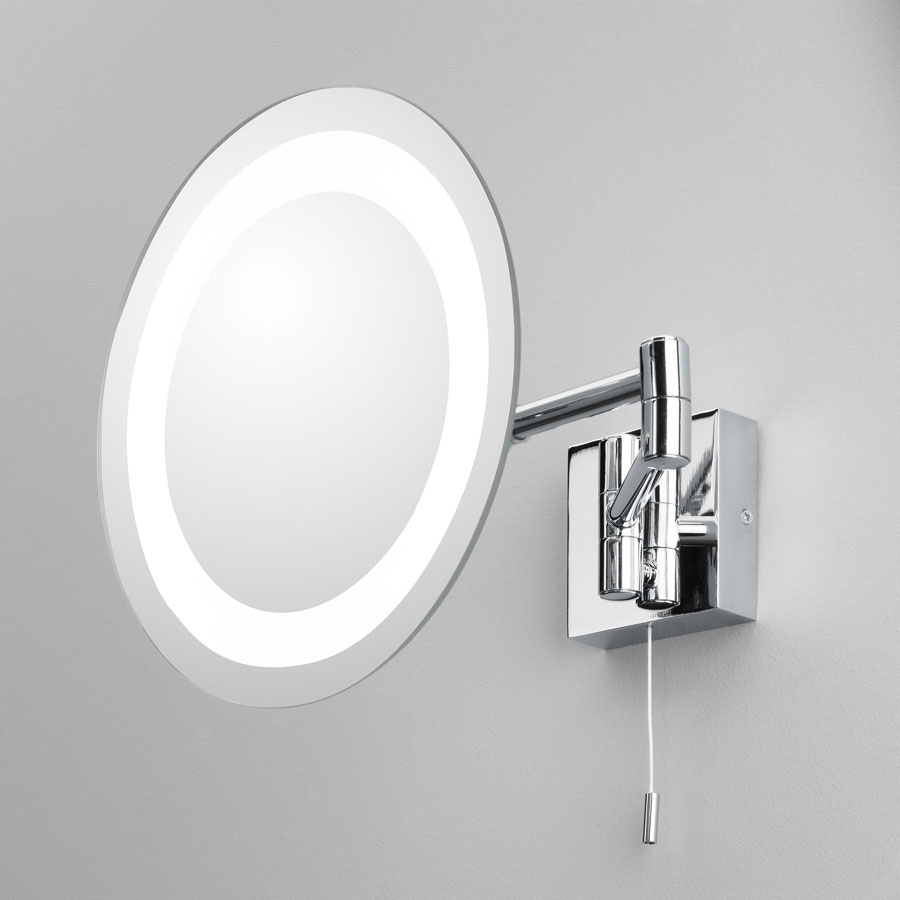 Task Lighting is all about ensuring that you are doing a particular job in the bathroom - with that job being to look at your best and transform your bathroom to be a place of comfort.
Magnifying mirrors come with a whole host of advantages including their adaptability in positioning. They can be placed right next to your illuminated mirror, for instance, to provide a two in one lighting solution.
They are highly useful, with their swing-arm adjustment making them highly unobtrusive. For instance, the resplendent Genova Round Magnifying Mirror glows with 25W, is fully adjustable and offers x3 magnification.
They are an invaluable asset when it comes to aiding your shaving or makeup routine. Once you buy one, believe us - you will quickly find it to be an indispensable part of your bathroom.