Illuma
is a leading lighting manufacturer, specialising in a range of commercial and industrial lighting solutions. Their spotlights and track LED spots can be found in a massive variety of famous and interesting locations, varying from the Tate Edit gift shop to Lord's Cricket Ground to the Boxpark 'pop-up mall' in Shoreditch.
Illuma are an entrusted powerhouse in spotlight solutions, providing light to illustrious locations, including sports centres, galleries, churches and car showrooms.
Illuma Rotaspot and Gridspot LED - Specifications
Looking at Sparks favourites, the
Rotaspot
are a contemporary range of LED spotlights that expertly mix versatility with flexibility. They have a fantastic degree of rotation, both horizontally and vertically with an impressively strong output of 3000K.
They offer a sublime colour rendering amount of 85 CRI which imbues a crisp, precise lighting. What's more, they have a long life of up to 50,000 hours, lower energy costs and a reduced need for maintenance.
Gridspot are also a highly popular feature of Illuma's - they offer a high standard output of 4000 lumens and 85 CRI. They are dimmable as standard and available in three different sizes and two finishes.
Illuma Rotaspot LED Track Spot in Damien Hirst's 'Other Criteria'
'Other Criteria' was founded by renowned and subversive artist Damien Hirst, who wished to showcase the best in emerging and stimulating art in a range of different mediums.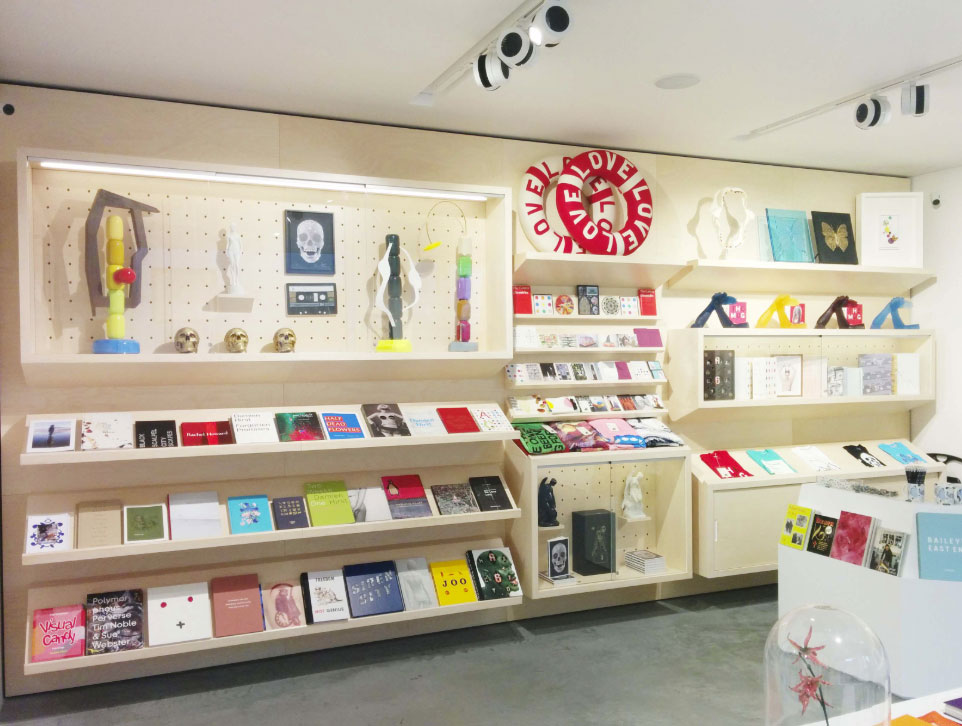 Located in the artistic hotspot of Newport Street, Hirst desired to make modern art 'approachable and attractive', and above all, affordable.
He wanted a location for modern art that wouldn't be intimidating to a normal shopper, and so went about setting the shop up in a manner that would emphasise this accessibility.
A huge factor in this was always going to be lighting, and the Retail Operations Manager at the time insisted that they were in need of a 'flexible lighting solution that could be constantly be adapted to suit their changing artwork'.
And, as it turned out, the Illuma Rotaspot LED track spotlight fit this description of their requirements perfectly.
Although the Newport Street store had an existing track system that was still in working order, they knew they needed an LED lighting solution due to the great advancements in LED technology.
How Rotaspot LED fit the bill at 'Other Criteria'
It was suggested then that  Rotaspot and Gridspot right off the bat as the answer for 'Other Criteria' lighting issue.
The reason was that the Rotaspot would provide the correct accent of lighting whilst adding texture. Furthermore, it would be powerful enough to accentuate the artwork on the floor, complimenting it from overhead.
Another major area where the Rotaspot LED proved to be beneficial was in its versatility; with its excellent range of rotation and light weight, the Rotaspot looked to be the best option.
What sealed the deal was the Rotaspot LEDs DALI dimmability function, a universal lighting function, which would enable it to fit easily onto the existing track system in the shop.
Rotaspot's role in bringing 'Other Criteria' to life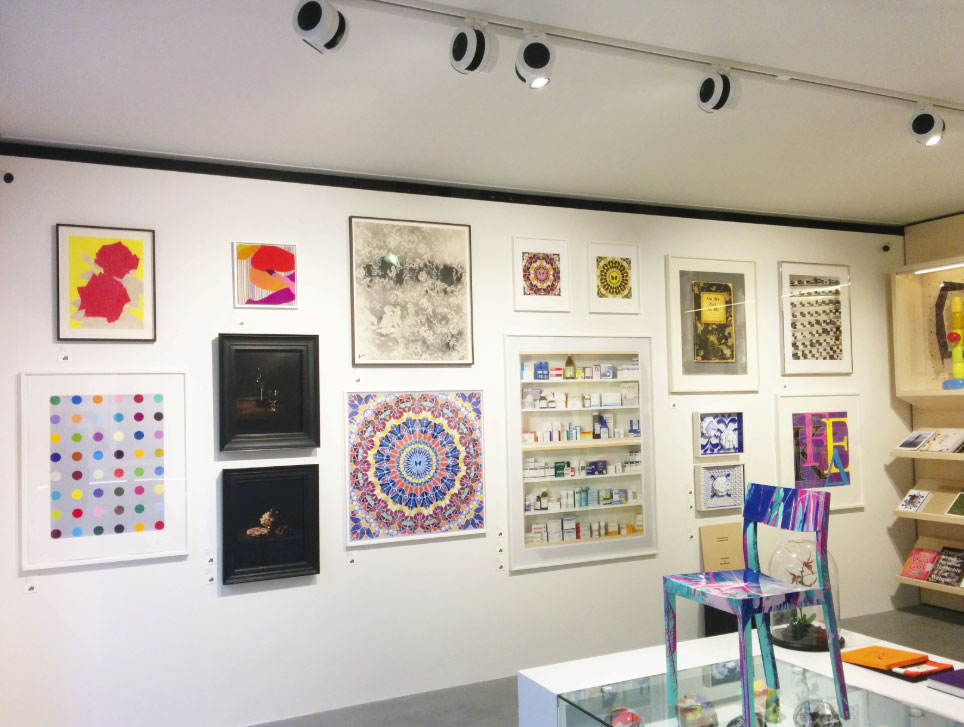 Other Criteria set a layout with 15 Rotaspot LED's which have unobtrusively populated the store's ceiling, fitting in perfectly with the white decor of the shop.
The Rotaspot's are angled in such a way as to highlight particularly noteworthy pieces of work. They use a Warm White colour temperature of 3000K that brightens the room and allows the works to be seen in their full glory.
The aesthetic appearance of the white Rotaspot LED was deemed an excellent match for the brand along with its technical performance and DALI dimmable capabilities.
Gridspot LED lights the way for LFC's Flagship Store refurbishment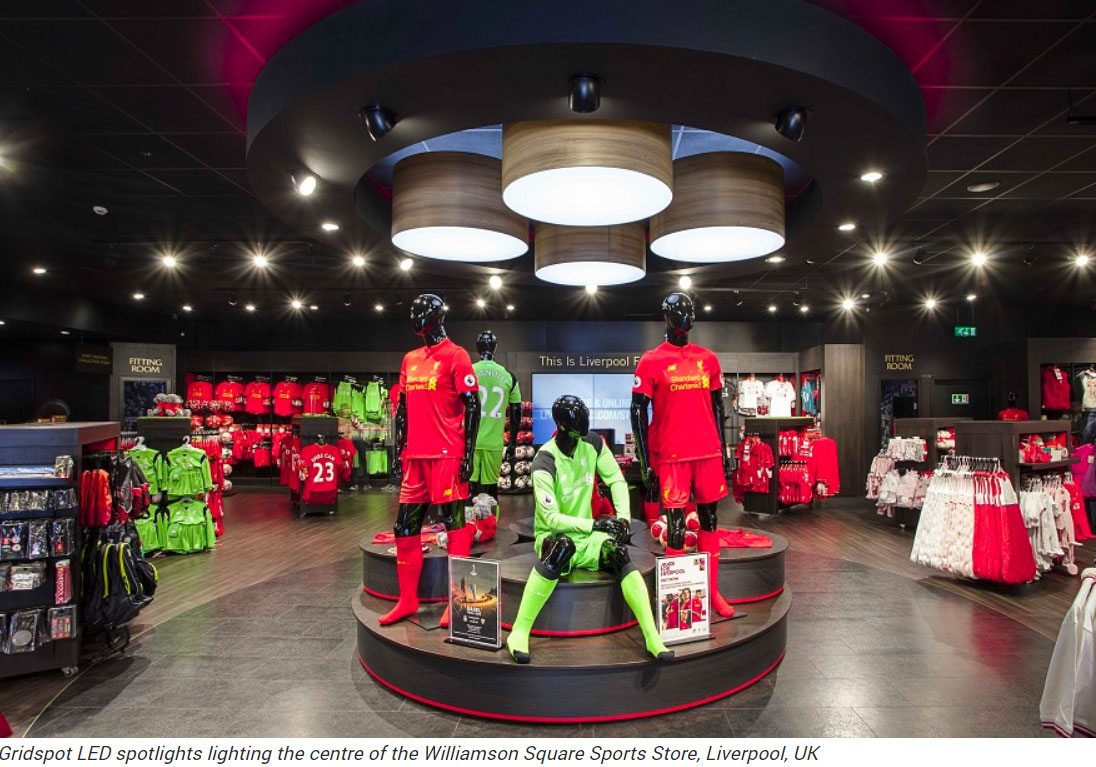 Liverpool Football Club is a professional association football club based in Liverpool, Merseyside, England and compete in the Premier League, the top-tier of English football, and in 2015 they decided their main retail store was in need of a refurbishment.
The brief given to Illuma was to provide a comprehensive lighting proposal that would genuinely compliment the new, high-end feel of the store whilst offering flexibility in what would be an ever-altering retail environment.
Illuma also wanted to make a point of increasing the already existing lux levels that were highlighting the merchandise. They felt strong light levels would draw visitors to particular displays and podiums within the store.
How the Gridspot LED Spotlights Sport some Excellent Lighting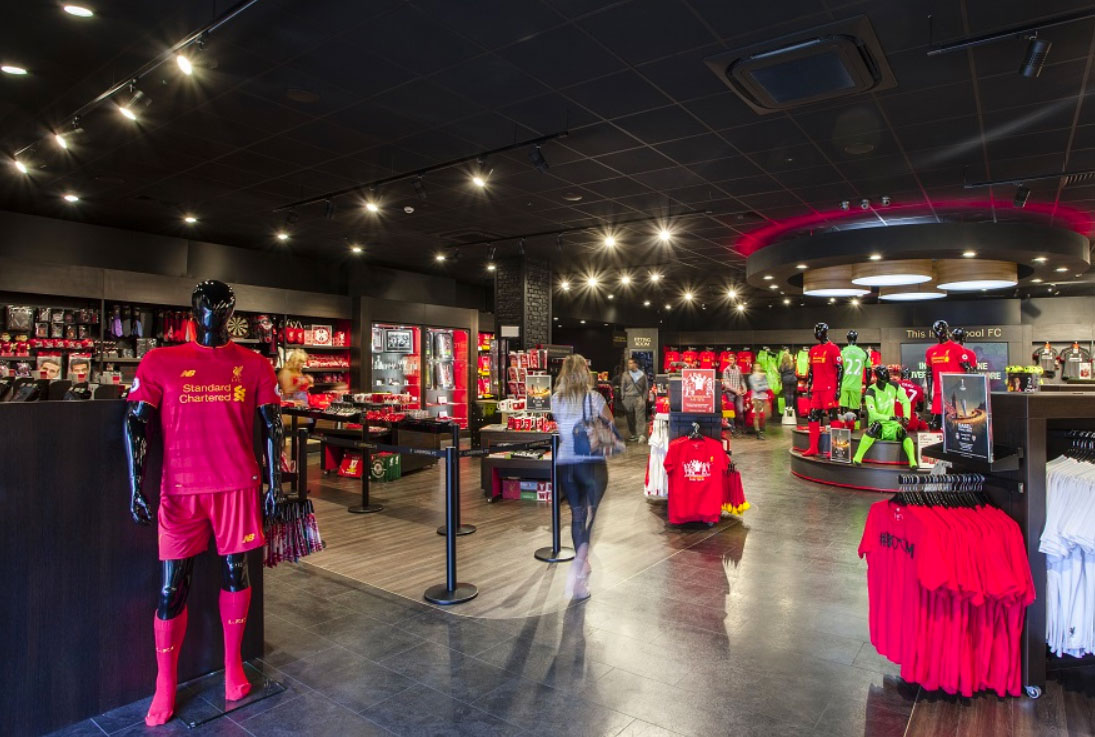 Due to the size of the refurbished store, Illuma incorporated Arc 183 LED, Project 85 LED as well as Gridspot LED spotlights into the lighting system. This aided in focusing the light more solely on the merchandise and helped to create highlights and contrasts within the store.
The Gridspot LEDs were used on a flexible, suspended track in order to provide a manoeuvrable solution, primarily in the central area of the store where they could highlight the product tables, and the famous red Liverpool kits.
Illuma's Lighting Designer stated that their main objective with the lighting design was to provide
'a low-energy lighting solution with a high output. We kept our focus on lighting the colourful merchandise, till areas and the central podium as this is the main focal point of the store. The end result is a flexible and functional installation that delivers an eye-catching result'.
See more of Illuma's case studies and projects
here
(you can also find the LFC project and the Other Criteria there). You can purchase the Illuma Gridspot LED track spotlights and the Rotaspot LED spots on our
website
.