Track lighting is a system that involves installing multiple lights from a single live feed. The lights are fitted onto a track which allows for high levels of versatility.
It is this adaptability in this system which allows the user to retain complete control of the lighting scheme.
Track lighting is great when you want to run a multitude of lights through a building that is not full of standard, square rooms but something a bit more unconventional.
For example, they are perfect for shop displays or a uniquely shaped art installation spaces. Track lighting is an efficient way to illuminate either commercial or residential spaces.
In this article, we will run you through most of the things you need to know about track lighting, in particular focusing on the Astro Lighting track system.
The assembly of a track lighting scheme
1. The Track
Track lighting has two main parts. One section is the track, which is wired to the power and supplies the conductors for the lamp heads.
This is the part that's fixed to the ceiling or wall, and has the opening positioned down or out. This 1000mm Astro Track is a great example of a 1m track which is connectable to many other parts of the overall system.
A standard track will run straight and is directly attached to a wall or ceiling surface. They come with 90-degree angle connector parts that enable the track lighting system to make turns.
The Astro 1993 White corner connector is one such item we sell here at Sparks.
They also come with a ceiling outlet connection piece and couplets that connect two straight pieces together.
Finally, there is a 'dead-end' piece which safely caps the track where it comes to an end; we sell these components at Sparks also.
2. The Heads / Spotlights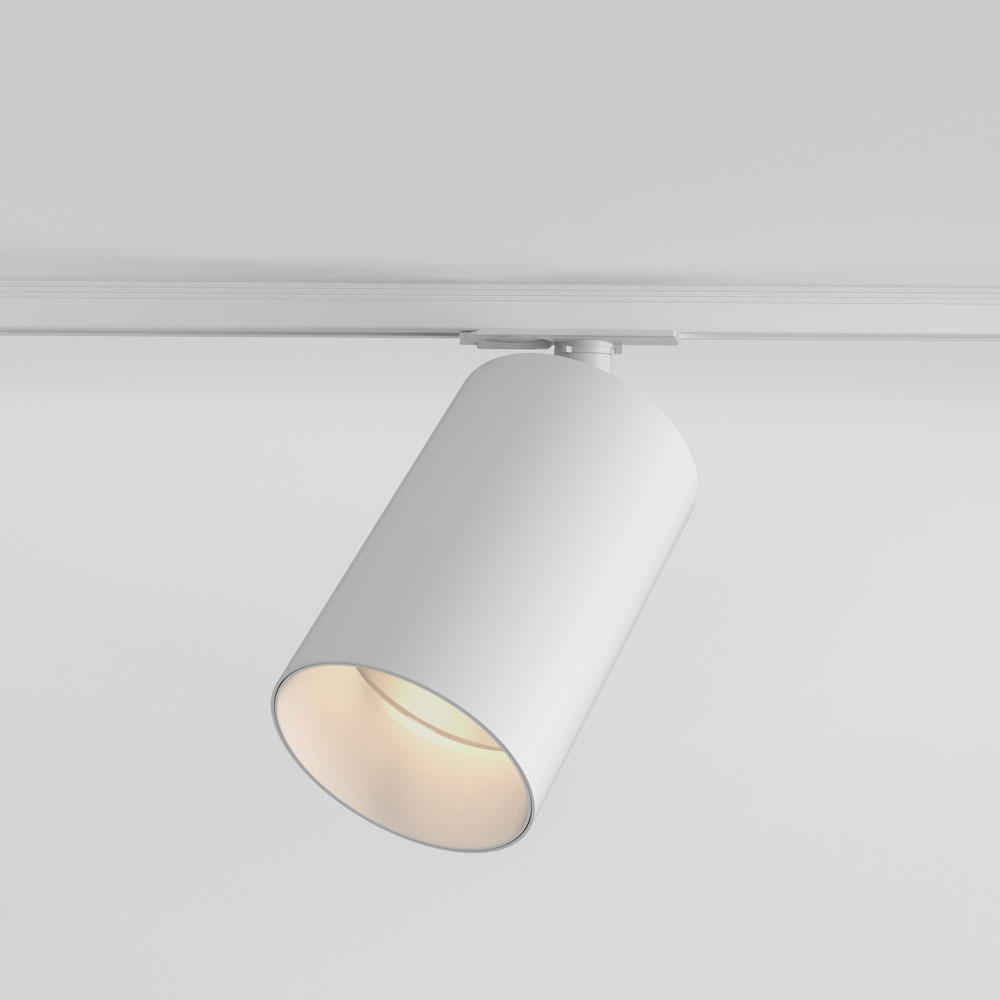 Heads or track spotlights are lamp-holding fixtures, each with two metal tabs which connect to the power running through the track.
Those tab pieces also lock the head to the track and secure it firmly in place. The most common lighting heads on a track lighting system are canisters that hold one reflector flood light bulb.
They are aimed wherever the user wishes to disperse light. There are other options from the canisters, such as 'alternative' track lighting heads.
The most common alternative heads are 'pendant' style fixtures. These come in many different colours, shapes and sizes.
Many hold a single light bulb inside an open shade, but some take more than one light bulb, for example, a mini-chandelier.
Astro's modern take on the track lighting scheme
Astro has designed a range of track spots and accessories which can be easily placed along the track to change the mood and appearance of a scene. Installation is a breeze with Astro track lights.
They have a simple twist and lock mechanism which releases and fixes the spotlights to the track. This results in an easy way to alter the positioning without the need for rewiring or re-installation.
Both GU10 and LED variants are available for this track lighting system, and the finish of the track comes in either a matt black or a white finish (at least for now).
If you are using a GU10 lamp then the scheme offers a versatile fitting that allows for interchangeable lamps.
The 'Can' range on offer from Astro comes in various sizes and uses the latest LED modules.
Therefore, it does not require an additional driver, as everything you need is integrated into the spotlight.
Specifications you should know about Astro track lighting before installation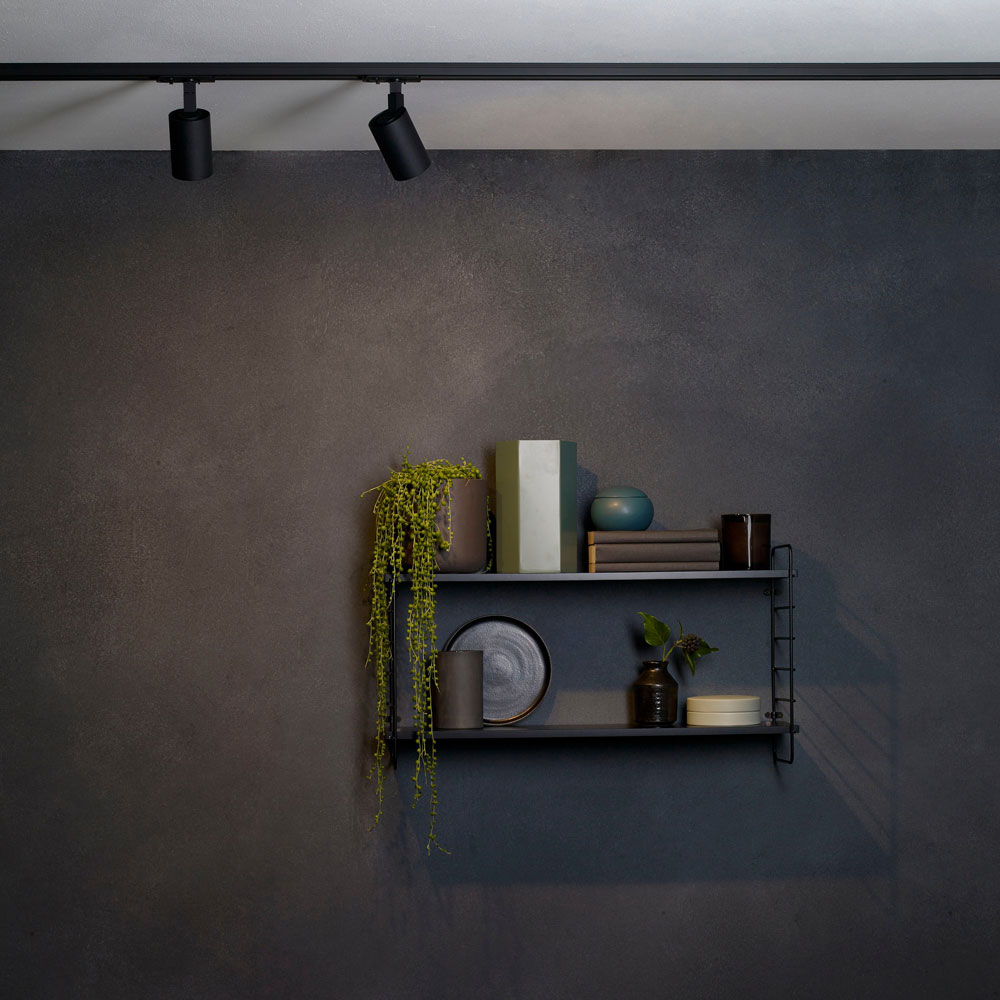 Astro has worked hard to ensure their track lighting system is convenient and safe to use. However, you must read the following specifications before you begin installing.
All of their track spotlights, track pieces and connectors are Class I, meaning they rely on an earth wire for protection and that the earth continuity must be followed through the track circuit.
When your track pieces arrive, it is important to follow the earth connection and ensure it is wired correctly, otherwise, the circuit will not function.
There is a visible groove that will make this more obvious when installing.
The Astro track system is single phase, so all lights on the track are controlled together by one circuit.
They will be switched on / off and dimmed simultaneously.
Track pieces may be cut down to a desirable length using a metal cutting blade.
The cut must be made perpendicular to the track for the connections to fit. Astro's online configurator will give you more detailed information about this.
There is a maximum power (W) per track circuit that you will need to conform to. Once you have exceeded this power, you will need to add a central live connector or end the circuit.
The maximum power (W) value is 3120W @ 240V (UK). Please refer to this article from Astro if you would like more information on the wattage allowance when adding new luminaires to the tracking scheme.
Lastly, Astro's track system is for ceiling use only. We hope this article has shone a light on any questions you may have had about track lighting, especially the Astro Track Lighting system.
It is a great lighting solution for both commercial and residential settings, and Astro's range is easy-to-use and adaptable.