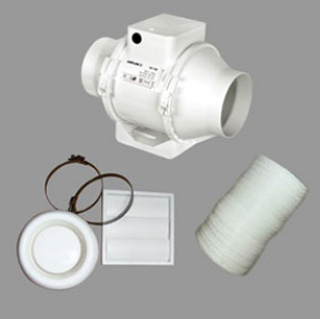 The Airflow Aventa AVSHWTKT
is a highly reliable and powerful fan in a modular design for ease of installation & maintenance.
The Aventa Shower Kits from Airflow
are designed to provide extraction levels that comply with the latest
Building Regulations ADF
for the bathrooms and toilets, en-suits. It is operated by basic switching for two speed operation (low/high), with an adjustable timer. These
Aventa Shower Kits
can be installed in loft spaces or service shafts for remote extraction with minimal room noise. The timer supplied with the installation kit.
A healthy indoor environment is an important contributing factor to the well-being of both a building and its occupants. Ventilation with fresh air is the most effective means of avoiding problems such as condensation, mould and allergies. The wide range of Airflow Aventa fans provides compact, quiet and powerful remote mounted ventilation for ducted installations. This particular model, the Airflow Aventa 9041407, is ideally to be used in toilets, bathrooms, en-suites, etc.
Consider the Aventa AVSHWTKT shower in-line fan kit as being a fan offering powerful ventilation with minimum room noise for greater convenience...
Aventa AVSHWTKT mixed flow shower fan features
Designed for longer duct runs;
High pressure low noise;
Compact and quiet in operation;
Two speed (normal and boost);
Access to motor and impeller without dismantling ductwork;
Adjustable overrun timer;
CE, IPX4 rating and double insulated;
Supply or extract air;
Complies with the Building Regulations;
3 Year manufacturer's warranty;
Manufacturer: Airflow, model: AVSHWTKT, Airflow 9041407;
Dimensions of the Aventa AV100B: large diameter 126mm, pipe diameter 96mm, length 246mm, height 190mm;
Extract performance: 145 cube meters/hour; 40 litres/sec;
Wattage: 25W; noise: 27dB(A) at 3m; 3A;
Supply voltage: 230V / 1PH / 50Hz
Material: white ABS; weight: 1.5kg;
More features - the Aventa Shower Kit 100mm AVSHWTKT technical specs pdf;
Double up the Aventa for greater performance!
Please note that combining two Aventa fans allows for even more powerful operation. Combining in parallel (left hand image) doubles the air flow, whilst two fans in series (right hand image) leads to a doubling of the air pressure for longer duct runs.
Accessories Included in the Aventa AVSHWTKT Pack
A 6m flexible ducting;
A circular internal grille (white);
Four duct cable ties;
A white external gravity flap grille;
Buy online this shower in-line kit -
the Aventa mixed flow fan with timer AVSHWTKT
, the complete package, via
the Airflow Extractor Fans category
.