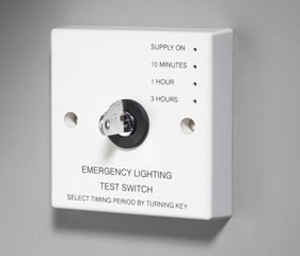 The CP Electronics ELT10
is an
automatic Key Operated Emergency Lighting Test Switch
, one of the many
CP Electronics Energy Saving Solutions
. This automatic key operated emergency lighting test switch is permanently wired to the emergency luminaire supply. The key switch is used to interrupt the supply for pre-programmed periods. At the end of the time period, the supply to the luminaires is automatically reinstated. The result is that there is no risk of depleting the batteries in the emergency fitting by leaving them connected for prolonged periods. The key switch ensures secure access. Three pre-programmed test intervals are available: 10 minutes; 1 hour; 3 hours. Great
energy saving solution from CP Electronics
.
Please note: A single CP Electronics ELT10 is suitable for switching one circuit. For multiple circuit applications use ELT-REL.
The CP Electronics ELT10 switch unit
will power up with the SUPPLY ON lamp illuminated—the supply will be connected to the output. The way it operates is like this:
Turn and release the key switch to select the 10 minute test interval. Turn and release again to select the next test interval—the supply will be disconnected from the output for the duration of the test. To cancel a test, turn and release the keyswitch until the SUPPLY ON lamp illuminates.
CP Electronics ELT10 Technical Specifications
The Load taken: - 10 Amp incandescent lighting; - 6 Amp fluorescent lighting; - 3 Amp compact fluorescent lighting; - 3 Amp low energy lighting; - 3 Amp low voltage lighting (switch primary of transformer); - Fluorescent lighting (max 6 fittings recommended); - For fluorescent lighting total power factor correction capacitance must not exceed 40microF;
Supply Voltage: 220-240 Volts AC 50 Hz;
Timing Period: 10 minutes, 1 hour, 3 hours;
Fixing Method: Surface fixing 25mm deep plastic surface mount moulded box. Flush fixing 25mm steel wall box or 32mm deep cavity wall box;
Terminal Capacity: 2.5mm2;
Material: Flame retardant ABS;
Class 2 electrical rated;
Temperature: -10°C to 35°C;
Suitable for the control of lighting;
Conforms with EMC-89/336/EEC, LVD-73/23/EEC;
More details about this Automatic Key Operated Emergency Lighting Test Switch;
More
Energy Saving Solutions
from
CP Electronics
found at SparksDirect: