The CP Electronics Ellipse push button time lag switch
can be an effective direct replacement for an existing light switch - in this way making it a quick and inexpensive unit to install(see the
other CP Electronics Timers: time lag switches, multi range timers, and DIN rail switches
). The large oval push button makes it an ideal replacement for mechanical or pneumatic time lag switches.
The EllipseW time lag switches made by CP Electronics and found at SparksDirect.co.uk are a quick and effective way to reduce energy consumption for lighting applications. Pressing the button or touch pad brings the lights on; the lights will then switch off automatically after a preset time period has elapsed. These units do not require a neutral connection, therefore they can be used to replace an existing light switch. The duration of the time delay is set by a thumbwheel on the reverse of the unit. The CP Electronics ELLIPSE/TN version has neon illumination to allow the unit to be located in the dark. These CP Electronics time lag switches can be used in two way and intermediate switching arrangements without any extra wiring.
CP Electronics Ellipse Push Button Time Lag Switch - Technical Specs
The Load: 10A of lighting including incandescent, fluorescent, compact fluorescent, low voltage (switch primary of transformer), fluorescent and compact fluorescent fittings with "switch start" ballasts - 10 ballasts maximum;
Power factor correction capacitors must be fitted;
Not suitable for switching contactors;
Not suitable for SON lighting;
Not suitable for heating or ventilation loads;
Mains Voltage Switch: 220-240 Volts AC 50 Hz;
Time Out Period: 20 seconds to 20 minutes (approximate);
Fixing Method: Surface fixing 25mm deep plastic surface mount moulded box;
Flush fixing 25mm steel wall box or 32mm deep cavity wall box;
Terminal Capacity: 1.5mm2;
Material: Flame retardant ABS;
Class 2 Electrical rated;
Temperature: -10degC to 35degC;
Conformity: EMC-89/336/EEC, LVD-73/23/EEC;
About the CP Electronics Timers: time lag switches, multi range timers, and DIN rail switches;
Further information about the EllipseW Time Lag Switch;
Wiring Scheme and Installation Instructions for the CP Electronics Ellipse switch;
Ellipse Time Lag switch - Simple Wiring Diagrams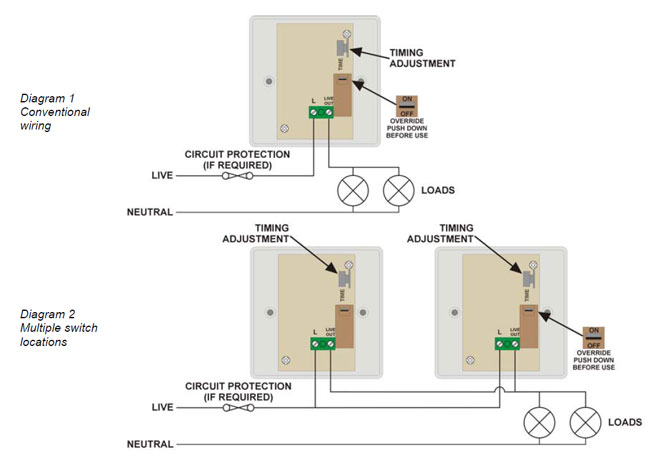 Remember -
read more about the CP Electronics Timers and Time Lag switches
, or
purchase the Ellipse Push Button Time Lag Switch via SparksDirect
.