Remember
the CP Electronics energy saving dimmers
-
the Green-I GI2DPC
and
the Green-I GIDPC
? This range of intelligent dimmer switches from CP Electronics, part of the green-i range, are
with presence / absence detector incorporated
. As for
the green-i GI2DC double dimmer
, this particular model has
all the intelligent features
of the other dimmers minus the presence detector. Of course,
the green-i GI2DC double dimmer
can also be used with the remote control(available separately, when being used, it makes
the green-i GI2DC dimmer
a remote-controlled dimming system for home/office).
The green-i GI2DC energy saving dimmer
is the "big brother" of
the Green-I GI1DC single dimmer
for wall mounting.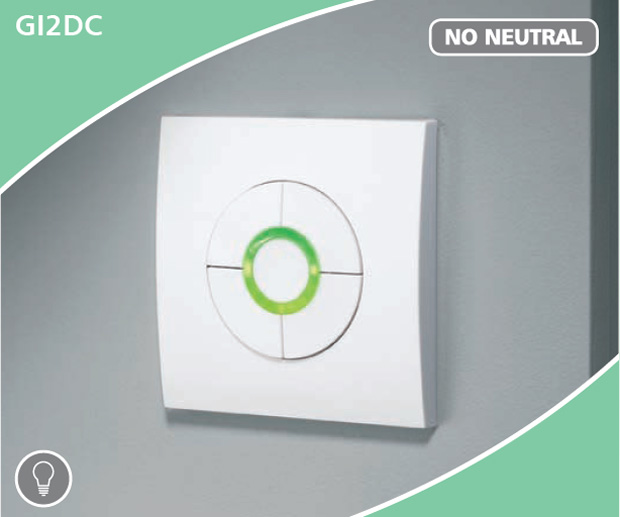 Do you desire different scenes for your different moods / ideas? You have up to four programmable scenes to which you can switch just like that. Another cool thing about the green-i GI2DC double dimmer is that, besides monitoring two light circuits, it also has a green LED ring for ease of being located at night.
Read more below about all the amazing features of
the Green-I Double Dimmer GI2DC switch, 2G wall mounted dimmer
, remote control compatible.
The Amazing Features of the Green-I GI2DC Dimmer
Double dimmer:

Dimmer control for two lighting circuits from the same switch;

Digital dimmer:

Top button - Short press turns lights on, long press lights dim up. Bottom button - Short press turns lights off, long press lights dim down;

Remote control:

Can be operated via a remote control handset to turn on and off, dim up and down, set scenes and access the switch functions. Available separately;

Interchangeable fascias:

Supplied with a set of white, brushed bronze and brushed stainless steel effect fascias. Available separately;

Security mode:

Can be programmed to automatically turn on lights for a set number of hours then switch off;

Night light mode:

Lights will remain on at a very low level to help children settle at night;

Stylish green LED ring:

Helps to locate the switch in the dark and the brightness of the soft green glow can be set to suit your room;

Four programmable scenes:

Ideal for setting mood lighting and easy to set using the remote control handset;

Adjustable dimmer fade speed:

The speed of the on/off dimming feature can be set using the remote control;

2 way circuit with slave terminal:

Can be used with an extra light switch (not second dimmer) for two way switching;
Load Rating at 230VAC: # Low Voltage Halogen - min. 60W, max. 300W per channel; # Incandescent - min. 60W, max. 300W per channel(the transformer needs to be suitable for lead edge dimming);

Time Delay:

1 minute to 30 minutes;
More technical details about the green-i GI2DC double dimmer(pdf file);