After speaking of
the 3rd Amendment
to the 17th Edition Regs (which comes into full application in the beginning of 2016), we need to pay attention to what kind of consumer units we install in new built properties, HMOs, or when we replace a consumer unit.
The main considerations with these new boards is the protection against thermal effects (protection against fire) for a longer period of time and the protection against electrical shock (via an RCD).
It used to be that the consumer units could use a plastic enclosure, but starting from the 1st of January 2016 ALL the consumer units installed have to be of metal and need to have an RCD protection. Most of the consumer units manufacturers came out with a range of Metal Consumer Units (RCD protected, fire proof), and in this article we would like to introduce some of the most popular ones from MK and Hager.
MK 10 Way Metal Consumer Unit (Amendment 3 Compliant) - Best Value for Money!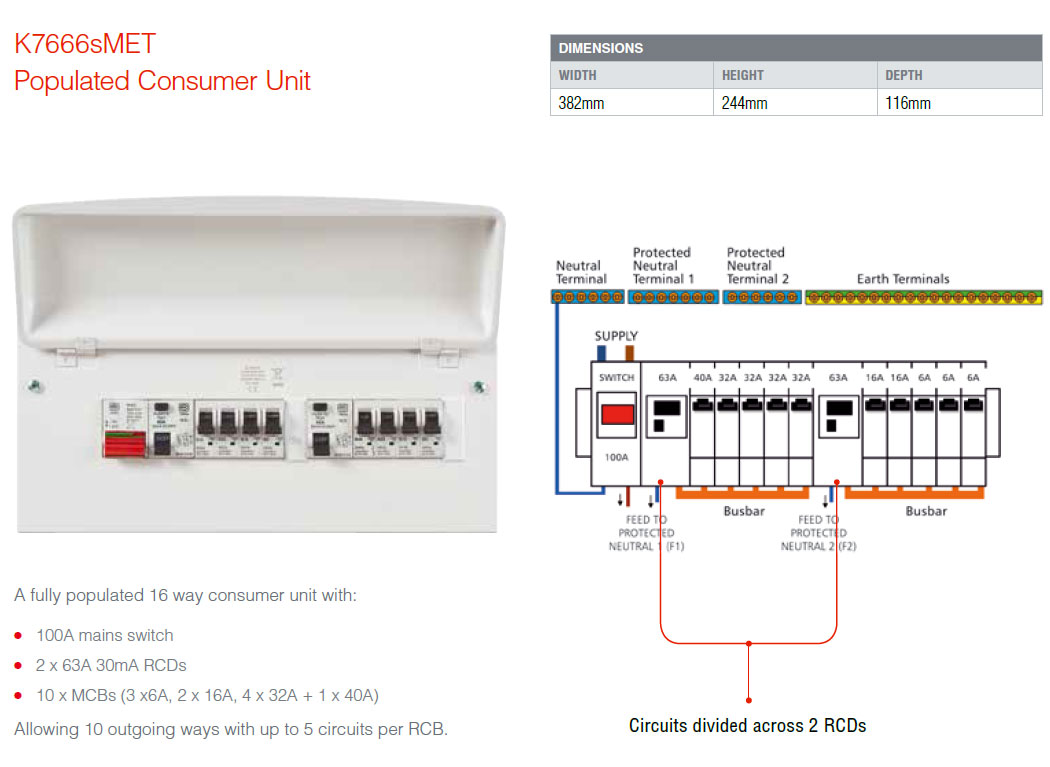 The
MK Sentry K7666sMET
consumer unit is a 17th Edition Amendment 3 compliant metal board, a 16 way enclosure with 10 useable ways. It comes fully populated with 10 MCBs (3 x 6A, 2 x 16A, 4 x 32A, 1 x 40A) and it has a 100A switch disconnector. This metal consumer unit has a stylish design, curved, and it makes full use of the floating bus bar system, offering you an ample wiring space.
This unit comes in a white coloured metal and comes pre-fitted with a switch disconnector and RCD together with all the necessary split-load cabling. The flexible design allows you to position the RCD to suit the required configuration. At Sparks this MK board is now at a reduced price - it is the best Amendment 3 consumer unit value for money!
Hager Design 10 Consumer Units - Reliable and Supportive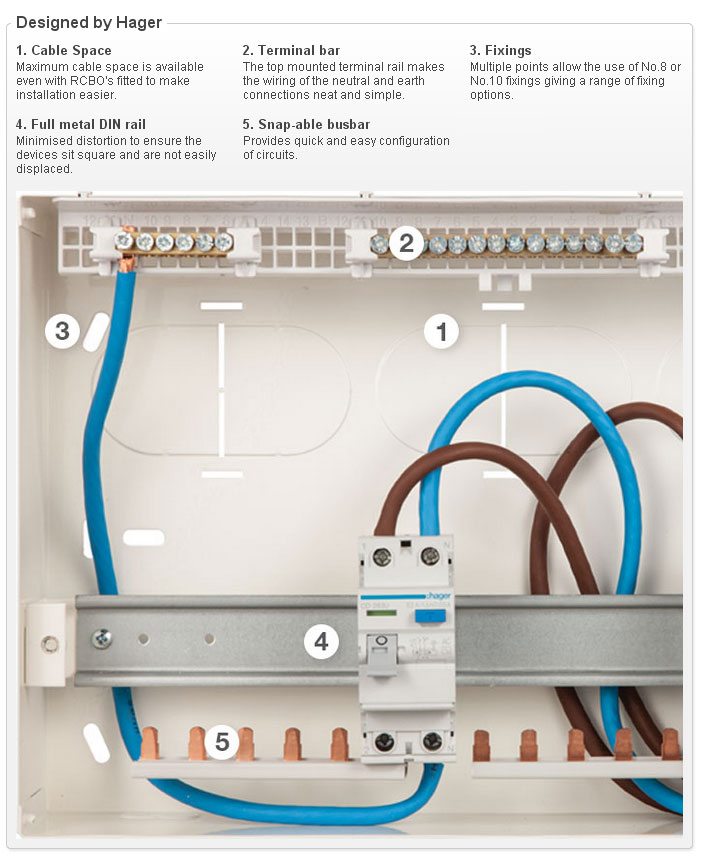 Hager came out with quite a few ranges of consumer units to comply with the third amendment to the 17th edition regulations, one of which is Hager Design 10. This range is designed for safety, installation, and aesthetics, and it reliable and supportive. Here are some of the key points concerning these amendment 3 compliant boards:
Cable Space - Maximum cable space is available even with RCBO's fitted to make installation easier.
Terminal bar - The top mounted terminal rail makes the wiring of the neutral and earth connections neat and simple.
Fixings - Multiple points allow the use of No.8 or No.10 fixings giving a range of fixing options.
Full metal DIN rail - Minimised distortion to ensure the devices sit square and are not easily displaced.
Snap-able busbar - Provides quick and easy configuration of circuits.
Enjoy a video presentation of this great range from Hager below:
https://www.youtube.com/watch?v=8wJMFyvjNwg
See the entire range of Hager Design 10 - from 2 way to 20 way boards (all of them Amendment 3 Compliant and with 63A/100A switch disconnector incomer) at Sparks.