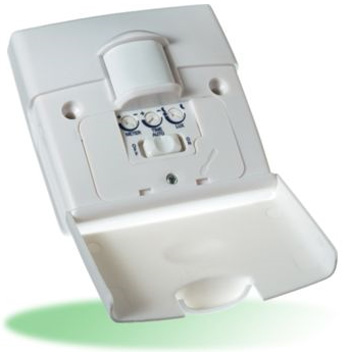 The Timeguard ZV810 motion sensor PIR switch
detects the PIR body heat motion and automatically switches the light ON, turning it OFF again after a period of time that is adjustable from 6 seconds to 12 minutes.
The TimeGuard ZV810
automatic light switch can be installed at various heights from 0.8M to 1.2M to detect a zone up to 8M in range over a 180º angle. It is recommended that you use
the ZV810
motion sensor PIR light switch from
Timeguard
for indoor use only like the hallways, the dining room, the basement, the utility rooms and the garages, etc.
This automatic light switch can be used to replace existing one way or two way light switches. Since the Timeguard ZV810 PIR switch is sensitive to temperature changes, please avoid mounting directly above heat sources or exposed to direct sunlight. Also, avoid mounting the motion sensor switch where it can come into contact with water or rain - this is not a High IP rated device. For best results mount the Timeguard ZV810 motion sensor PIR light switch to detect objects moving across it.
TimeGuard ZV810 Motion Sensor PIR Light Switch Features
AUTO/ON/OFF selections;
180º detection area with adjustable 8m detection range;
Light is turned on ON at times adjustable from 6 seconds to 12 minutes;
Fully adjustable light level control;
Can also be used as a normal ON/OFF or 2 way switch;
Suitable for lamp loads: 40 – 500W incandescent, 40 – 150W low voltage halogen, 18 – 150W fluorescent with electronic ballast, 15 – 150W electronic PL lamp (Philips or Osram only);
Model number: TimeGuard ZV810;
Switch Type: Single/2 Way;
Max Filament Lamp Load 40W Min up to Max: 500W;
Low Voltage Lighting: 40 to 150W;
Fluorescent & Low Energy Lighting: 18 to 150W Fluorescent, 15 to 150W Low Energy (Philips or Osram only);
Light Level Sensing: Yes;
Light ON Time Adjustable: Yes;
Concealed Front Panel: Yes;
Conforms to Directives: 73/23/EEC, 89/336/EEC;
Dimensions (mm): Height (Open) 135, Height (Closed) 86, Width 86, Depth 38;
Note: this PIR switch cannot be used with dimmer or other electronic switches in two way switching systems or replace an intermediate switch in three or more way switching systems. Also, additional work may be necessary in pendant locations.
In order to
avoid nuisance triggering
- your sensor switch may be activated by large animals, lights, reflective surfaces, heat sources or movements of objects - the following guidelines will definitely help you:
Do not aim the sensor towards any light sources.
Avoid mounting the sensor near heat sources, such as heating vents, air conditioners, dryer vents or lights.
Avoid directing the sensor toward areas or whose surfaces are highly reflective or are subject to rapid temperature change, such as pools.
More energy saving solutions found at SparksDirect.co.uk and introduced on our blog are:
the Danlers Soft Start Dimmer DSS1D
,
the Wall Mounted no neutral presence detector
,
the CEFL PIR ceiling flush mounted Danlers switch
, and
the Danlers CESF PIR ceiling PIR switch
. As for
the TimeGuard ZV810 Motion Sensor PIR Light Switch
, you can purchase it online at
the Occupancy & Detector Switches section
.