The switches and sockets in our home or at the office have to match the general decor of the room; this is why there are so many finishes and types of plates out there.
We at Sparks have a wide range of flat plates, stepped plates, low profile plates, raised plates, and plastic plates, all of which come with different inserts and rockers.
One particular type of plate, however, stands out from among the rest: the "invisible plate", that is, the transparent plastic plate.
This kind of plate allows you to keep the wallpaper or the design of the wall intact while at the same time having a switch, socket, or dimmer installed on it.
There are a few manufacturers that do this kind of plate, such as Forbes and Lomax (the "invisible light switch"), Varilight, and Hamilton Litestat (with their Perception range).
The "Invisible Lightswitch" from Forbes and Lomax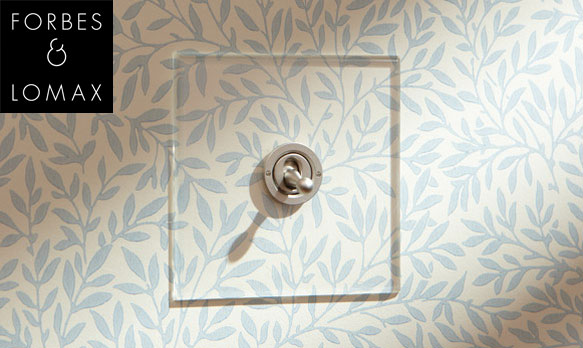 Inspired by the 1930s glass switches and sockets but with all the advantages of the modern technology and finishing, the invisible plate (transparent perspex) from Forbes and Lomax is wide and provides many types of switches, dimmers, sockets, dolly switches, button dimmers, and euro plates.
The switches and dimmers have 3mm beveled transparent acrylic plates which are secured without the use of fixing screws, and the plates are flush to the wall, being supplied with brass, nickel silver, stainless steel, or antique bronze toggle switches, dimmer knobs, or buttons.
The 0.5mm "inner plates" of primed aluminium sit behind the invisible plates which can be decorated in the same way as the walls, giving the illusion that the wallpaper (or paint) finish runs seamlessly behind the switch plate.
You can find the full range via Forbes and Lomax section on our website, read more about it here, and enjoy a selection of such plates below.
The Hamilton Perception CFX Clear Switches and Sockets
The Hamilton Perception CFX range of concealed fixing switches and sockets come with snap-on clear front plates and are cleverly designed to allow you insert your wall paper or paint the supplied template, thereby blending discreetly into the interior decor.
This range accommodates your own choice of wall covering, and a cutting template is supplied with each electrical accessory.
The Perception CFX range from Hamilton comes with metal or plastic rocker switches on transparent plates, and offers you a wide range of toggle switches (bright chrome, satin chrome, polished brass, satin brass, antique bronze, and black nickel).
Read more about this range here, and enjoy a collection of pictures of how the Perception CFX transparent range looks like.