It's the new fad, the new trend, especially among geeks and those who spend a lot of time online. But wait, most of us spend a lot of time on websites like twitter,
Facebook
, Wordpress, and now, on
Google+
. The new social network from Google offers each gmail account holder an account for
G+, Google+, Google Plus
as they call it.
Google plus tries to cover the need that facebook and twitter have created in social networking - curation! You can curate your friends by following them or allowing them to follow you by adding them to a circle (something like the "circles of trust"). When someone adds you to a circle, you can also add them back to a circle, and so on. More granular privacy and sharing options are available.
Google+ Pages for Business
For a while now google+ has not been available for the business accounts, and even our account on gmail had the profile suspended because it didn't match their name criterias. If you are a company, they don't let you have a private person profile! But recently they opened up the possibility of making a page - the Google+ pages! You can become a fan of a page by adding it to your circles! Here we are on google+ pages: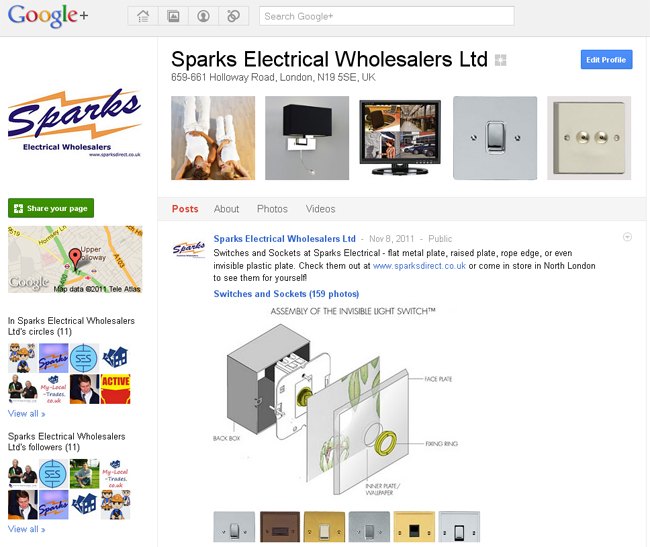 As the old song says,
Why don't we be friends?
- why won't we be friends now even on Google+? You can find us on Facebook via our
Sparks Direct Electrical fan page
or you can become our friend -
Sparks Electrical
. As for twitter, we are simply @sparksdirect. And now, to complete the circle, we are on google+ - Stefan Sparks (which is, Stefan at Sparks, since they won't allow us to use the company name) and
the Google+ Sparks Electrical Fan Page
!
Be a friend of Sparks Electrical on Google+ Pages! Join Stirling Electrical Services Ltd, Learning Lounge, Active Workwear, My local Trades, BetterTAX Organization, and many other electricians, architects, designers, etc. in becoming a friend on Google+!