Meteorologists have warned us of an 'Arctic Freeze' that could wrap around Britain and bring substantial snowfall with it.
Thermostats and underfloor heating are absolute lifesavers in these times and and thankfully DEVI, a Sparks favourite, offers a fantastic range of heating solutions for colder climes. These include the excellent combination of DEVImat and DEVIreg, a match made in heaven that we have written previously about here.
Underfloor heating is an underrated home feature, that enables your home to retain heat far more efficiently than a radiator, for instance. They also have very low maintenance costs and actually keep bathrooms more hygienic by warding off cold and damp.
If you feel like the cold weather is slowing you down, then check out our selection of DEVI's underfloor heating products. Be safe in the knowledge DEVI are a very well-regarded name in the heating industry, having won a slew of awards, including the Santander Breakthrough Award in 2014.
DEVImat - Masters of Underfloor Heating
The
DEVImat system
is an easily installable floor heating for your entire home that can be placed underneath all manner of surfaces - wood, concrete and laminate flooring.
The discreet heating system will be barely visible at all due to its low-profile, and it hardly alters your room's floor. While the DEVImat spreading welcoming warmth throughout your room, your floor will be raised a few unnoticeable millimetres at most.
Once again the installation process is quick and easy and a tutorial can be viewed here.
The mat uses convection to spread heat and is an electrical-based system rather than a water-based one, meaning it's easier to install during a renovation for instance. It also responds far more quickly to thermostat controls, which are ideally provided by the separately purchased DEVIreg.
DEVIreg - the Thermostat with all the right connections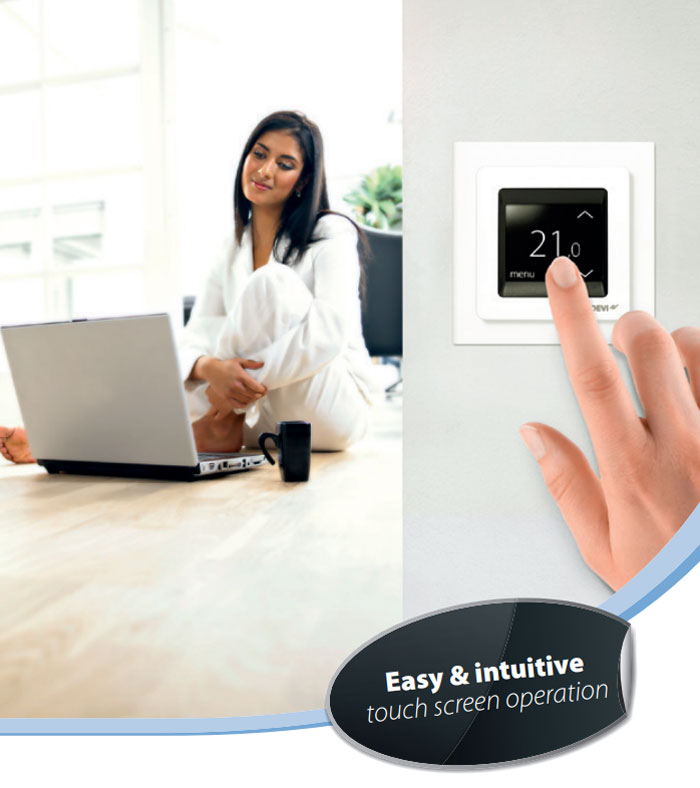 This intelligent and intuitive touch-screen thermostat has a easy-to-grasp interface that can be installed in multiple rooms, all connected up by the inbuilt setup wizard. It is highly compatible with the DEVImat, with quick communication between the two giving you a great control over your home's heating during the cold winter months.
The innovative DEVIreg was the first thermostat that awarded touchscreen capability to the user, and also features the 'click fit' design which makes for ease of installation in any room of your home.
Here is a video tutorial demonstrating just how easy it is to set up and start using the DEVIreg system.
The DEVIreg Smart Control is a wonderful and inventive thermostat that makes full use of the Internet Of Things (IOT) to connect and communicate with other devices in your home.
As long as it is connected by Wi-Fi, this Smart App can be controlled from anywhere, at anytime. It is fast and easy to use, especially if you set it up using the pre-installed App wizard, which allows you to specify the room and temperature set up type.
For instance, if you want your bathroom floor to be at a balmy heat for your bare-toed morning grooming routine, the app on your phone or the touch-screen thermostat will help you make this a reality.
It features a vast array of features beyond that such as an open window detector, energy-saving program, an optimal start/end control which ensures that your desired temperature is reached at the optimal time of your liking.
Ultimately, this makes for a truly energy-efficient piece of technology that is especially cost-effective for those looking to save bundles on their energy bills, on top of combating pesky cold floors.
Where to install underfloor heating and why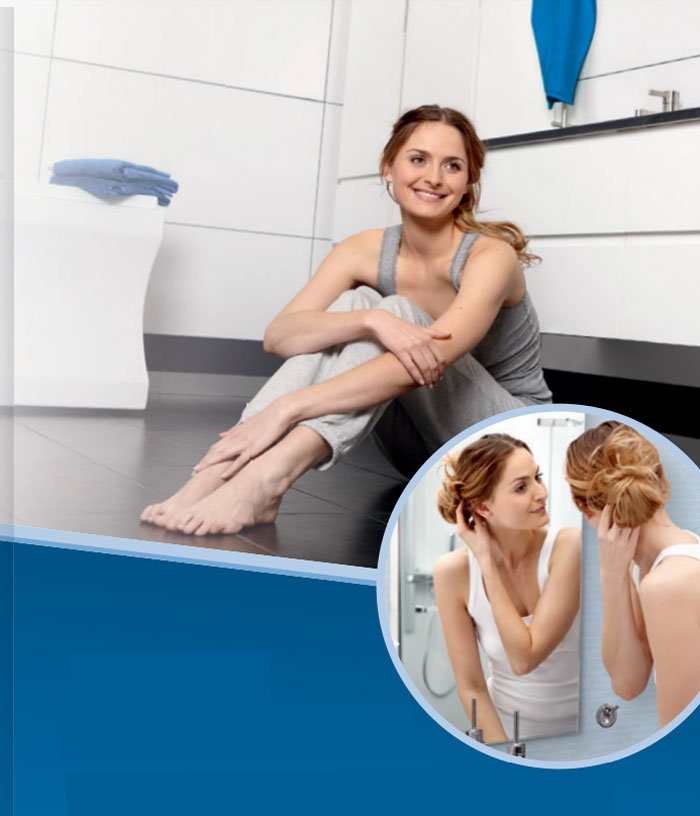 Having a warm floor during a particularly harsh winter is
extremely beneficial
for you and your family; this is reflected in
increased demand
 for the product among consumers, in recent years, with similar levels of buying desirability as top-sellers like power showers.
In a house with a conventional heating system, you could have the room temperature set to a comfortable 21-25 degrees. However, the floor may remain cold to the feet at an unpleasantly chilly 15 degrees, meaning the distribution of heating will be off-kilter.
The most popular locations for installation are the kitchen or the bathroom, as these are traditionally where floor tiles can be coldest to walk on; however, any specific room that gets particularly cold would be ideal for underfloor heating.
Think about any rooms that don't already have a radiator or are poorly insulated with cold floor materials such as stone or tiles - rooms that you're usually in during the winter time but it tends to be a little chilly, and you have the perfect location for underfloor heating.
So, if you are concerned about you and your family treading on cold tiles (especially any barefoot kids!), then it would be wise to invest in the DEVI underfloor heating range.
It is a smart investment in the long term; and not just for the upcoming winter months - it also provides a permanent eco-friendly heating solution that will be unobtrusive, wherever you choose to install it.
Don't get cold feet this winter! Check out our DEVI offerings here now.