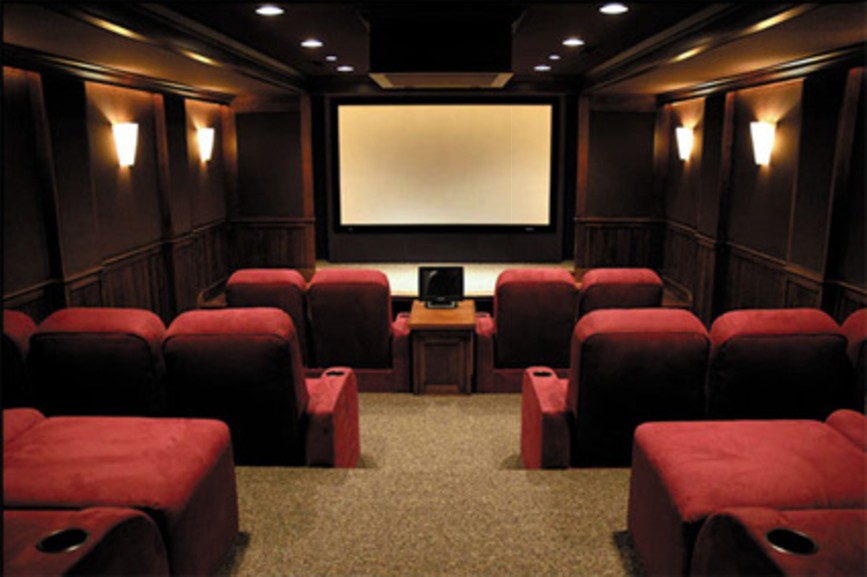 It's cold. There's nothing out there in the parks but frost and misery now - the next best thing is a trip to the cinema. But ticket prices are up, the snacks are sticky and terrible, and attendance overall is down.
A lot of people use an internet streaming service now, and even more people are hanging onto DVDs. In short, they're watching movies at home. But that's not enough for the true film buff: they need the atmosphere. They need the cinema experience without the hassle.
Perhaps you're thinking about redecorating the living room as a Christmas present for the film nerd in your life, or maybe you're thinking of an overhaul, setting aside a whole room for you and your friends to settle in with Gremlins. We're the lighting specialists, and we have solutions for both these events.
The Living Room Redesign for the Movie Buff
Most of us just have a TV to watch movies on (or increasingly a computer screen), in which case a little accent lighting behind the screen can help offset the potential eye strain that results from a
Police Academy
marathon.
An LED light strip fitted behind the screen is a great, low-energy idea, but make sure it's at least a warm white colour. Using a dimming driver keeps you in control, too. Attach the strips to the back of the TV unit for the greatest effect, bouncing the light off the wall for a diffuse light output.
Repainting the TV room (be it the living room or a 'man cave') is both a good idea and a fun weekend activity! We don't claim to be experts of interior design, but we can confidently advise you: don't just stick to dark colours, lighter shades are great, too.
As long as it isn't white or near-white: these colours have a tendency to bounce the light around too much, making the whole experience that little bit less comfortable.
The Special Room for the Enthusiastic Fanatic
Or perhaps you've set aside a room with a high-quality projector, comfortable seats, and a huge screen as a home cinema. In which case: we envy you.
You've already taken the windows out of the equation, right? If this is a whole remodel, it's a good idea to do away with any windows altogether to reduce the amount of light coming into the room and to increase the resale value if you decide to sell later.
For some old-school cinema character, we like the Astro Slice wall light. It's an uplight, which means less glare for you and your fellow moviegoers, but it's also paintable so it can be coloured to match the decor.
And while we're at it, why not fit some coloured X-Flex concealed lighting overhead, perhaps in a blue or dark red? This adds a unique touch to proceedings without being too overwhelming.
The projector is the focal point of the whole business, though, so draw some attention to it with focused PAR lamps - but remember to connect them to a dimmer switch so that as the movie starts, the lamps are slowly dimmed to nothing (and brightened as the credits roll).
So what do you think, reader? Are you tempted to hook up a projector? Any plans for a movie marathon over Christmas? Our favourite Christmas flick is Die Hard, but enough about us: what's yours?