Outdoor lighting can be used to create a beautiful and inviting outdoor space. This post will provide inspiration and ideas for creative outdoor lighting, including how to use outdoor sockets and light fixtures to enhance your garden and patio.
There are numerous lighting designs you can integrate into your garden ideas. Here are some of them:
1. Light up a small space
Do you have some small spots in your garden you want to highlight? You can do so by adding subtle spotlights. Raise them high and choose a tone and style that easily blends with the environment. This way, they won't serve as visual distractions, especially when not in use.
2. Light up the trees
Illuminate your garden pathways by adding outdoor tree lights that are easy on the eyes. For instance, warm white LED lights are ideal for outdoor spaces as they bathe the garden with comforting and cosy lighting. Another excellent alternative is fairy lights, which give off a magical appeal.
3. Wall lights are your best friends
Pay attention to your outdoor wall lighting, too. It provides your garden with extra security and, at the same time, boosts its overall style. Who would've thought a plain wall during the day could exude such a dramatic effect at night? Try wall lantern lights for clever lighting, or you can have a beam of warm light from below or above a wall to bring it to life at night.
4. Use environmentally friendly solar-powered lighting
The garden is one of the sunniest parts of the house, so it's perfect for solar bulbs. Though they won't be noticeable during the day, they'll give your garden a beautiful glow when the evening comes. The best part is you don't have to worry about your electric bill!
5. Get inspiration from your interiors
Need inspiration for how to light up your garden? The most practical thing to do is to get inspired by your interiors. Don't settle for plain old dull white security garden lighting, be inspired by your stylish and modern interior designs. Look at what you can find inside your home, and you'll be surprised at the creative ideas you'll get from it.
For example, does your interior have an industrial and rustic appeal? Take it outdoors using metallic outdoor wall lamps or ceiling lights like an eye-catching pendant light.
6. Be trendy with a rechargeable lamp
When it comes to garden lighting, you want to be as flexible as possible. Rechargeable lamps are the ultimate go-to lighting when you need something to light up your outdoor area, especially with no power outlets. You can take them anywhere at all. They'll also come in handy when you're having a party in your garden and need more light to keep the evening bright and warm.
7. Be stylish with mini lamp posts
Another staple in your garden is mini lamp posts. Their stylish design makes them an excellent addition to the back and front of your garden. Their light provides symmetry; most importantly, you can use solar power to light them.
8. Save with solar-powered stake lights
Solar-powered stake lights can effortlessly light up any path in your garden without the worries of an expensive electricity bill. They're easy to set up, too. You must peg the stake along your garden path or try something fancy, like using them to border a flower bed. These lights are moveable, allowing you to change the layout anytime.
9. Don't be afraid to mix and match
One of the best things about beautifying a garden is that you can mix and match it with different styles. For instance, you can experiment with various lighting ideas, such as mini paper lanterns and lamp posts, huge pendant lights, wall-mounted lights, and spotlights.
Fairy lights or outdoor rope lights can also be used to drape over and around trees or branches. You'll be surprised at what these tiny lights can do at night.
10. Make trellis pop
Combine your trellis and lighting ideas for a more interesting garden. Try recycling some old tin cans by painting and punching holes in them. Then, stick some battery-operated tealights for a dramatic lighting effect. Using such tealights can prevent foliage or dry wood from catching fire.
11. Uplights to highlight zones
Do you want to add a sprinkle of class and style to your garden lighting? Impress your family and friends by using uplights to highlight covered garden areas. Uplights draw the eye up, adding depth to your landscape. They are also effective in defining specific layouts in your garden, from your vegetable pots to your outdoor dining spot.
12. Don't underestimate low-level lighting
There's no better way to ensure your garden stays safe to navigate at night than placing low-level lights. You can place lighting in strategic areas like your garden's surrounding walls and borders. Place them off the ground and avoid making the bulbs your main lighting by simply dimming them a little. Remember, they're there to create awareness and ensure a cosy ambience.
13. Create a silhouette
Another way to dramatically light up your garden is by creating a silhouette with the help of ground-level lights. You can use them to make a subtle lit backdrop in your garden. As a result, your garden will have breathtaking silhouettes of plants, trees, and even statues. The lights will also showcase their structure and form.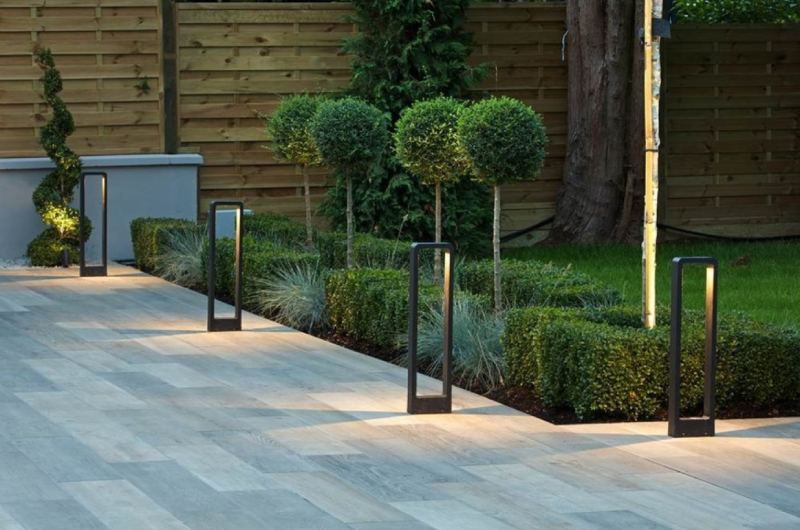 14. Be festive with festoon bulbs
String lights are a staple in the garden. You can set them up in different areas of your garden, including the fences and decking rails, or wrap them through tree branches. They add character and cosiness to your garden. Getting yourself a festoon cable set is a practical way to set up your festoon bulbs quickly and conveniently.
15. Add your personality
Remember that it is your garden and not anyone else's. Your personality should also be reflected in the garden lighting you choose. For example, if you consider yourself dark and mysterious, use dimmable lights or lots of shadows and silhouettes in your garden. On the other hand, if you're fun-loving and outgoing, be bold by adding some bright lights in there.
Outdoor Sockets and Why You Should Have Them
You can creatively light up your garden and turn it into one of the best places to relax, dine, and spend your free time. Lighting is one of many things that can turn your garden into an excellent hangout place.
But what if you want to fill the whole garden with music? Or if you need to trim the hedge with an electric trimmer? Using an extension cable and a plug sounds practical, but dangling cables through your window can cause accidents.
This is where outdoor sockets come in. They come with an outdoor socket box and all kinds of features, including weatherproof sockets, lockable sockets, timer sockets, and more. Whatever purpose you have in mind, you're sure to find the right outside socket for you.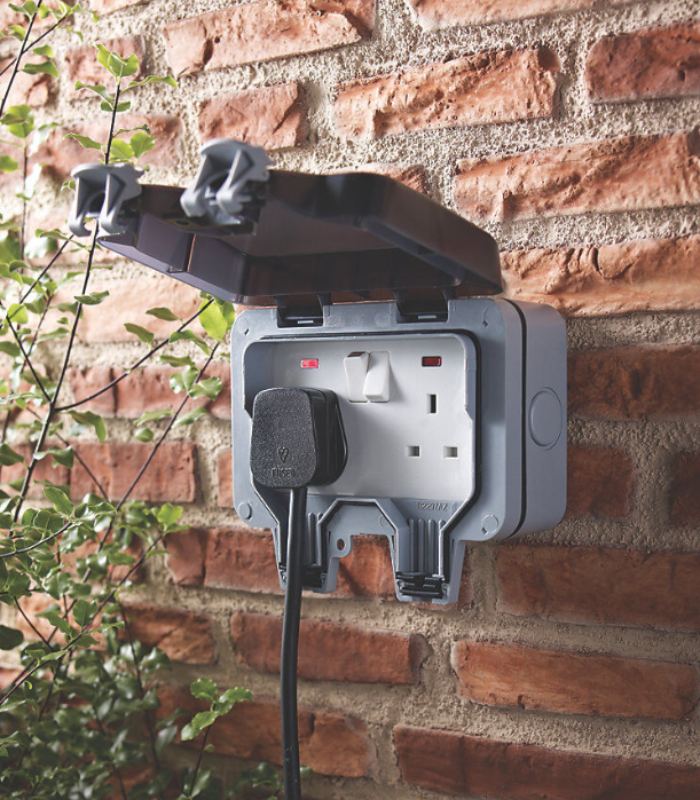 Here are some reasons why you might install an outdoor socket:
Power your gardening tools
A hedge trimmer, chainsaw, lawn mower, and garden shredder are just some of the gardening tools you regularly use to maintain your garden. Outdoor sockets can be ready and good to go in no time. They can also provide you with an extra layer of protection. For example, you can mow the lawn without worrying the cable might snap.
Fast and easy cleaning
Your garden and patio need regular cleaning, too. A weatherproof socket or lockable lid allows you to use your patio washer or pressure washer without worrying about electrical accidents. You can clean these places with ease and confidence without worrying about the plugs getting wet or cables dangling all over the place.
Sprinkler all the way
Outdoor sockets allow you to use your garden sprinklers safely and conveniently as possible. This is also where timer sockets can come in handy. They feature built-in timers, which you can program to switch power on and off based on your preset times.
Garden dining made easy
Warm summer days and nights call for outdoor dining. These are the best times to enjoy a meal with family and friends in your garden. An outdoor socket box allows you to easily plug in your outdoor cooking equipment, like your electric barbecue. You can also play music; if it's too warm, you can always plug in a fan.
There are many ways to light up your garden. You can play with different kinds of lighting and fixtures. However, it's best to always prioritise your safety. Use outdoor sockets to protect yourself while reaping the benefits they bring.