This article is a continuation of
the Living together safely(1) - Electrical Tips and simple rules for avoiding electrical shock/fire hazards
. Electricity can kill. Goverment statistics show that
over 15% of all fires in the UK homes are caused by electrical faults
. In 2006, this resulted in 19 deaths and 1117 injuries. There were also 21 deaths and 2788 injuries caused by electrical shocks in homes.  But it's not all doom and gloom - by taking the simple steps highlighted here, you can vastly reduce any risk to you and to the people you live with.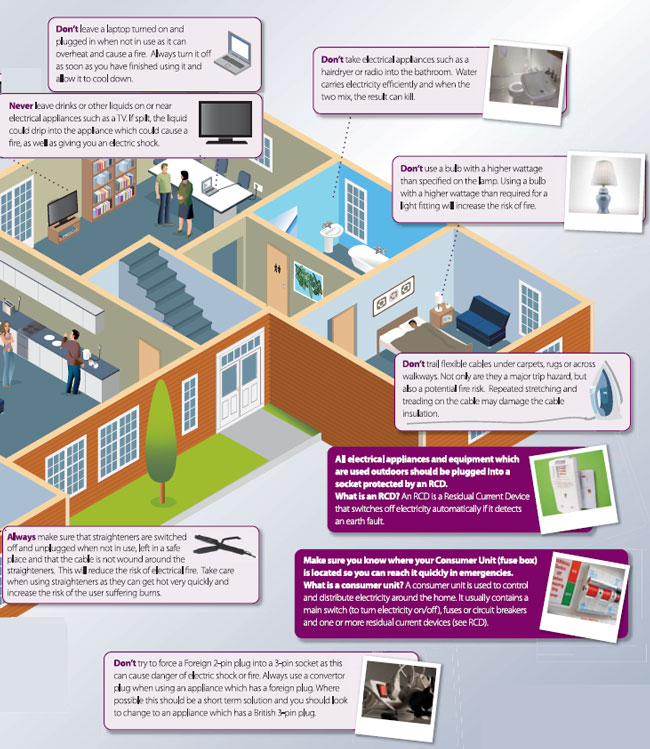 Don't try to force a foreign 2-pin plug into a 3-pin socket as this can cause danger of electrical shock or fire. Always use a convertor plug when using an appliance which has a foreign plug. Where possible this should be a short term solution and you should look to change to an appliance which has a British 3-pin plug.
Make sure you know where your Consumer Unit(fuse box) is located so you can reach it quickly in emergencies. What is a consumer unit? A consumer unit is used to control and distribute electricity around the home. It usually contains a main switch(to turn electricity on/off), fuses or circuit breakers, and one or more residual current devices (RCDs).
All electrical appliances and equipment which are used outdoors should be plugged into a socket protected by an RCD. What is an RCD? An RCD is a Residual Current Device that switches off electricity automatically if it detects an earth fault.
Don't trail flexible cables under carpets, rugs or across walkways. Not only are they a major trip hazard, but also a potential fire risk. Repeated stretching and treading on the cable may damage the cable insulation.
Don't use a bulb with a higher wattage than specified on the lamp. Using a bulb with a higher wattage than required for a light fitting will increase the risk of fire.
Don't take electrical appliances such as hairdryer or radio into the bathroom. Water carries electricity efficiently and when the two mix, the result can kill.
Don't leave a laptop turned on and plugged in when not in use, as it can overheat and cause a fire. Always turn it off as soon as you have finished using it and allow it cool down.
Read the previous tips for Electrical Safety while Living Together -
Living together safely(1) - Electrical Tips and simple rules for avoiding electrical shock/fire hazards
. More
Electrical Safety
at home tips: via
the Switches and Sockets
/
Consumer Units articles
on our blog.