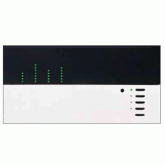 Lutron
has recently made available online
a video guide
-
GRAFIK Eye® 3000 Training Segments
-
How to Operate
& Maintain Your GRAFIK Eye 3000
.
The Lutron Grafik Eye 3000 via SparksDirect
- You can find online a visual presentation of a GRX programming guide, structured as:
Also, there is a pdf guide available about
Grafik 3000 Series: Installer's Guide, Models 3100 and 3500
STEP 1: Installing Control Units - Shows how to install Control Units and make sure they are properly operating all connected loads; a) Installation instructions. First, turn power off. Mount Wallbox. Pull Wires. Remove Cover; b) Line Voltage/Mains Wiring instructions: Wire the Control Unit; c) Class 2/PELV Wiring: Connect Class 2/PELV wiring only if your project has Wallstations and/or more than one Control Unit; d) Mounting; e) Testing: Do the lights work?
STEP 2: Setting Up GRAFIK Eye Control Units - How to Enter and Exit Setup Mode; - Identifying the Load Type for each Zone; - What is a Scene? - How to Set up Lighting Scenes; - How to Adjust Light Levels Temporarily; - How to Set Low-end Trim—OPTIONAL; - Advanced Scene Programming Options—OPTIONAL; - How to Set an "unaffected zone" — OPTIONAL; - How to Set Save Options — OPTIONAL;
STEP 3: Installing Wallstations/Controls
STEP 4: Setting Up System Communications - Assign Addresses to GRAFIK Eye Control Units; - Set up Communication between 2 or more Control Units.
To request this guide, please contact us. To find out what
the range of Lutron Grafik Eye 3000
includes, consult
the dedicated page on our website
.