With the help of the Digiview4i networkable 4 CCTV camera system you can now monitor your home / business venue / office 24/7 even from your mobile phone!
Note: This great CCTV camera system is no longer available at Sparks; see the full offer in this range that we do here.
With the amazing innovations in the mobile world, especially in the Android and the iOS market, you can now have an app for monitoring and checking the Digiview4i CCTV system!
All you need to is just install the app (available in both the Android Marketplace and in the iTunes Store) and make sure your device is connected to the Wi-Fi network.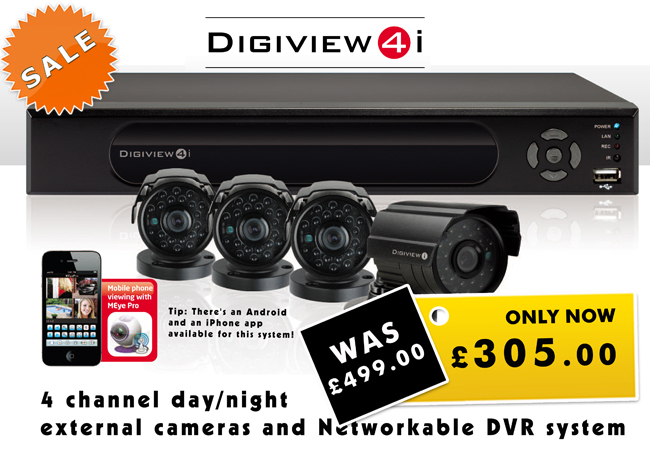 The networkable feature of the Digiview 4i CCTV system enables you to not only record the CCTV surveillance taken but also stream it or check it via the internet! As long as you are connected to internet, you can view live the images filmed and recorded by the DigiView4i Networkable 4 CCTV camera system on your PC or your 3G enabled device. A very convenient way of monitoring and checking what's going on around your home, your office, your business compound, etc. We don't want to say more things about the many amazing features of this DIGIPRO4 CCTV 4 channel system - you can read more about it via,