In order to prevent and minimize the waste and use of energy, there are many solutions offered by different manufacturers.
Especially in the lighting industry, there are the motion detectors and PIR occupancy switches, that have a sensor to detect the presence/motion of a person, in which case the light will be turned on.
Once there is no more person/motion detected in the area checked by the device, after a certain set time, the light is being automatically turned off.
Motion Detectors
STEINEL has played a major part in developing the infrared sensor technology. The Steinel company soon recognised the capabilities of the new technology and, as one of the first manufacturers in the field, started to use it and implement it in everyday products (even starting in 1987).
Alongside numerous improvements to detail, developments such as the multi-lens or multi-sensor technology have made modern lighting inconceivable without infrared sensors. Used as "automatic light switches", the STEINEL sensors today provide an extra security, a greater convenience and lower energy costs across the globe by their high quality motion detectors.
PIR Occupancy Detectors
Another range of PIR occupancy detectors and switches is the Danlers PIR occupancy switches. The DANLERS range of passive infra-red occupancy switches is ideal for the automatic control of lighting, heating, ventilation and air conditioning.
These switches detect the presence of people in an area and switch on the connected load only when it is needed. There is an adjustable photocell override for holding lighting loads off the bright days.
There is also an adjustable time lag function(the time from the last detection until switch off). This is adjustable between 10 seconds and 40 minutes.
This automatic control brings the benefits of energy saving, security, safety and convenience - ideal for use in offices, factories, warehouses, schools, hospitals, leisure centres, accomodation blocks, toilets and many other applications.
The products are easy to install and make use of the existing wiring in a building. There is no need for a specialist installer.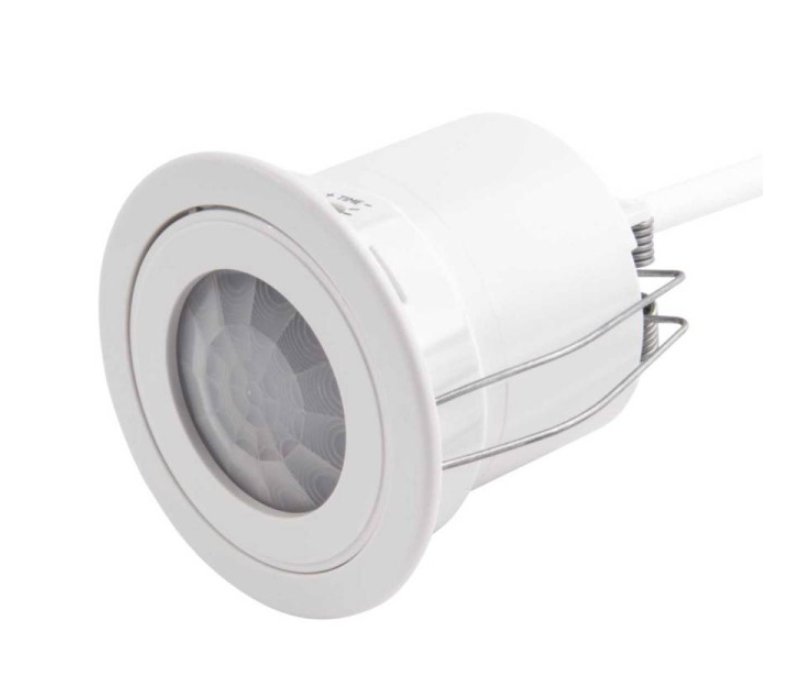 Types of PIR Occupancy Switches:
Ceiling flush-mounted - for false or plasterboard ceilings;
Ceiling flush-mounted splashproof - for false ceilings and plasterboard;
Ceiling surface-mounted - for solid ceilings;
Ceiling plug-in "look-down" - it plugs into the ceiling mounted socket;
Ceiling directional - plugs into ceiling mounted socket;
Ceiling long range directional - plugs into ceiling mounted socket;
Wall mounted, 3 wire - needs neutral wire;
Wall mounted, 2 wire - No neutral wire needed;
PIR occupancy detectors - more specs
Detector technology Passive Infra-Red quad person detector, giving 124 detection areas within the detection zone.
Time lag The time between last detection of a person and switch off, adjustable from 10 seconds to 40 minutes in 9 steps. Each detection of a person restarts the time lag from the beginning. Approximate settings: 10 sec, 20 sec, 40 sec, 1.25 mins, 2.5 mins, 5 mins, 10 mins, 20 mins, 40 mins.
Photocell range 100 to 1000 lux (and inactive).
Photocell function: "Inhibit on" photocell. The photocell will inhibit the lights from switching on when somebody enters an area with plenty of ambient light. However, if somebody is already occupying an area with the lights switched on, the lights will remain on while the area is occupied, regardless of any increase in the ambient light level. This is to avoid any nuisance switching off when somebody is in the middle of a task or meeting.
Walk Test: When the mains supply is initially connected to the PIR occupancy switch it goes through its Walk test. This means it switches on for about 1 minute, then switches off and enters its automatic mode. If a manual wall switch is feeding the PIR occupancy switch (see wiring diagrams on appropriate product pages) then it will go through the Walk test each time the wall switch is switched on. By wiring the manual wall switch in the alternative position, the supply to the PIR occupancy switch is uninterrupted and it remains in automatic mode. It does not go through its Walk test each time the wall switch is switched on.
Supply: 230 VAC
Wiring: Live, neutral, and switched line connections required. The WAPIR requires only live and switched line.
Parallel wiring: A few PIR occupancy switches can be wired in parallel to control the same load. Please note the minimum load requirements for the WAPIR model only.
Loading: Up to 6 amps(1500W) pf any type of load, including fluorescent lights and fans. The CEFL PIR 10A can switch up to 10 amps(2500W) of any type of load, including fluorescent lights and fans. The WAPIR only has certain minimum load requirements(see below).
To purchase/view more details with more models of Motion detectors or PIR occupancy switches, visit the respective sections on our website.